Self-driving car kills pedestrian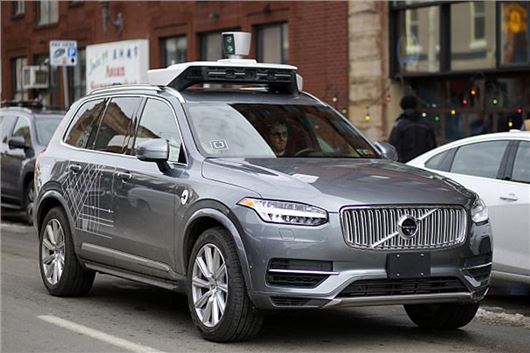 Published 20 March 2018
An autonomous Uber taxi has hit and killed a woman, raising serious questions about testing driverless cars on public roads.
Police reports state that the car - a Volvo XC90 - was in autonomous mode when the crash occurred, though the car had a human safety driver behind the wheel to retake control in the event of an emergency.
The victim, 49-year-old Elaine Herzberg, was walking her bicycle outside a pedestrian crossing on a four-lane road in Tempe, Arizona at about 10pm on Sunday when she was struck by the SUV. Herzberg was transported to a local hospital where she later died from her injuries.
Travelling at 38mph in a 35mph zone, the Uber self-driving car made no attempt to brake, according to the police department's preliminary investigation. However, Tempe Police Chief Sylvia Moir said that it would have been difficult for anyone to avoid Herzberg because she walked straight onto the road from the shadows.
"I won't rule out the potential to file charges against the backup driver in the Uber vehicle, but if the robot car itself were found at fault - this is really new ground we're venturing into," she continued.
>> Driverless cars will be on British roads by 2021
The deadly crash - the first instance of a self-driving car killing a pedestrian - comes at a critical time for the nascent self-driving vehicle sector, which has spent billions on research and development for a technology it promises will be safer than human-driven cars.
Uber and other autonomous vehicle developers test in Arizona because of the lack of restrictions. Self-driving vehicles don't need any sort of special permit, just a standard vehicle registration. And their operators don't have to share any information about what they're doing with the authorities, unlike in California.
"Arizona has been the wild west of robot car testing with virtually no regulations in place," said Consumer Watchdog, a non-profit consumer advocacy group. "That's why Uber test there."
Only California demands developers make public specific data on their operations, including descriptions of any crashes, how many miles they drive each year and how often their human safety operators take control of the vehicle.
However, the state will begin allowing the testing of totally driverless vehicles, without safety drivers for backup, on public roads next month.
The U.S. House has already approved a bill, called the Self Drive Act, which would pave the way for companies to deploy thousands of new self-driving cars on America's roads.
But the measure has stalled in the slow-moving Senate, where some Democrats are raising new doubts about the technology. This crash will not help the companies' arguments, as questions are raised about using the public as guinea pigs without their consent.
>> Volkswagen looks to driverless future with I.D Vizzion concept
Volvo, the Swedish car brand owned by Geely, said the software controlling the car in the crash was not its own.
Uber, the ride sharing service, said it was suspending North American tests of its self-driving vehicles, which are currently going on in Arizona, Pittsburgh and Toronto.
"Our hearts go out to the victim's family. We are fully cooperating with local authorities in their investigation of this incident," said an Uber spokesperson.
Following the accident, Toyota has suspended US tests of driverless cars on public roads, saying it was concerned about the "emotional effect" the incident might have on its test drivers.
Comments
Author

Georgia Petrie
Latest