Clocking on the rise with more than 2 million vehicles showing discrepancies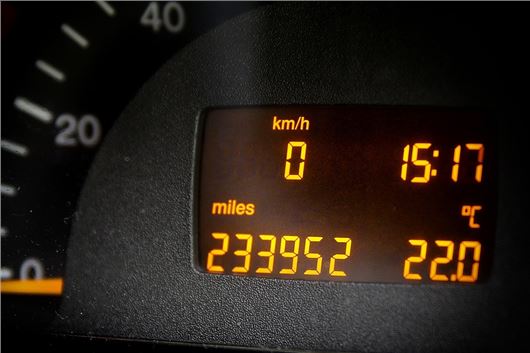 Published 19 September 2017
The number of clocked cars on UK roads is on the rise with one in 16 vehicles showing discrepancies, according to automotive data expert Cap HPI.
That's an increase on the one in 20 figure of less than three years ago and means around 2.3 million cars in the UK are clocked.
Despite the advent of digital odometers, designed to be more secure than the traditional mechanical type, it seems clocking is still a problem for the motor industry. And it's consumers that suffer.
Cap HPI estimates it is costing UK motorists more than £800 million each year, with used car buyers paying a premium for a lower mileage vehicle, only to discover that the vehicle actually has actually covered far more miles.
The firm says that the growth in mileage-related finance arrangements, such as PCP and PCH, may tempt drivers to reduce the mileage prior to the end of the agreement, in order to avoid excess mileage charges.
Clocking also creates safety issues with the majority of service and maintenance schedules dependant on mileage. A car that has covered 60,000 miles - but is advertised with 40,000 miles - may have parts that need servicing or replacing. For engine components, like timing belts or chains, this has both safety and significant cost implications.
How can I identify a clocked car from an honest one?
There are steps to ensure you don't fall into the trap of buying a clocked vehicle. A thorough visual inspection is a good way of protecting yourself. Look at the wear and tear on the upholstery and chips in the paintwork - typical clues of high mileage. An extremely worn interior on a car that appears to have 30,000 miles on the clock should set alarm bells ringing.
Check documentation, like MoT and service records, to ensure they're consistent with each other and the vehicle. At every service – usually 12-monthly or every 12,000 miles – the vehicle's mileage should have been recorded.
An HPI check, which includes a National Mileage Register check, will also bring up any red flags like whether a vehicle is currently recorded as stolen, has outstanding finance or has been written-off. Sometimes a fraudster may have purchased a new service book or altered the existing one, so a call to the previous keeper to validate the mileage when they sold is also worthwhile.
Finally, check the mileage of the vehicle on every viewing. Clockers sometimes wind back a vehicle's mileage reading for the first viewing, enticing buyers into purchasing, only to return the clock to standard on a second viewing, or after a purchase, to ensure everything appears legal again.
Comments
Author

Georgia Petrie
Latest