Over half of UK drivers don't know how to change a wheel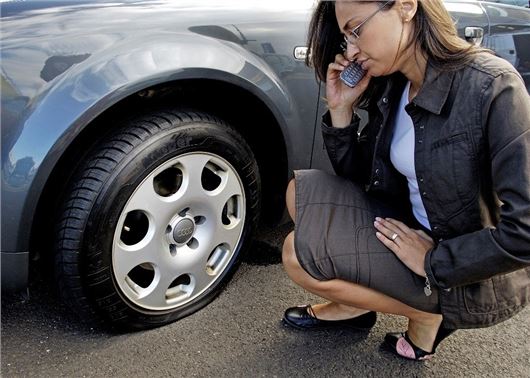 Published 11 July 2017
A new study has shown that more than half of British drivers don't feel confident changing a wheel. So why exactly is this once practical skill now a dying art?
According to research by ClickMechanic, only 48 per cent of UK drivers feel comfortable changing a wheel, suggesting that millions of drivers on the road are becoming more reliant on breakdown recovery services.
One of the sad truths about modern cars is the phasing out of the spare wheel, often replaced by a puncture repair kit.
This decision to rid cars of the spare wheel is inextricably linked to emissions and tax. Heavier vehicles emit more CO2, so car manufacturers have been forced to make every gram count. Removing the spare wheel is an easy way cut not just a few grams, but a few kilograms.
A typical 17-inch alloy wheel weighs about 20kg, which can add up to nine grams of CO2 to an average vehicle's emissions. However many owners now struggle to change a wheel, as well as other parts of a car.
When should you replace your tyres?
The study shows that 43 per cent of people would be confident changing a fuse and 42 per cent happy to change a headlight bulb. But, perhaps unsurprisingly, the over 55 age group were more confident with maintaining their vehicles- averaging over 50 per cent in both instances.
"Changing a tyre used to be a rite of passage that your dad shows you how to do. However, that isn't the case anymore and it's partly down to the generational gap. The older generation are more likely to own a car and maintain it, but millennials are more interested in having a car when they need it. So they don't learn the skills that used to be taught, like changing a tyre", said Tim Shallcross, the Institute of Advanced Motorists' (IAM) top technical advisor.
So, are modern drivers less capable than older drivers? Well, not conclusively. Aside from spare wheels being less commonplace on modern cars, there's a few factors. A lot of drivers know how to change a wheel in theory, but when it comes to the task it can be a bit confusing.
The RAC carry out 1000 - 2000 wheel changes on a typical day, which represents about 1/3 of the breakdowns they attend. RAC spokesperson Pete Williams said, "Understandably most drivers are not familiar with the mechanics of their vehicle and very few will attempt anything but the simplest maintenance checks. So it is not surprising that seeing someone changing their own wheel is becoming less and less common a sight on the nation's roads."
However, that isn't such a bad thing. Multiple industry experts are among the opinion that if you're on a busy road, like the motorway, the safest thing to do is pull over and wait for a recovery vehicle rather than trying to change the tyre yourself.
Comments
Author

Georgia Petrie
Latest