Pothole compensation claims soar by 750 per cent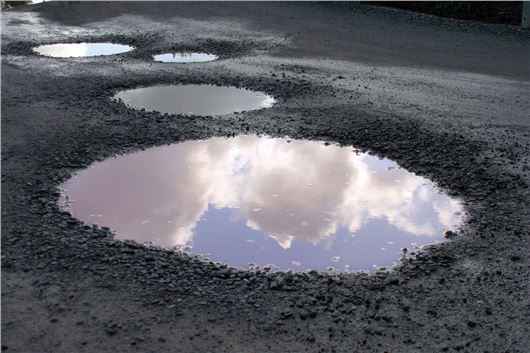 Published 08 May 2014
Pothole compensation claims in the UK have soared in 2014 with some councils reporting a 750 per cent rise in claims, according to a report from Potholes.co.uk.
The surge in claims has been blamed on the UK's wet winter, which saw record rainfall across the country. Potholes.co.uk is now urging authorities to display signs on damaged stretches of road as a temporary warning system for road users.
In Somerset claims spiked at 204 in January/February from just 24 in November/December, a massive 750 per cent increase in cases. The same worrying trend has been reported in some of the other regions worst hit by flooding at the start of this year.
Surrey County Council reported a 353 per cent increase and admitted that an "unprecedented number of claims" meant that there was still a backlog of claims waiting to go on to the system, meaning the statistics will only get worse.
In Dorset, one of the worst hit flood areas, the County Council saw claims for pothole damage increase from 85 in November/December to 193 in January/February – up 127 per cent. In January the county experienced up to 290mm of rain in some areas – almost three times the average expected at that time of year.
Worcester floods hit record levels in February and claims to the County Council also rose 400 per cent from 25 in November/December to 125 in January/February.
To draw attention to the ongoing problem with the crumbling roads, Potholes.co.uk has unveiled a new design for temporary signage that could be adopted to warn motorists and other road users about pothole-ridden stretches of road.
Warranty Direct managing director, David Gerrans, said: "If road signs can warn of falling rocks from above then why not craters from below? The average bill for pothole damage now runs at £247, so a sign only needs stop a couple of incidents to justify the expenditure. "
Comments
Author

Dan Powell
Latest