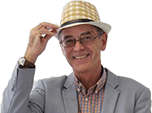 DSA Warns of Driving Test 'Booking Agency' Websites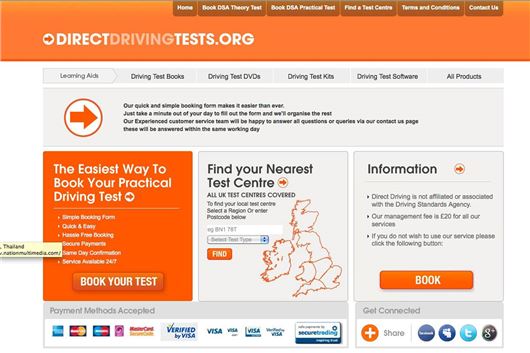 Published 06 August 2013
If you key<DSA Driving Test> into Google you get three booking agency websites that charge you up to £30 to arrange a service you can easily do yourself for nothing. 
The same happens if you key <Photo Licence Renewal> into Google.
Below, we invite you to comment on this story and recount your own experiences.
The Driving Standards Agency (DSA) is advising customers to avoid copycat websites and save money by coming to the agency directly.
DIRECTDRIVINGTESTS.ORG tells you upfront it charges £20 for its 'service' and does offer a button 'BOOK' enabling you to bypass its 'service' and go to the DSA site directly.
But if you opt for "The Easiest Way To Book Your Practical Driving Test" you hook into its 'service'.
Another one, bookingsdirect.org, does not offer a direct link to the DSA, and does not tell you how much you will have to pay until the end of the process.
While book-driving-tests.org charges £31 for a Theory Test and £62 - £75 for a Practical Test, depending on whether it's on a weekday or a weekend.
All these are the first three you see on Google.
The DSA says, "Some websites also charge for 'pass protection' with the promise of a free re-test that very few customers would ever qualify to use."
"Some companies charge up to £30 for just booking a test, on top of the driving test fee itself."
Coming to DSA directly saves money and gives you instant confirmation of your driving test appointment.
You can book a theory test at www.gov.uk/booktheorytest and a practical driving test at www.gov.uk/bookdrivingtest.

If you key <Photo Licence Renewal> into Google you get a similar set of 'services' offering to help you renew your licence.
They are again orange, like the old .gov.uk sites. They do offer small print warnings. But if you go straight to the 'Apply for your Licence' button, the site asks for all the details, charges £50 and then sends you a completed form to send to the DVLA which asks for another £20. Had you simply gone to https://www.gov.uk/browse/driving/driving-licences , all you would have had to pay is the £20.
Alastair Peoples, DSA Chief Executive, said:
"It's unacceptable that some of these websites try to trick learner drivers into paying an extra fee to book their driving test.
"We've already taken action with Trading Standards and the Advertising Standards Authority to make sure that they don't use official logos, trademarks or make misleading claims. We continue to monitor these sites and explore new ways to counteract activities."
In response to complaints from DSA, the Advertising Standards Authority has ordered a number of websites to remove wording that could mislead consumers into thinking they were using the official booking service. Last month, the website book-theory-test-online.co.uk was fined £85,000 by premium rate phone regulator Phone Pay Plus for 'very serious' breaches of its code.
GOV.UK is the only official driving test booking website for both theory and practical tests.
If you've used an unofficial booking website, the Citizens' Advice Bureau can tell you about any course of redress open to you in your case.
Comments
Author

Honest John
Latest