How to drive safely in wintry conditions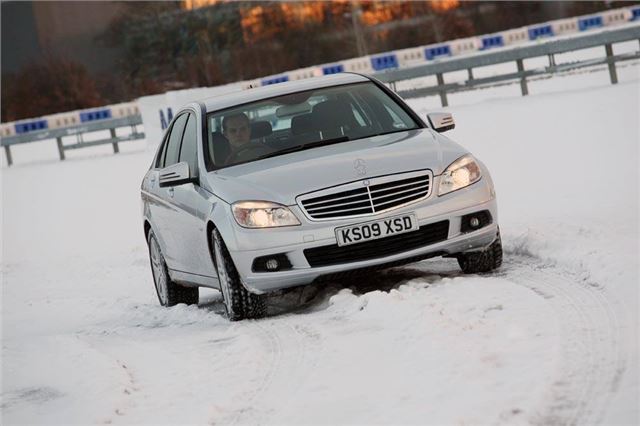 It's finally getting colder. And with the prospect of snow the IAM is reminding drivers how to cope.
With the Met Office having issued warnings of icy conditions across the country, IAM chief examiner Peter Rodger is advising on driving on frost and ice.

"Now is the time to start thinking about how to adapt your driving to the wintry weather, so that when conditions become dangerously slippery you are ready to react safely."

Rodger's tips to drive confidently in icy surroundings:

Check the weather in advance – don't ignore police warnings about closed roads.

Ensure you have de-icer and a scraper. Before setting off, make sure you clean any ice or condensation from all the windows to optimise visibility.

A squirt of WD40 will prevent your door locks from freezing up.

When you set off, do so in second gear, releasing the clutch and accelerating gently, avoiding high revs – this will prevent wheel spin.

Use the 'ice' setting if your car has one.
Do not switch off the ESP/Traction Control. There are occasions when doing so may help but most of the time much safer to leave it on.

As you drive, stay in higher gears and don't drive too fast to avoid losing control.

Stopping distances are increased by up to 10 times in icy conditions, so leave plenty of distance between your car and the car in front - plan so that you're not relying on your brakes to stop - on ice they may not do that for you. On bends, approaching junctions, and going downhill, reduce your speed early so you have control and are in a suitable gear before driving through them.

Skidding on ice is the main concern for those driving in freezing conditions. If your car loses grip, take your foot off the accelerator, and point the front wheels where you want to go. If you find yourself in a skid, steer into it.

Keep to the main roads as they're more likely to be gritted. Also bear in mind that after the frost has gone, ice can remain in areas which are shaded by trees and buildings.

Where you park can help reduce your risk of being involved in someone else's accident. So look for off road parking where possible or gritted roads if not.

Make sure your wipers are in the off position when you stop – they can freeze to the window. 
Rodger added: "When the roads are icy the best advice is to drive as if you're walking on eggshells. Be prepared for the worst – icy conditions can affect accelerating, steering and braking. Being mentally prepared as well as having the right equipment is vital, so think about any problems you encountered last winter, and what you need to do to overcome them if they recur this year."
Comments