Tips From the IAM for Driving in Germany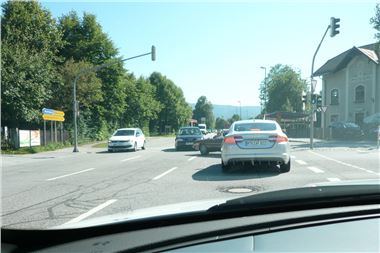 Road safety charity the IAM offers weekly motoring tips from Britain's top advanced driver, Peter Rodger. This week, he is advising on driving regulations for Germany. We have included an additional section about Environment Stickers, that are cheap to buy but failure to comply can result in a hefty fine.

While some autobahns (motorways) are free of speed restrictions this is only on parts of the network. Where there are speed limits posted, they are strictly enforced.

The drink drive limit is lower in Germany, 50mg of alcohol per 100ml of blood (rather than 80 mg in the UK).

To park in Germany, you need to buy a blue parking disc (parkscheibe), available at service stations; parking vouchers (parkschein) and parking meters are also common.
To enter many towns and cities you will need an Environment Sticker for your car. You can apply for one online at https://www.berlin.de/labo/kfz/dienstleistungen/feinstaubplakette.shop.en.php . By providing a scanned copy of the V5 Vehicle registration Document and/or the Certificate of Conformity via this site, an green 4 emissions sticker will be sent to you (even to UK addresses) for 6 Euros, postage included, payable by credit card on-line. All cars registered later than 1996 qualify automatically for a green 4 sticker, which is required for Berlin. Some other cities have less stringent requirements and may accept a yellow 3 sticker. The same emission zone sticker applies right across the country. Umweltplackett stickerse are also available before you go from http://www.tuev-nord.de/en/traffic/Order_2897.htm for 12.5 Euros That is the official site. Don't be tempted by the site www.umwelt-plakette.de - That will cost you 40 Euros. Stickers can be conveniently and legitimately bought via the Internet from www.Tolltickets.com, a German company for the Euro equivalent of about £7. It is also possible to pay the invoice via TUV-UK based in Croydon with a £20 Sterling cheque or bank transfer. Their contact details are: TUV-UK Ltd. Surrey House, Surrey Street, Croydon, Surrey CR9  1XZ, tel: 020 8680 7711"
Radar speed camera detectors are illegal in Germany, whether or not you are using them. Penalties include fines of up to €1500.
During daylight, you must use dipped headlights or daytime running lights if visibility is impaired by fog, snow or rain.

You should carry a warning triangle, set of bulbs and first aid kit, although these are only compulsory for residents. And don't forget your GB sticker.

IAM chief examiner Peter Rodger said: "When driving abroad, you need to think about the regulations not only of your final destination, but of the countries you'll pass through to get there.

"For instance if you're off to Germany via France, don't forget that from 1 July all drivers and motorcyclists need to carry a pack of two disposable breathalysers to keep the gendarmerie happy. The breathalysers must meet NF standards and carry the NF certification."  See Breathalysers in France and where to buy them.
To help drivers stay safe and enjoy their driving this summer, the IAM has a new website, drivingadvice.org.uk, with traffic updates, weather forecasts, and driving tips, including: driving abroad, cycling, coping with Olympic congestion, and loading the car for a long journey.

The IAM has also launched a new website, for biking advice and tips, bikingadvice.org.uk, with traffic updates, touring advice by country and all you need to know about events and local groups. Tips cover riding with pillions, in groups and night riding. There's also a videos page and you can upload your touring photos and stories - get involved at www.betterbiking.org.uk.
Comments