What to do After a Crash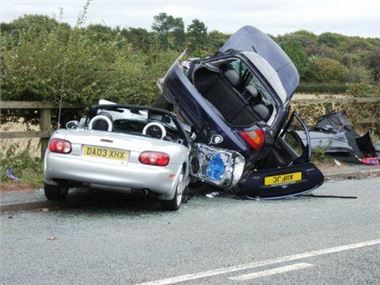 If you have the option, stop where it is safe.

Turn the engine off and put your hazard lights on (if appropriate).

Keep yourself safe and check others are too.

If you need the emergency services, call 999.

Stay calm. You must swap some details with the other driver(s). Unless that isn't possible due to injury or because they drive off. If you don't, you must report the accident to the police within 24 hours.

Give your name, address, and registration number and the name and address of the owner of the vehicle. You should get these details from the other driver(s).

If someone is injured, ensure you exchange insurance details.

Report the incident to your insurance company as soon as you can.

Get any witness contact details and take photos of the scene and vehicle damage.

Note carefully how many people are in the other vehicle.

IAM chief examiner Peter Rodger said: "The reality is nobody wants to think about having a car accident. It's important to be prepared in case you are involved in one. Knowing what you must do and taking simple precautions can make things easier afterwards."

To help drivers stay safe this winter, the IAM has launched a new website, drivingadvice.org.uk, with traffic updates, weather forecasts and tips on how to drive safely in winter.

Tips cover rain, snow, ice, fog and wind – everything you can expect in a typically unpredictable British winter. Check it out before you travel.
(Crash photo by Paul Williams.)
Comments