Load Your Car Carefully, Warns IAM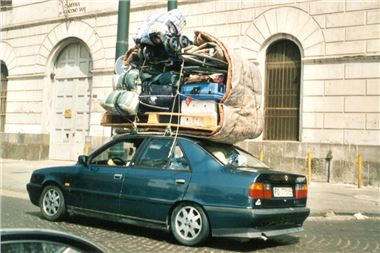 The Institute of Advanced Motorists is offering weekly motoring tips from it's Chief Examiner, Peter Rodger.This week he urges motorists to load their cars properly before setting off on holiday.
Pack belongings securely - loose objects can be distracting and if the driver needs to brake sharply unsecured items could fly forward and hit those sitting in front.
Pack heavy items in the boot whenever possible.
Loads should be made as small as possible and positioned to enable a clear view.
Keep heavy items low down.
Always pack so that those in the car – especially the driver – have room to move.
Feeling cramped causes stress and makes the journey less pleasant.
A full car uses more fuel – watch your fuel gauge.
Check tyre pressures before setting off. Tyres on a full and heavy car usually require higher pressures.
Rodger says "When you're packing a car with enough stuff to last you, it's tempting to throw the last few small items in loose. But bad packing can be dangerous and you could be prosecuted if your baggage looks unsecure." 
More at IAM
Comments