Before You Buy a Car, Make Sure You Can Sit Comfortably In It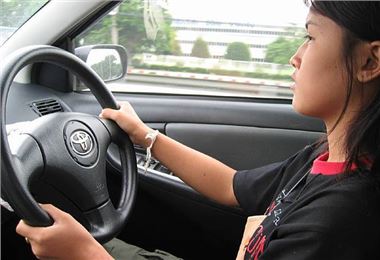 Recent research by the British Chiropractors Association found out that more than a third (37%) of drivers questioned highlighted that the look of a car was the most important factor when deciding which model to buy.
However, given that many people spend a significant amount of time each week in their cars, the comfort and support derived from car seats should really be a more important factor.
Rishi Loatey, chiropractor from the British Chiropractic Association says: "The comfort of the driving seat is vitally important in avoiding an impact onto your posture or potentially harming your back. Ensuring the seats in your new car are right for your height and build is crucial. Also think about how you'll use the car and the comfort to your passengers too."
The British Chiropractors Association offers the following advice to anyone buying a car this spring:

Find the car to suit you:
Try before you buy - take time to properly try out the seats in the models you are considering purchasing.
Check how many points of adjustment the car seats have, particularly the driver's seat; you need to be sure that you and any other driver can adjust the seat appropriately.
Adjusting to fit:
The back of the seat should be reclined slightly, so that it feels natural and your elbows should be at a comfortable and relaxed angle for driving.
Once you have adjusted your seat correctly, your hands should fall naturally on the steering wheel, with just a slight bend in the arms.
Set mirror positions to suit you - they should allow you to see all around the car with the movement of your eyes with minimal head movement.
Your seatbelt should always lie across the top of your shoulder and never rub against your neck or fall onto the top of your arm.
If you suffer from restricted movement, a car that has more headroom and doors that open wide will be easier to use. Check that you can easily slide the seat away from the dashboard to increase the amount of space available to you when getting in and out of the car.

If you have a small child or baby who will need to be placed in and out of a car seat, this aspect of your usage should be uppermost in your mind, as awkward bending and twisting whilst trying to place children into seats can cause back pain and other problems. Good tips for child seats: The best approach is to hold the child close to you and, when you are as close to the car seat as possible, bend your knees whilst keeping your back straight and reach in to place the child into the seat. If your baby is in a carrier, rest it on the edge of the car seat and manoeuvre into position, remembering to keep your knees bent and back straight.
Rishi Loatey concludes "Read your car handbook. Many people don't know the full extent of the adjustments available in their own cars. Taking the time to fully understand how the car seating and layout will suit your own needs and requirements is important. You may own the vehicle for some time and it is a major
investment - something that should be a pleasure to use, rather than cause you issues".
The British Chiropractors Association has a simple, three minute exercise routine called Straighten Up UK. This can be incorporated into daily life to help strengthen the spine and improve posture. The exercise routine is available to view on
www.chiropractic-uk.co.uk where there is also plenty of practical information available.


Comments