Ford Customer Service (0845 841 1111) Moves to New Offices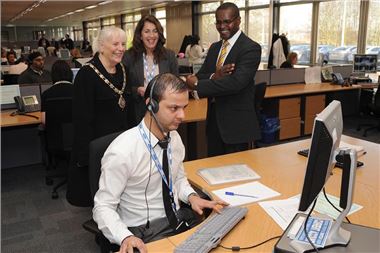 Ford's Customer Relationship Centre (0845 841 1111) has moved to a new facility adjacent to the Ford Parts Distribution Centre in Daventry, Northamptonshire.  More than 100 service professionals are located at the new centre dedicated to answering customer enquiries. The new telephone number is: 020 3564 4444
The new Ford CRC in Daventry,was officially opened on 21st January 2011.  Through 2010 Ford invested £7m in the Daventry facility including £1m on building refurbishment, implementation of new technologies and infrastructure for the new CRC.
In opening the new centre, the Mayor of Daventry, Glenda Simmonds, said: "Ford have already added new jobs at Daventry over the past year, which is brilliant news for the local community.  The opening of the new Ford Customer Relationship Centre adds further jobs and shows confidence in Daventry as a good area for investment."
Andy Barratt, director, Ford Customer Service Division added: "This is a great opportunity for the team to be based at a new Ford location with the latest telecommunication technologies and up-to-date staff training facilities, ensuring Ford customers receive the best care possible."
Ford Daventry Customer Relationship Centre
The Ford CRC in Daventry which employs over 100 staff is one of the largest Ford customer contact centres in the world.  The latest in telecommunications technology helps the Ford team to respond promptly to customer queries, ranging from local dealer information to more advanced product knowledge.
The original Ford Customer Assistance Centre (CAC) was opened in the early 1990s in Essex before moving to a more central location in Coventry in 1994.  In its new location the centre will handle in excess of 350,000 calls¹ and up to 14,000 pieces of correspondence each year.
Ford Daventry
The Ford Parts Distribution Centre in Daventry was opened in 1968 and today employs over 500 people.  In 2010, 80 jobs were created in the new cross dock and contract pack operations department, helping to provide a fast and reliable parts delivery service to Ford sites and Ford dealer networks in the UK, Europe and many worldwide locations, including the Middle East and the Americas.
The centre provides parts for the complete Ford range of vehicles marketed in Europe, and stocks 100,000 different parts for up to 10 years from car production.  Ford Daventry is able to satisfy 96 per cent of orders the same day and 99 per cent within nine days.
Inbound and outbound calls to 0845 841 1111 ranging from simple customer enquiries to product concern or request for assistance (in addition to customary roadside assistance provided by the AA)
Comments