Volvo Dealers Offer Winter Wheel + Tyre Packages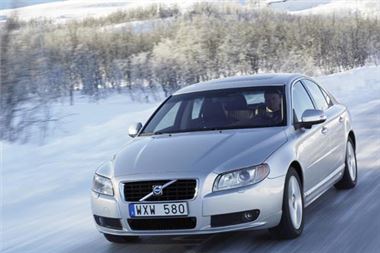 Volvo Car UK will be helping drivers stay mobile during the annual big freeze by launching its new Winter Tyre Programme.
The scheme is a response to last January's heavy snowfall, which saw the coldest temperatures since 1963 and icy conditions that caused misery for millions of motorists.
Ordinary tyres harden when temperatures drop below 7°C, reducing grip and prolonging braking distances. Winter tyres, on the other hand, are made to react positively to any drop in temperature. They use soft silica technology and a higher proportion of rubber, so remain more elastic and have improved grip in lower temperatures. Winter tyres also feature a wider groove tread pattern to enhance traction in the wet, snow and ice.
Volvo is offering drivers the option of swapping their normal road tyres for Winter versions that are better suited to the slippery conditions. The alloy wheel and tyre packages start from £949+vat and the range covers a selection of Volvo models, including the most popular fitments on existing models.
Lee Berrell, Aftersales Manager at Volvo Car UK, said: "Volvo winter tyres cost no more than normal tyres, but they could stop you at shorter distances regardless of how bad the weather gets. In fact, conditions don't even have to be that dire before stopping distances are seriously affected.
"To be safe, it is recommended that you switch to a set of winter tyres when the temperature drops below 7°C. In the UK, that's usually between October and March – so now's the time to benefit from the Volvo Winter Tyre Programme."
Customers can choose to store their summer wheels and tyres at home during winter or, for an additional cost, with Volvo. This can be either with their local dealership, or using Volvo's 'Tyre Hotel' where the 'spare' set of wheels and tyres are stored and the correct wheels for the season fitted every six months, for a twice yearly charge of £85 inc VAT. That way, drivers get peace of mind from knowing they always have the right set for the season.
The alloy wheel and tyre packages are available with either Pirelli or Continental rubber. Pirelli tyre packages start from £949+VAT and Continental packages from £999+VAT.
For more information, please visit your nearest Volvo dealer.
Comments