Motor Codes Wants Your Feedback on the Garage Service You Get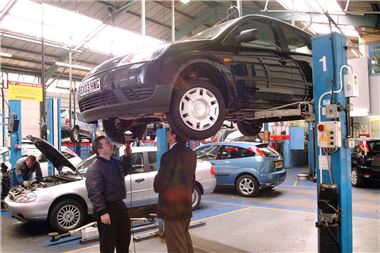 The Society of Motor Manufacturers and Traders consumer protection section, 'Motor Codes', has launched a national campaign to make the country's garages better by gathering feedback from customers. As part of the campaign, those providing feedback could win up to £500 against the cost of their last service or repair.
"Motorists need confidence in where they take their car for service and repair work, so by gathering feedback and using it to make improvements, garages across the country can offer increasingly higher standards," said Chris Mason, Motor Codes director. "We want to provide motorists with a local 'safe haven' garage by helping all service and repair centres to make ongoing improvements through customer feedback."
Each month a Motor Codes garage customer will win back the cost of their service or repair up to £500 by simply completing the online survey. The launch of this latest campaign complements the free advice line (0800 692 0825) operated by the organisation that has helped thousands of motorists this year alone. Results of the surveys are transformed into a live Garage Rating that is displayed on garage profile pages at www.motorcodes.co.uk
To find reputable local garages, motorists make over 500,000 searches a year using the online Garage Finder tool on the Motor Codes website. Having found nearby garages, users can use the independent Garage Ratings to pick the best business.
Earlier this year, Motor Codes in conjuction with www.honestjohn.co.uk ran its annual Golden Garages competition that highlighted some of the UK's best service and repair centres. This latest customer offer, combined with feedback gathering will promote best practice, enabling more garages to provide first class customer service.
Motor Codes has the backing of Consumer Focus, Trading Standards, government and Consumer Direct. The survey was put together in line with requirements set out by the Office of Fair Trading, with the aim of helping to drive up standards across the industry. To find out more about the three Motor Industry Codes of Practice, to locate a reputable garage or to complete the survey, visit www.motorcodes.co.uk
About Motor Codes:
The Motor Industry Code of Practice for Service and Repair helps motorists to identify responsible garages, offers a structured complaints procedure and promotes good customer service at its subscribing garages. More than 6,200 garages in the UK subscribe to the Code which has completed the first stage of Office of Fair Trading (OFT) code approval and is currently progressing through the further stages of its Consumer Codes Approval Scheme.
Developed and launched in 2008 as a response to consumer concerns over pricing, quality of work and customer service, the Code commits subscribing garages to:
• honest and fair services
• open and transparent pricing
• completing work as agreed
• invoices that match quoted prices
• competent and conscientious staff
• a straightforward, swift complaints procedure
And offers motorists:
• a free consumer advice line (0800 692 0825)
• an online search facility allowing consumers to locate their nearest subscribing garage
• free conciliation and low cost, legally binding arbitration
Further Motor Codes information is available at www.motorcodes.co.uk
Honest John's Good Garage Guide of reader Recommended Garages at Good Garage Guide
Comments