Warning to buyers of second-hand airbags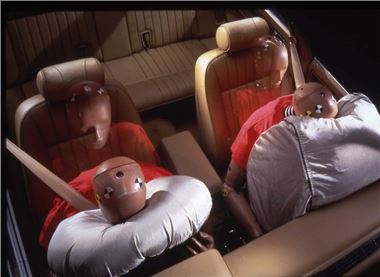 The number of second-hand airbags listed for sale online in the UK has more than doubled in the last 12 months, from around 3,000 in 2009 to just over 7,000 eBay auction listings in July 2010, according to research by used car e-retailer Carsite.co.uk.
Carsite is concerned that the economic downturn has encouraged increasing numbers of motorists to save money by replacing spent airbags with cheaper second-hand units bought from auction sites such as eBay. Whilst the used devices come at a lower cost than new manufacturer units, the risk of a defective airbag is many times greater.
There is also a fear that accident-repaired cars fitted with potentially in-operational used airbags are being sold on to unwitting buyers. In most cases the driver would be totally unaware of the problem until the bag failed to deploy.
More used Vauxhall airbags are available than any other vehicle make, accounting for around 10% of auction listings. Together with Ford, VW, BMW and Renault, the five manufacturers make up around 50% of the second-hand airbag market on eBay.
Motorists are even able to acquire prestige vehicle airbags. Carsite found one vendor offering a Ferrari 355 steering wheel airbag from a 'low-mileage donor vehicle' for £400. Significantly less than an authorised Ferrari service centre, which quoted £1620+VAT for a brand new replacement unit with an additional £150 in labour costs.
John Guess of Carsite.co.uk commented; 'Not all used airbags will be defective; some will work in the event of a collision - it's a total game of chance. However, even if the airbag is properly functioning, someone who is unqualified might not fit it correctly or even hurt themselves in the process.
This is a high risk marketplace that needs regulating. Without strict guidelines, the UK is letting people save money by gambling with their lives. Why is it illegal to trade used airbags in countries like Germany and not here?'#
In the majority of auction listings, the reasons why the airbag was removed from the original vehicle are not stated. Major retail site eBay, permits the sale of 'new airbags' but 'deployed or rebuilt airbags' are not allowed. However there are no restrictions on the sale of airbags removed from vehicles.[i]
Matt Gibson, Head of Customer & Aftersales at Honda UK commented; 'Honda would never recommend buying second-hand airbag parts or complete units, as these components form a vital part of a car's active safety system, which could be affected by incorrect fitment or parts failure. Our suggestion would always be to have such important areas of the car inspected and repaired by an authorised dealership, using manufacturer approved parts.'
In Germany, airbags are regulated as harmful explosives with only specially trained mechanics qualified to service airbag systems - no untrained persons are permitted to handle airbags. Under German Federal Law, used but intact airbags must be detonated under secure conditions and not passed on to third parties. Some manufacturers such as Mercedes-Benz call for the replacement of undeployed airbags after a certain period of time to ensure their reliability in an accident.
Amateur installation of used airbags can also be dangerous. Ron Waldock, Carsite's independent RAC inspector commented; 'Replacing an SRS unit isn't a case of removing the old one and screwing another in place. Modern vehicle safety systems are much more complicated. On many models crash sensors will need to be tested and replaced or reset; the SRS computer and firing mechanisms must all be checked, alongside other recommended procedures. It's a complex process requiring time and experience.'
The Department for Transport recommends never installing second-hand airbag components as they 'may not function in accordance with the manufacturer's original specification and therefore offer reduced levels of protection, or even present a danger to the vehicle occupant.'[ii] However, there are currently no laws to enforce this, or limit the sale, handling and maintenance of the devices.
The problem extends to those involved in the shipment of the used airbags, with UK postal workers potentially exposed to devices classified as UN Hazard Class 1 explosives. Some models of airbag can deploy and inflate at speeds of up to 160mph.
Despite the Royal Mail refusing to ship airbags through either its standard service or Parcelforce division[iii], this is being ignored by sellers who advertise standard delivery and package the units anonymously. Citylink and DHL agree to handle the devices but only when clearly labelled and couriered through their Dangerous Goods Department.
The Health & Safety Executive also provides strict guidelines on the safe storage of airbags such as in locked metal containers.[iv] Some units even require registration under the Explosives Act of 1875 for business and individuals wishing to keep them on the premises.
Whilst some used car retailers such as Carsite provide a full HPI history report with each of their vehicles, motorists buying privately are currently unable to ascertain if a car has been in an accident, what repairs were carried out or if the airbags were replaced in a manufacturer approved workshop.
Comments