Cloning May Continue Despite New V5C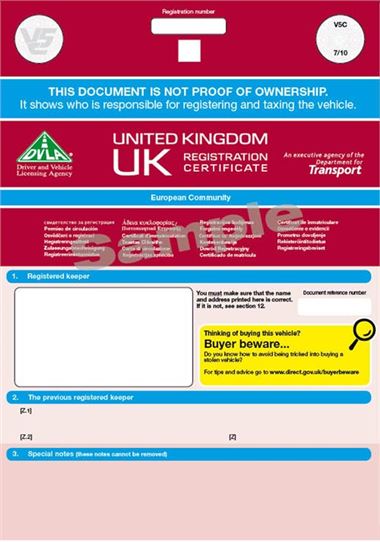 HPI supports new look V5C, but urges dealers to remain vigilant
As the DVLA launches its new version of the V5C document in an effort to fight car
fraud, HPI is warning dealers to remain vigilant during the coming months, as there
is an increased risk of criminals attempting to use stolen old style V5Cs to 'clone'
cars before the old-style certificates have all been replaced.
"The move to introduce the new V5C document comes after an estimated 2.2 million V5C
certificates were stolen in 2006, which have since been used to sell vehicles which
have been cloned," comments Daniel Burgess, Director of Automotive at HPI. "A
cloned car is a stolen vehicle which has had its identity changed to match a
legitimate vehicle and criminals have been making millions of pounds using the blank
registration forms to sell these vehicles on."
The HPI Check can help protect dealers from falling victim to buying a clone as it
is the only vehicle check that includes a stolen V5 document check as standard,
confirming it is not one from the batch stolen in 2006.
The new V5C is now coloured red and makes it clear that a registration certificate
is not proof of ownership. All new cars registered from 15th August will receive
one of these easy to understand redesigned V5C document. From next year, the
document will be reissued by the DVLA on all remaining vehicles when they are
re-licensed or declared to be off the road.
Concludes Daniel Burgess, "We are urging dealers to be on their guard as car
criminals will now feel the pressure to use the old style V5Cs that were stolen in
2006, before they become useless."
The HPI Check will also reveal whether the car is registered with the police as
stolen, has been written-off by an insurance company, or has outstanding finance
against it, and it protects dealers with the HPI Guarantee*. The HPI Guarantee
provides up to £30,000 financial reimbursement in the event of the car not being
everything it seems or the data held by HPI being inaccurate, including a clone -
the only vehicle history check to do so*.
*Subject to terms and conditions
More at www.hpicheck.com
Comments