Toyota annouces details of recall for Land Cruiser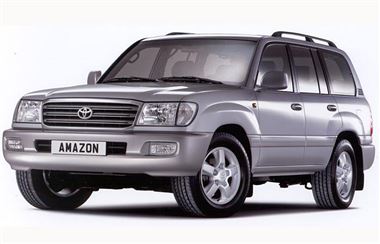 Toyota today announced a recall campaign for 348 of the previous generation Land Cruiser Amazon models that have the potential to be affected by a rare steering related issue. This has been confirmed with Vehicle and Operator Services Agency (VOSA).
The recall is to replace a snap ring bracket within the steering mechanism that could become detached due to violent impact with a large pot hole or obstacle. In the rare event that this occurs and the vehicle is then subjected to repeated application of full, opposite lock, the steering may become inoperative. There have been only two reported incidents in Europe and no reported accidents related to this issue.
In the UK, the recall will affect 348 of the Land Cruiser Amazon built between July 2002 and September 2006. In a related recall action in other countries a sister model, the LX 470, never sold in the UK, will also be subject to a recall action.
(N.B. An unrelated recall action for the Toyota Avalon, a saloon model not sold in the UK, is also announced today, mainly for vehicles sold in North America).
No other Lexus or Toyota vehicles sold in the UK are affected.
Owners will be contacted by Toyota directly and asked to take their vehicles to a Toyota service centre, where the affected parts will be replaced with improved ones. The replacement will be performed at no cost to the owner. The repair will take approximately two hours.
Owners will be offered complimentary use of a replacement Toyota while their car is being repaired if required.
Toyota says it will take all reasonable action to contact the owners or registered keepers of the affected vehicles as quickly as possible. In the meantime, the vehicles are safe to drive. Owners can immediately find out if their vehicle is involved in this campaign by entering their VIN (Vehicle Identification Number) on the Toyota website: http://www.toyota.co.uk
Toyota has also launched a dedicated recall information page on its website, which will be updated with the latest information.
Toyota advises customers who have any concerns to contact their local Toyota centre or the Toyota Customer Relations team on 01737 367600 for assistance.
"We apologise for any concern and inconvenience caused to our customers by this campaign," said Jon Williams, Toyota GB's Commercial Director.
"Toyota take all quality and safety issues extremely seriously and we are intensifying our efforts to ensure the quality of our customers' ownership experience is safeguarded."
Comments