First look: 2020 Green numberplates for electric vehicles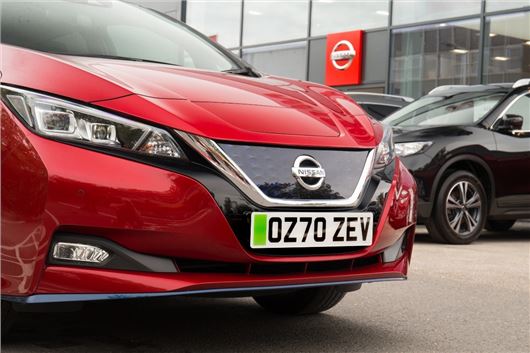 Published 01 September 2020
New electric vehicles (EVs) registered from 1 September 2020 will be the first to feature a green 'flash' on their number plates. As 70-plate models are introduced, from today, Nissan has shared trial green numberplates to show EV drivers how they could look when they hit the road later this year.
From autumn onwards, EVs will have the conventional yellow plates on the rear, but the front plate will feature a green stripe on the left-hand side. The move aims to make zero-emissions cars more easily-identifiable for potential initiatives like cheaper parking and free entry into clean air zones.
The reg plate change, which will be introduced in autumn 2020, aims to incentivise the public to buy electric vehicles.
The scheme is part of the Government's plans to achieve net zero emissions by 2050 - including the increase of car bans in city centres across the UK, and the 2035 ban on the sale of petrol, diesel and hybrid cars.
However, privacy concerns have been raised in regards to the UK's vast network of automatic number plate recognition (ANPR) cameras. In January, the Government's independent Surveillance Camera Commissioner previously warned green number plates could lead to "an unqualified extension to the role of ANPR".
In April, almost nine million private journeys were released onto the internet due to hackers breaching Sheffiled's ANPR network.
The leak was discovered by tech publication, The Register, which says hackers could've tracked individual vehicles through the city using their numberplates.
An exact date for the introduction of the green numberplates has yet to be announced but the Department of Transport confirmed today they will be arriving this autumn.
Comments
Author

Georgia Petrie
Latest