£5m boost to make smart motorways safer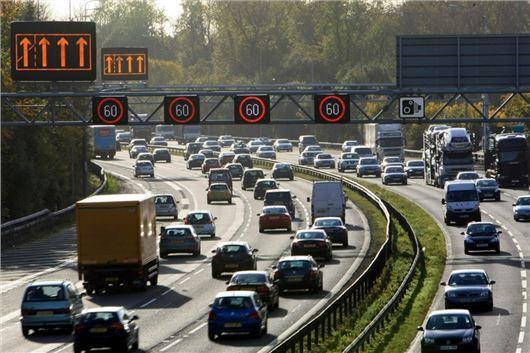 Published 12 March 2020
Following heavy criticism of smart motorways, Transport Secretary Grant Shapps has released a new report detailing 18 measures to improve safety. The points include £5m funding increase and scrapping the opening of the motorway's hard shoulders for traffic at busy times.
Thirty-eight people have been killed on Smart Motorways over the past five years, with one section of the M25 seeing a 20-fold increase in the number of potentially fatal "near misses" involving stationary vehicles since the hard shoulder was removed in 2014, according to an investigation by BBC Panorama.
There are more than 400 miles of Smart Motorway in the UK and the majority are designed to relieve congestion by making the hard shoulder available for use of traffic. On some motorways the hard shoulder is opened at busy times while others use it permanently - known as all lane running (ALR).
Shapps said, "Overall, what the evidence shows is that in most ways, smart motorways are as safe as, or safer than, the conventional ones. But not in every way."

In addition to abolishing the dynamic hard shoulder, the government has said it will also reduce the distance between places to stop in an emergency to three quarters of a mile where possible. It says this will mean on future schemes, motorists should typically reach a stop every 45 seconds at 60mph. The maximum spacing will be one mile.
"Overall, what the evidence shows is that in most ways, smart motorways are as safe as, or safer than, the conventional ones. But not in every way. Smart motorways have helped us cope with a 23 per cent rise in traffic since 2000. They save motorists thousands of hours sitting in jams. They reduce the disruption and environmental destruction which would otherwise be needed to widen our busiest roads," said Transport Secretary Grant Shapps.
The government's plan also includes measures to:
Install 10 additional emergency areas on the existing M25 smart motorway section
Speeding up the deployment of technology to detect 'stopped vehicles'
Making emergency areas more visible
investigating M6 Bromford viaduct and the M1 at Luton, Sheffield and Wakefield where there is evidence of clusters of incidents. Where an intervention is considered likely to make a difference, we will look to make changes at these locations
making emergency areas more visible – all emergency areas will have a bright orange road surface, dotted lines on the surfacing showing where to stop, better and more frequent signs on approach and signs inside giving information on what to do in an emergency. These will be installed by the end of spring 2020
displaying 'report of obstruction' messages automatically on electronic signs, triggered by the stopped vehicle detection system, to warn drivers of a stopped vehicle ahead, this is currently being trialled on the M25 and then a further trial on the M3
we have changed the law to enable automatic detection of 'red X' violations and enforcement using cameras and we will be expanding the upgrade of smart motorway cameras (HADECS) to identify more of those who currently ignore the 'red X'. The penalty is 3 points on the driver's licence and a £100 fine, or the driver can be referred to an awareness course
"We don't believe the main issue at hand here is the safety of smart motorways with 'dynamic' hard shoulders [...]. The safe running of any smart motorway heavily depends on drivers being able to see, and react to red X signage indicating where lanes are closed.
"We are disappointed that the review has not looked at the spacing of red X gantry signage as we believe in too many instances signs are spaced too far apart, increasing the possibility of drivers not seeing them," said RAC head of roads policy, Nicholas Lyes.
Comments
Author

Georgia Petrie
Latest