Hundreds of theory test fraud cases investigated by the DVSA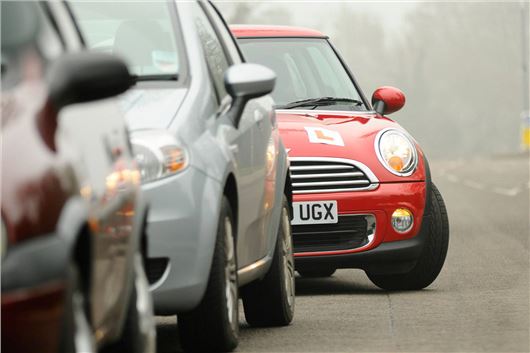 Published 10 January 2020
The organisation responsible for driving theory tests in the UK says it's training its staff to become experts in spotting cheats - with 645 cases of suspected fraud since April 2019.
Staff at the Driver and Vehicle Standards Agency (DVSA) are taught how to identify impersonation or Bluetooth headset fraud, while a dedicated investigation team is on hand when someone is suspected of sitting tests fraudulently.
It comes as a Coventry man was jailed for two years and four months for sitting driving theory tests for other people in 12 locations across the UK.
Swallaxadin Abdul Bashir was sentenced at Warwick Crown Court on Wednesday 8 January for his 12 offences, which took place between October 2018 and August 2019. Bashir would charge £500 a time, taking the theory test for applicants who had difficulty with the English language.
This could potentially lead to drivers on the road who weren't familiar with the Highway Code - something the DVSA says it takes very seriously.
"DVSA's priority is protecting everyone from unsafe drivers and vehicles," said DVSA's head of counter fraud and investigation, Andy Rice.
"Theory tests are a vital way of assessing if people have the right driving knowledge and attitude to drive safely.
"Working with other agencies, we make every effort to prosecute theory test fraudsters and this significant prison sentence shows the impact of this work."
After staff at a number of theory centres raised concerns about Bashir, he was investigated by the DVSA's fraud investigation department and West Midlands Police. During searches of his home and another property, they found evidence of text messages from people booking tests as well as distinctive items of clothing captured on test centre CCTV.
It's not the first time Bashir has been prosecuted for similar offences. He was also jailed for 18 months in August 2017, for two years in July 2016 and received a six-month suspended sentenced in February 2014.
Ongoing investigations are taking place to locate and prosecute the people who paid Bashir to carry out the tests on their behalf.
Comments
Author

Andrew Brady
Latest