Holiday hell – the UK's worst roads for Christmas delays revealed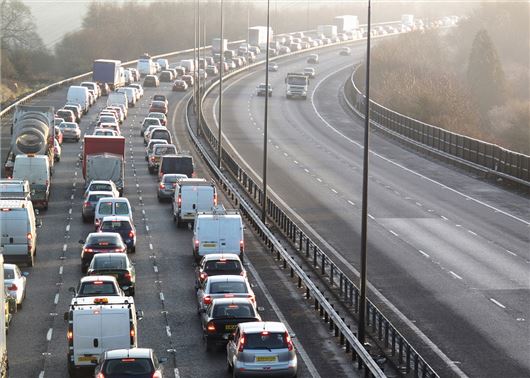 Published 17 December 2019
The UK's worst roads for delays in the run-up to Christmas have been revealed.
An estimated 31.2 million separate leisure car journeys will be taken between today (17 December) and Christmas Eve, the highest number since 2013, according to a joint study by the RAC and transport analytics specialist INRIX. 
>>> Top 10: Best sat navs for under £100
The M1 in Bedfordshire and Northamptonshire, the northern and western sections of the clockwise M25 and M6 in the West Midlands are set to bear the brunt of the festive traffic.
However, two of the longest delays are predicted on 22 December, with drivers facing queues of more than an hour and a half northbound between Flitwick and Daventry, and nearly an hour on the M25 clockwise between the junctions for the M23 and M40.
Boxing Day and 27 December look to be the busiest days after Christmas, with nearly six million trips by car expected each day, followed by the 28 and 29 December with 5.6 and 5.3 million respective journeys.
The findings are based on an RAC survey of 1600 road users and congestion and road-specific information based on driver data from INRIX. 
"We're doing everything we can to make journeys as smooth as possible and that's why we're keeping around 98 per cent of the road network we manage free from roadworks," said Highways England's Melanie Clarke.
"We're asking people to be prepared too. Make sure you have everything you need for your journey should there be any delays, check before and during your journey and also make sure you're aware of the signs and signals on motorways."
Beat the queues: An at-a-glance guide to travel in the run-up to Christmas
Date

Likely to be busy 

Likely to be less busy 

Expected longest delays

19 December

Between 3pm and 7pm

After 8pm

M25 clockwise J23 Hatfield to J28 Chelmsford: 56-minute delay around 7.15pm

 

M25 anticlockwise J17 Maple Cross to J12 for M3: 48-minute delay around 8pm

 

M5 north J11 Cheltenham to J1 West Bromwich: 33-minute delay around 2pm

20 December

Between 12pm and 7pm

After 8pm

M6 north J5 Sutton Coldfield to J10A Wolverhampton: 57-minute delay around 8.15am

 

M25 clockwise J15 for M4 to J19 Watford: 46-minute delay around 2.15pm

 

M1 south J16 Northampton West to J6 Watford: 43-minute delay around 3.45pm

21 December

Between 10am and 3pm

After 4pm

M40 south J11 Banbury to J9 Bicester: 42-minute delay around 1.15pm

 

M1 north J12 Flitwick to J16 Daventry: 37-minute delay around 2.15pm

22 December

Between 10am and 4pm

After 5pm

M1 north J12 Flitwick to J16 Daventry: 97-minute delay around 12pm

 

M25 clockwise J7 for M23 to J16 for M40: 58-minute delay around 12.15pm

 

M5 south J15 for M4 to J23 Bridgwater: 48-minute delay around 3.30pm

 

M40 north J12 Gaydon to M42 J3A: 41-minute delay around 6.45pm

23 December

Between 10am and 3pm

After 4pm

M25 clockwise J15 for M4 to J19 Watford: 69-minute delay around 2.45pm
Comments
Author

Dan Powell
Latest