Police using double-decker buses to catch motorists who text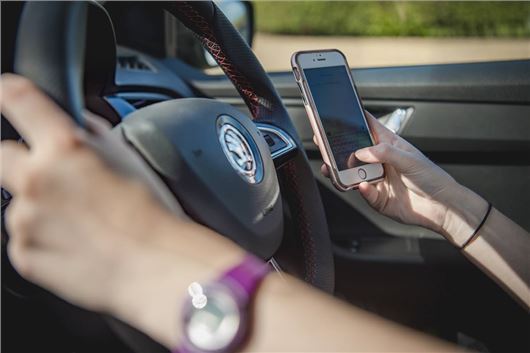 Published 27 September 2018
Police are using double decker buses to catch motorists who use their mobile phone at the wheel.
Plain clothes officers from West Midlands Police are able to record offenders and then instruct colleagues on motorbikes to pull over drivers. The motorists are then diverted to a designated location and shown the recording of them on their phone. Within a few hours of Operation Top Deck's launch, 45 drivers were caught using their phone while driving.
On the first day of the initiative, a woman was caught eating a bowl of cereal while driving, she was prosecuted for driving without due care and attention. A man was also caught using his phone while on route to a speed awareness course.
Those caught breaking the law received a £200 fine and six penalty points. Drivers who have been driving for less than two years, and can only receive six points rather than 12, will automatically lose their licence after a first offence.
They will then have to reapply for a provisional licence and retake their driving test. Some cases may also go to court, where there is a maximum fine of £1000. Bus or HGV drivers face a maximum fine of £2500.
>> Just a third of drivers aware of mobile phone laws
The operation follows a similar scheme where police officers catch drivers using their mobile phones by watching them from an unmarked lorry. The scheme, Operation Tramline, was used by South Wales Police in April 2018.
During that week it was in operation 120 vehicles were stopped. 84 traffic offences were reported, with 23 prohibition notices and 15 fixed penalty notices issued. There were also 14 cautions, with £2760 in fines raised.
South Wales Police said they will be running the operation again over the next two months to catch drivers before Christmas.
It has been illegal to use a mobile phone, or similar device, while the engine of a vehicle is running since December 2003. This includes when stopped at a red light or queuing in traffic.
If your phone is in a cradle then you may press a single button to answer a call, but pressing multiple buttons - like a text - is illegal. It is, however, legal to make and receive calls using a hands-free system.
Many new cars come with Bluetooth systems fitted as standard, which allows the driver to use their phone legally. Although, even when using a legal hands-free kit, drivers can still be charged with careless driving, dangerous driving or driving without due care and attention if the police believe that it affected their standard of driving.
Comments
Author

Georgia Petrie
Latest