Morgan Cuts Price of 3-Wheeler by £3,000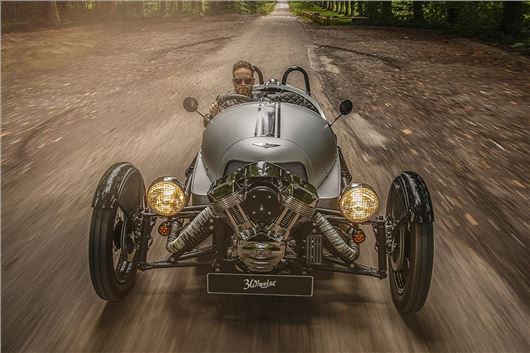 Published 14 August 2019
The Morgan Motor Company has cut the pre-VAT price of its 3-wheeler by £3,000, to £35,886 including VAT for all new orders until 30th September 2019, or until all 2019 production slots are filled. (Options remain extra.)
The first Morgan 3-wheeler was built in 1909 and Morgan is celebrating its 110th anniversary with this limited-time offer applicable to new orders of its unique and attention-grabbing 3-wheeler. 
Available on 3-wheelers ordered between 1 August and 30 September 2019, Morgan will contribute £3,000 (plus VAT, where applicable) towards the cost of the car. In the UK, this brings the price of the Morgan 3-wheeler to £35,886 inc. VAT, before options. 
Featuring a tubular steel 'space frame' chassis, aluminium coach built shell and hand-crafted ash wood frame, the 3-wheeler weighs 500kg. Coupled to a front-mounted 82bhp V-Twin engine powering the rear wheel, the 3-wheeler is a thrilling driving machine, capable of reaching 115mph. Like every sportscar that leaves Morgan's factory, each 3-wheeler is extensively customisable. 
Morgan 3-wheeler carbycar entry.
The promotion comes alongside other Morgan 110th anniversary celebrations, including the launch of the range of '110 Anniversary' four-wheeled models, and the Plus 4 110 Works Edition. The current Morgan range includes the 3-wheeler, 4/4, Plus 4, Roadster, and all-new Plus Six 
In March 2019, Investindustrial purchased a majority share of the Morgan Motor Company, and by doing so invested in the long term future of the Morgan Motor Company building cars in Britain. The Morgan family retain a shareholding of the company, and work along side Investindustrial at board level. 
In 2018. Morgan built 850 vehicles, of which 70% were exported through over 50 official dealerships in 32 countries. 
Link to Morgan Motor Company
Comments
Author

Honest John
Latest