2.3 million clocked and potentially dangerous cars on UK roads, report suggests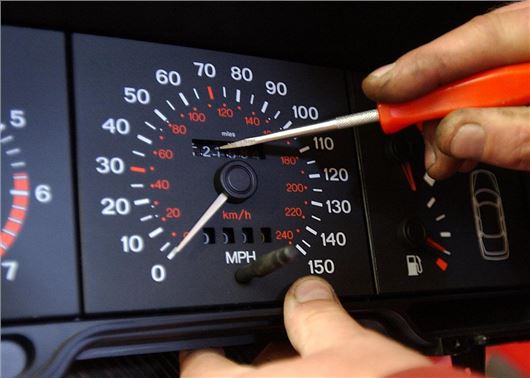 Published 19 November 2018
Councils are calling for mileage correction services and devices to be banned, after it emerged that there could up to 2.3 million clocked and potentially dangerous cars on UK roads.
One in 16 vehicles checked now has an odometer discrepancy according to The Local Government Association (LGA) and it is calling for DIY mileage correction tools – widely available for sale online from about £100 - to be made illegal to help combat the problem.
>>> The UK's most-common car scams and how to avoid them
Dishonest dealers and private sellers can use mileage correction devices to knock thousands of miles off a car's history, this in turn can increase the value of an average second-hand family car by up to £4000, according to CAP Automotive
In one recent council prosecution a van sold with 89,000 miles on the clock was actually found to have travelled more than 243,000 miles. In September, a car dealer was sentenced to two and a half years in prison and ordered to pay a total of £130,000 in compensation and court costs after selling 10 vehicles with false mileage and manufacturing fraudulent service histories following a prosecution by Stockport Council
"Unscrupulous dealers are tricking unsuspecting buyers into paying thousands of pounds more for a vehicle with false mileage."
A legal loophole means that while knowingly selling a clocked car without disclosing it is fraud, it is not illegal to alter the odometer's mileage. The proposed EU ban on companies providing mileage correction services was supposed to be in place by May 2018, but delays have allowed firms to continue to alter thousands of odometers without any threat of legal reprisal.
The LGA – which represents 370 councils in England and Wales - is calling for the legislation to be implemented as soon as possible and retained under UK laws after Brexit.
Simon Blackburn, chair of the LGA's Safer and Stronger Communities Board, said: "Unscrupulous dealers are tricking unsuspecting buyers into paying thousands of pounds more for a vehicle with false mileage, which could put their safety at risk and lead to expensive repair bills if it is in a poorer condition than has been suggested.
"Trading Standards teams across the country often receive more complaints about used cars than anything else. This is why the proposed EU ban on mileage correction services needs to be made part of UK law as soon as possible, otherwise thousands more cars will continue to be clocked, jeopardising the safety of cars and passengers on UK roads.
"The sale of cheap mileage correction software also needs to be banned as this can only be fuelling the big rise in clocking and illegal profits."
Car buyers can take a number of steps verify a vehicle's mileage, including checks with the DVLA for previous MoTs that show the car's mileage.
Buyers can also check the service history to see if the car tallies with the claimed mileage for each year. A heavily worn steering wheel, driver's seat and pedals can also indicate that the mileage may have been tampered with.
Comments
Author

Dan Powell
Latest