Audi, Volkswagen, SEAT and Skoda latest brands to introduce scrappage incentives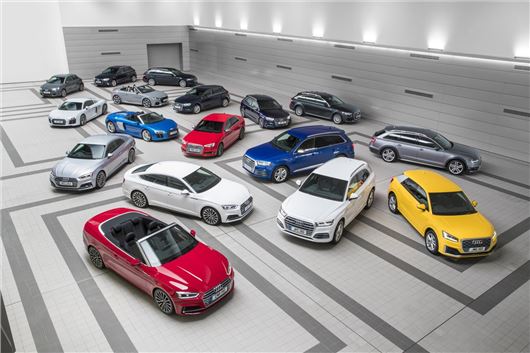 Published 01 September 2017
Volkswagen, Audi, Skoda and SEAT are the latest brands to introduce scrappage incentives, with dozens of models and savings of up to £8000 on offer. The offers are available to owners of pre-Euro 5 diesel cars produced before 2010.
Trade in vehicles need to have been registered in the owner's name for at least six months to qualify - and the trade-in vehicle will be scrapped. The discount available varies depending on the model, but discounts range from £1500 for the SEAT Mii and Skoda Citigo to £8000 for the Audi Q7 E-Tron.
You can find a full list of all the cars and their discounts below.
>> See all the manufacturer scrappage scheme discounts in our complete guide
| | |
| --- | --- |
| Audi Model Purchased | Scrappage Amount (inc. VAT) |
| A1 3 door | £2,800 |
| A1 Sportback | £2,800 |
| A3 3 door | £4,000 |
| A3 Sportback | £4,000 |
| A3 Sportback e-tron | £5,000* |
| A3 Saloon | £4,000 |
| A3 Cabriolet | £4,000 |
| A4 Saloon | £6,000 |
| A4 Avant | £6,000 |
| A4 allroad | £6,000 |
| A5 Sportback | £6,000 |
| A5 Coupe | £6,000 |
| A5 Cabriolet | £6,000 |
| A6 Saloon | £7,000 |
| A6 Avant | £7,000 |
| A6 allroad | £7,000 |
| A7 Sportback | £7,000 |
| TT Coupe | £4,000 |
| TT Roadster | £4,000 |
| Q2 | £2,000 |
| Q3 | £4,000 |
| Q5 | £4,000 |
| Q7 e-tron | £8,000 |
| Q7 (TDI models) | Not applicable |
| A8 | Not applicable |
| R8 | Not applicable |
| RS models | Not applicable |
*£2,500 OLEV grant separately available on A3 Sportback e-tron models
| | |
| --- | --- |
| SEAT Model Purchased | Scrappage Amount (inc. VAT) |
| Mii | £1,500 |
| Ibiza | £2,500 |
| Leon | £3,500 |
| Toledo | £3,000 |
| | |
| --- | --- |
| Skoda Model Purchased | Scrappage Amount (inc. VAT) |
| Citigo | £1,500 |
| Fabia | £2,500 |
| Rapid / Spaceback | £3,000 |
| Octavia | £3,500 |
| Superb | £4,000 |
| Yeti | £3,500 |
| | |
| --- | --- |
| Volkswagen Model Purchased | Scrappage Amount (inc. VAT) |
| Up | £1,800 |
| Polo | £2,800 |
| Golf Hatch | £4,000 |
| Golf SV | £4,000 |
| Golf Estate | £4,000 |
| Touran | £4,000 |
| Tiguan | £4,000 |
| Beetle | £4,000 |
| Jetta | £4,000 |
| Scirocco | £5,000 |
| Passat Saloon | £5,000 |
| Passat Estate | £5,000 |
| Arteon | £5,000 |
| Sharan | £6,000 |
Summary of offers on fully electric (EV) and plug-in hybrid (PHEV) vehicles:
| | | | | |
| --- | --- | --- | --- | --- |
| Model | Type | Scrappage Upgrade saving | OLEV grant | Total saving |
| Golf GTE | PHEV | £5,000 | £2,500 | £7,500 |
| Passat GTE | PHEV | £6,000 | £2,500 | £8,500 |
| e-up! | EV | £3,300 | £4,500 | £7,800 |
| e-Golf | EV | £5,500 | £4,500 | £10,000 |
Comments
Author

John Slavin
Latest