Car sales up in May as Corsa leads the way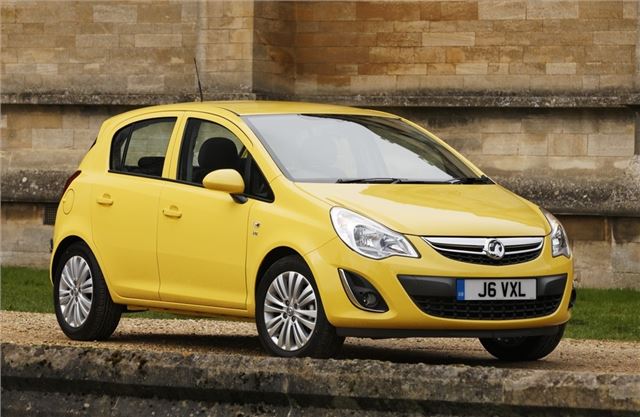 Car sales rose by almost 8% in May, the largest increase for almost two years and the third consecutive month of growth. A total of 162,288 cars were registered last month, boosted by a significant 14.3% rise in the number of private sales.
The increase is the strongest rate of growth since the June 2010 when the goverment-backed scrappage scheme was in full effect. There has also been a rise in fleet car registration following a three month decline.
There was no surprise when it came to the top 10 sellers with most popular car in May being the Vauxhall Corsa followed by the Ford Fiesta - the best selling car so far in 2012 - and the Ford Focus. The Fiat 500 was the tenth best seller. More than 860,000 cars have now been sold in the UK in 2012 so far.
Compared to June 2011 the biggest increase has come in alternatively fuelled cars such as hybrids and electric vehicles (EVs). Last month saw a 31.8% increase over the same period last year.
"May's 7.9% increase in new car registrations is good news for the motor industry, particularly the steady growth in demand from private buyers," said Paul Everitt, chief executive of the Society for Motor Manufacturers and Traders. "There is no doubt that vehicle manufacturers and their dealer networks are working hard to deliver value for money to motorists and the consistent climb in new car registrations during the first five months of the year suggests that confidence is returning, despite financial uncertainty in the eurozone."
New car registrations – rolling year including private and fleet/business
May
Total
Diesel
Petrol
Alternative Fuel

Private
Fleet
Business
 
 
 
 
 
 
 
 
2012
162,288
85,081
75,099
2,108
69,672
87,126
5,490
2011
150,431
79,562
69,270
1,599
60,963
83,121
6,347
% change
7.9%
6.9%
8.4%
31.8%
14.3%
4.8%
-13.5%
Mkt share '12
 
52.4%
46.3%
1.3%
42.9%
53.7%
3.4%
Mkt share '11
 
52.9%
46.0%
1.1%
40.5%
55.3%
4.2%
 
 
 
 
 
 
 
 
Year-to-date
Total
Diesel
Petrol
Alternative Fuel

Private
Fleet
Business
 
 
 
 
 
 
 
 
2012
868,166
443,519
412,502
12,145
396,364
435,501
36,301
2011
846,513
423,174
411,992
11,347
365,406
435,607
45,500
% change
2.6%
4.8%
0.1%
7.0%
8.5%
0.0%
-20.2%
Mkt share '12
 
51.1%
47.5%
1.4%
45.7%
50.2%
4.2%
Mkt share '11
 
50.0%
48.7%
1.3%
43.2%
51.5%
5.4%
 
 
 
 
 
 
 
 
Best sellers
May
 
 
 
   Year-to-date
 
 
 
 
 
 
 
 
 
1
Corsa
8,413
 
1
Fiesta
50,507
 
2
Fiesta
8,337
 
2
Corsa
38,347
 
3
Focus
6,983
 
3
Focus
36,916
 
4
Golf
5,867
 
4
Golf
28,261
 
5
Astra
5,433
 
5
Astra
25,011
 
6
3 Series
3,520
 
6
Polo
18,971
 
7
Polo
3,228
 
7
Qashqai
18,660
 
8
Qashqai
3,179
 
8
3 Series
17,205
 
9
Insignia
2,949
 
9
Insignia
15,031
 
10
500
2,823
 
10
C-Class
14,434
Comments