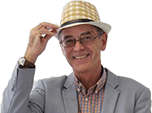 Prestigious cars in the classifieds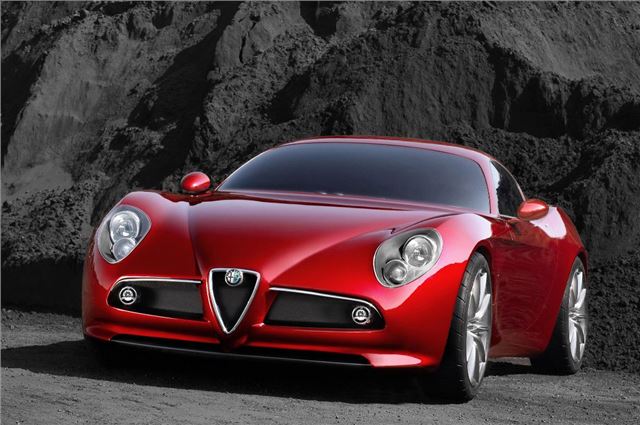 High street stores are closing down, finances are tight and the economy is still fragile. It's a dangerous time to be investing any money, so what's a sensible thing to do with the millions of pounds you (perhaps hypothetically) have lying around going to waste?
Supercars, classics and luxury cruisers, that's what. Maybe it's not sensible, but it's certainly entertaining. But what to buy? There's a surprising amount of hyper expensive metal on sale, so here's a lowdown of some of the most interesting and pricey machines we've spotted in the classifieds.
And, with the recent hot weather, what better way to start than with a Rolls-Royce Phantom Drophead Coupe? It may be on a 10-plate but whoever owned it last obviously wasn't much of a driver - it's only covered 23 miles.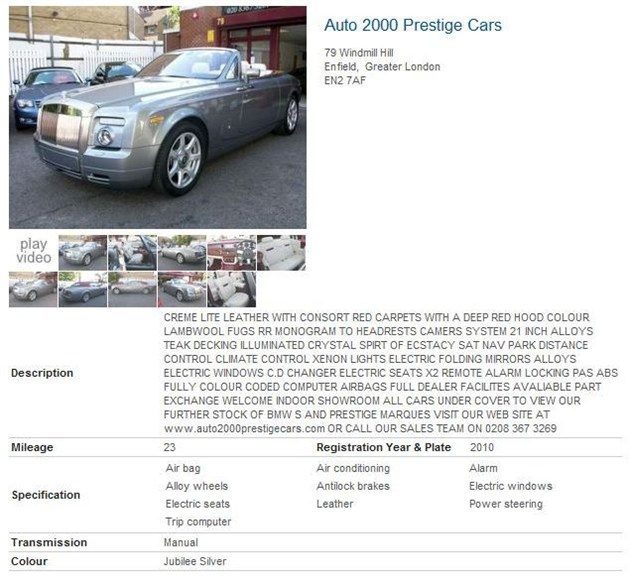 This car probably needs very little description, given the prestige and cache it carries, but those details, for those who're ready to make the purchase: Power comes from a 6.7-litre V12 and there's plenty of it – 453bhp to be precise. That means brisk performance, 0-62mph takes just over five seconds and top speed is 149mph.
Propelling a car that weighs over 3,000kg so quickly doesn't do much for fuel economy, though. The official combined cycle figure is 18mpg, and CO2 is 377g/km.
But who cares? This car cost £332,400 new but covering a massive(!) 23 miles has knocked that down to a bargain £285,000. In a year it's depreciated by about the amount as it costs to buy six Hyundai i10s. Perhaps it's not such wise economic decision to buy a Rolls-Royce after all.
However if you're looking for a car that will genuinely return your investment then there is hope for you. Take this Alfa Romeo 8C Competizione – it's one of only 500 hard tops made. New it was about £120,000 and it's now on sale with 2,900 miles on the clock at £159,995. Not many cars appreciate in such a short space of time.
Thanks to the limited production run and absolutely gobsmacking looks you can expect this car to be in demand from now until the end of time, so if you can afford one there's a good chance you'll never make a loss...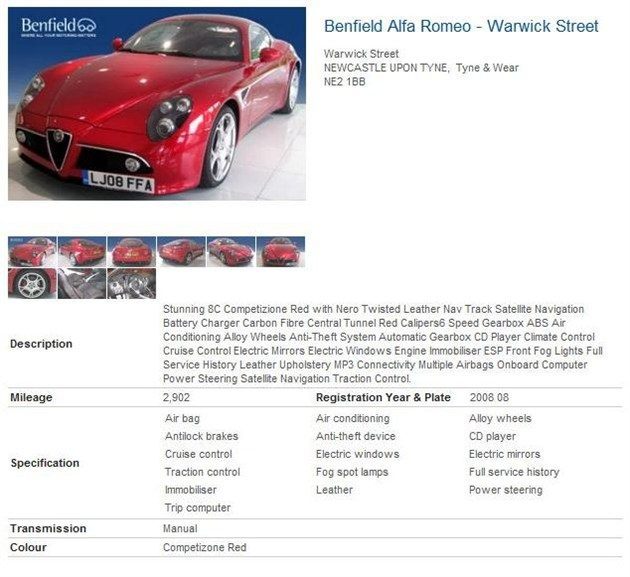 And on top of that it's an investment you can enjoy, thanks to the 4.7-litre Maserati V8, well trimmed cabin and impressive performance. It's a better investment idea than something that exists as a piece of paper in a drawer and does nothing to make you smile.
Lovely though an Alfa-Romeo 8C Competizione may be, the truest Italian supercar firm is without doubt Ferrari, and they too have built limited run machines that will appreciate in time, one of which is for sale in our deals section – the F430 Scuderia 16M.
One of only 499 made, all of which were sold in advance, the 16M is a soft-top version of the hardcore, track focussed F430 Scuderia. It's got a 4.3-litre V8 which produces a staggering, wailing, rip-snorting 503bhp, meaning you can pose with the top down at 195mph (where legal, of course).
The chassis comes complete with of the stiffening and suspension modifications that give the hardtop Scuderia such poise, so you can expect almost as much dexterity in the bends as its brother, but with an added air of exclusivity.
Better still, despite the absolute certainty that this will, one day, appreciate in value and be a genuine sought after classic, this example has gone down in value from its original sale price of £220,000 to a more reasonable  £188,000. It'll probably decrease further, too, but one day it'll pay for itself. Even if it is white and not red...
Whether you're after a hyper expensive high performance monster, a luxurious mile-muncher or a budget runabout, look no further than our deals section.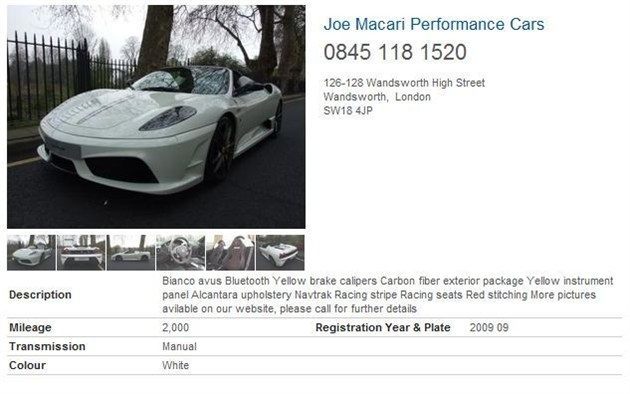 Comments