Supermarket giant enters the used car market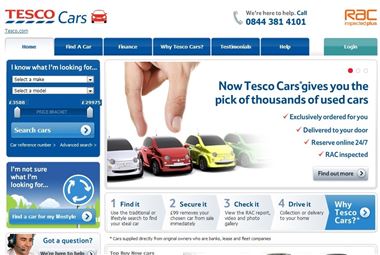 Following months of speculation, Tesco has finally entered the used car business.
Tescocars.com launched at the weekend, promising money-saving discounts over retail prices, RAC inspection and passed a HPI history check and 'dedicated customer support'.
The new Tesco site is essentially a re-brand of carsite.co.uk, which is now defucnt. In the run-up to the launch of Tescocars.com, carsite.co.uk initially removed its entire stock and later took the website offline for "maintenance".
Tesco says that it aims to give buyers a brand new online service giving direct access to thousands of 'great value', well maintained, independently checked used cars, without the hassle, stress or sales pressure typically associated with the industry.
Like carsite.co.uk before it, the majority of stock will continue to be ex-fleet cars. The website will eventually show around 3,000 cars and be updated daily, though at the moment there are just 50 cars.
Vehicles are sold as 'Buy It Now' - available immediately - or 'Pre-order' - about to be returned to the vendor by the current user and typically available a month after the point of reservation. Customers reserve their chosen car with a £99 handling fee, fully refundable if they choose not to proceed with the purchase. Buyers will then be allotted their own, named adviser, who can help answer questions and make sure the buyer is happy with their new purchase.
Tesco Cars will advertise up to 3,000 cars every week with fresh stock added to the website daily. A wide range of models -between six months and three years old - includes family-sized MPVs, fuel-efficient city cars and well-specified executive saloons.
Sir Trevor Chinn, Chairman of Tesco Cars, comments: 'When buying a used car, consumers want to know they can trust the information supplied, that they are getting value for money and a good product, all supported by good customer service. Importantly they also want to be able to take their time to make the right purchase for them.
By marrying these principles, the success of the Tesco brand, and the transparent and unpressured online sales environment, we believe we will be delivering a positive new experience for today's car buyer.'
It's a model that's been tried by several companies before. JamJar, Virgin Cars and Autoquake, which recently entered administration, have all tried an online sales model and ultimately failed. Where Tesco is different is its Clubcard scheme and financial services such as finance and insurance. With access to the buying habits of more than 16 million people, Tesco is in a stronger position to make the model work where others have failed.
Comments