New V5C Registration Document to Stop Cloning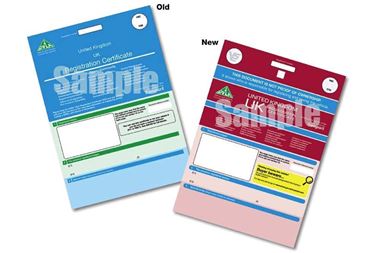 The DVLA has today launched a new look V5C registration document, together with a 'Buyer Beware' initiative.
From the 15th August, 2010, the new clearer and easy to understand documents will be issued for all newly registered vehicles and when there are changes to an existing registration, such as a change of keeper or address. From the middle of 2011, the new certificate will be issued to all remaining vehicles when they are re-licensed or declared to be off the road. The existing blue V5C will remain valid for these vehicles until it is replaced and DVLA will not be asking for the old V5C to be returned.
The revamped V5C, which is now coloured red, makes it clear that a registration certificate is not proof of ownership and also details where consumers can get advice on buying a used vehicle. The move comes after the theft of a number of V5C certificates in 2006, which have since been used to sell vehicles which have been cloned. DVLA report that approximately 2,000 of the stolen documents have surfaced so far but the police have advised that as a worst case, up to 400,000 of the documents cannot be accounted for and could have fallen into criminal hands.
A cloned car is a stolen vehicle which has had its identity changed to match a legitimate vehicle. The criminals have since made millions of pounds using the blank registration forms to sell stolen vehicles, but time is now running out for them.
Nicola Johnson, Consumer Services Manager for HPI, comments, "The new V5C certificate and Buyer Beware campaign from the DVLA is a real boost in the fight against car crime. However, car criminals may continue to use the old style V5Cs that were stolen in 2006, which will still be accepted until they are phased out . Therefore used car buyers need to be on their guard against cloned vehicles now more than ever."
In addition to the new certificate, the DVLA's 'Buyer Beware' consumer protection initiative aims to help reduce the risk of used car buyers being caught out by criminals, as well as making them aware of the threats and how they can protect themselves. The Buyer Beware message is the V5C document is simply one of a number of the things buyers should check and that also they need to request a proof of ownership such as a sale receipt.
The HPI Check can help protect consumers from falling victim to buying a clone as it is the only vehicle check that includes a stolen V5 document check as standard, confirming it is not one from the batch stolen in 2006. The HPI Check will also reveal whether the car is registered with the police as stolen, has been written-off by an insurance company, or has outstanding finance against it, and it protects buyers with the HPI Guarantee*. The HPI Guarantee provides up to £30,000 financial reimbursement in the event of the car not being everything it seems or the data held by HPI being inaccurate, including a clone - the only vehicle history check to do so.
Nicola Johnson concludes, "Car cloning is a serious problem that all buyers should be concerned about. The steps that the DVLA have taken with the new V5C certificate and the supporting Buyer Beware campaign will be a massive blow for criminals. Initiatives such as this, coupled with greater consumer awareness, will stop car criminals looking to make some quick money dead in their tracks."
HPI's Steps to Avoid a Clone
One - Location: If you're buying privately, make sure you view it at the registered keepers address (as shown on the V5/logbook).
Two - Provenance: Always check the provenance of the car. One vital check the buyer can do is to find all the VIN/chassis numbers on the vehicle to make sure they match, and then use the HPI Check to ensure they tally with the registration number of the vehicle.
Three - Documents: Check the vehicle's V5/logbook. Stolen V5 documents are currently being used to accompany cloned vehicles but the HPI Check includes a unique stolen V5 document check as standard. This will confirm whether or not the document is one that the DVLA have recorded as stolen.
Four - Price: Know the car's market value. If you are paying more than 30% below the retail market value, then be on your guard. No genuine seller will want to lose money on their sale.
Five - Payment: Don't pay with a substantial amount of cash, particularly if the car is costing you more than £3,000. Some cloners will take a bankers draft as part payment, because the cash part is sufficient profit without ever cashing the bankers draft. Most crooks selling cloned cars would rather walk away from a sale than take a payment that could be traced back to them. Despite strong advice to buyers to pay via the banking system, HPI still hear of many buyers who go on to pay in cash and subsequently find out that the car is a clone, and that they've lost both their money and the vehicle.
One HPI Customer who nearly fell foul of V5C scam was Mrs Lawton, who tells her story below:
"My husband and I responded to an advertisement from a private seller in AutoTrader for a 2006 Mercedes Benz, priced at £11,500. We previously purchased an HPI Check 11 years ago when we bought our current car and with such a good experience we contacted HPI for general buying advice. I was very impressed by how knowledgeable the staff were, they offered some real insight into buying a used car. When we carried out the key points, we established that although the address in the V5 was the same one we visited, the logbook had no printed issue date. Also, even though the seller claimed he'd had the car for eight months, there were no details printed of previous owners.
"Following our meeting with the seller, we left feeling like we definitely needed to purchase an HPI Check more than ever. What was to follow saved us a packet. The Check revealed that the serial number and logbook were both stolen. Also, contrary to information provided by the logbook, the car only had one registered previous owner. The seller had attempted to sell us a cloned car, and we were almost ripped off.
"From this experience, I can honestly say that I would advise anybody thinking of buying a used car, be it from a dealer or a private seller, to always run a HPI Check before handing over your money. I'm so glad I could rely on the HPI Check to unearth any hidden information and saved me £11,500. It's the best £20 I've ever spent!"
For further information visit www.hpicheck.com or call 0845 300 8905
Comments