How The Recession Has Hit Used Car Sales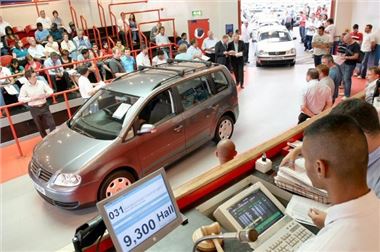 The 2009 BCA Used Car Market Report reveals the economic pressures forcing motorists to make some environmentally-sound decisions

Statistics Summary

· 5% certainly will buy a used car in the next year

· But 42% do not plan to replace their car during the recession

· 15% have insufficient personal funds to replace their car with 12%
concerned about rising motoring costs

· Price is the crunch factor for 50% of used car buyers followed by
make/model at 40%

· 28% of used car buyers see low mileage as an important factor - 7% down
from the 2008 survey

· The environment was only considered important by 6% of used car buyers

· However, 38% plan to walk more often to reduce their personal motoring
costs and 30% will both avoid short journeys and reduce car trips

· Public transport is seen as a cost-saving option for 22% of motorists

· 40% opted for a used car because they couldn't afford new

The 19th annual Used Car Market Report, published by leading vehicle auction
company, British Car Auctions (BCA) provides an important insight into used car
buying habits as the economic downturn takes hold. The only definitive, independent
report on the used car market, and utilising research from 2,000 motorists conducted
in Spring 2009, the BCA report demonstrates that economic pressures are certainly
influencing car buying plans and habits for the future. But it also highlights that
some of these decisions could have a knock-on beneficial impact on the environment.

"Our latest Used Car Market Report spells out some of the stark facts of reduced
disposable income and consumer uncertainty" confirmed Tim Naylor, spokesperson for
BCA. "Our survey of 2,000 motorists reveals that 42% simply do not plan to replace
their current vehicle during the recession, which reflects the downturn in the car
market over the last 12 months. That figure has nearly doubled from the 24%
recorded in 2008."

The lack of disposable cash is a key factor, with 15% citing 'insufficient personal
funds' as the reason for not changing vehicle. Rising motoring costs are also an
issue for 12%, although this could be a false economy as vehicles start to cost more
to maintain as they age.

"Not surprisingly, younger motorists are feeling the affects of the recession the
most with 27% of 17-24 year olds citing 'insufficient personal funds' as the reason
not to change their car.

"When it comes to the regions, motorists in the South East seem to be the most
nervous about making a new financial commitment - with 49% not planning to replace
their car currently. Motorists in East Anglia and West Midlands appear to be the
most hampered by 'insufficient personal funds' at 23% and 22% respectively."

Used rather than new - the greater economic choice

For those motorists who have changed their vehicle in the last 12 months, the
decision to go for used rather than new because of price increased by 4% year on
year - to 40%.

And there is clear evidence that no area of the country has been left unaffected by
the downturn. 42% of Londoners said they went for used instead of new this year
because of price, compared to 31% last year. In the East Midlands 45% opted for
used because they couldn't afford new, compared to 36% in 2008 and in the West
Midlands the percentage jumped by 7% to 44%.

Tackling Motoring Costs - and helping the environment!

The BCA research also highlights the actions drivers might take to tackle their
motoring costs both now and in the future, which as a by-product may also benefit
the environment.

In 2008 BCA asked motorists what measures they would take to reduce their personal
motoring carbon footprint. In 2009 the focus was on economics - but the answers
were very similar!

When asked this year what steps they might take to reduce their personal motoring
costs in the recession, 38% said they would walk more often with 30% avoiding short
journeys and 30% reducing the number of trips they make altogether. In 2008 38%
said they would walk more often to reduce their carbon footprint! So whether it's
to save money - or save the planet - it appears motorists are becoming more
accepting of the fact that they need to walk more.

In the 2009 survey, 22% also said they would use public transport more to save on
motoring costs, one percent higher than last year. However there hasn't been any
increase in the percentage of car buyers who take the environment into consideration
when choosing their next
car - this has stayed at 6% for the second year running.

Mileage and Age becoming less important in choice of car

For those motorists who do plan to change their car, price is the number one
consideration at 50% - although this is a 2% drop from 2008.

But what has changed more markedly is the importance of 'low mileage' and 'age'.
According to the latest BCA survey, the importance of these factors has somewhat
diminished with a drop of 7% year on year for 'low mileage' and 4% for 'age'. This
undoubtedly reflects the higher quality of the newer vehicles now in circulation in
the used car market.

Naylor concluded: "Clearly the economic downturn has had an enormous impact on the
car market as a whole in the last 12 months. Despite overall volumes of used car
sales dropping last year, average prices increased marginally as relatively fewer
older cars were sold."

He concluded "And with fewer new cars coming on to the market we may well experience
a shortage of certain types and ages of used cars, which
could have some quite serious
consequences in the next few years."

ENDS

Please click on the link below to view accompanying photography

Used Car Market Report

The Used Car Market - A 2009 Report by BCA

The Report is published in August 2009, priced at £225, softback, A4, perfect bound,

SURVEY SOURCES

The Report is based on information from Omnicar, the Society of Motor Manufacturer
and Traders, and other industry and trade bodies and was prepared by Professor Peter
Cooke, the Centre for Automotive Management, University of Buckingham Business
School. The Report also contains bespoke consumer research carried out by BMRB
International on behalf of BCA. Fieldwork for this research was carried out during
March 2009. It was based on interviews with a total of 2,000 respondents
representative of the UK adult population aged 17 years and over.
Comments