Choose an Ex Fleet Car Before it Comes Off the Fleet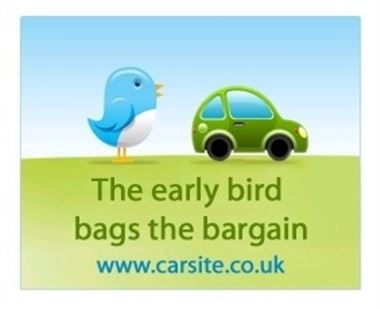 www.carsite.co.uk
lets you source a used car before it actually goes on sale, and save up to 20% in the process.
Before you finally decide to buy, your chosen vehicle will receive a full independent RAC Inspection, a unique video test drive for you to review, and a comprehensive history check.
If your chosen car then fails to live up to expectations when you see it in the metal, you can walk away without it costing you anything.
"Early Bird" provides the public with the ability to browse thousands of cars coming to the end of their contracts with fleet and leasing companies nationwide. If you find your ideal match, you pay a £75 reservation fee to remove it from the market at the exclusion of other buyers or motor traders.
Trust is at the core of the Carsite buying journey which is why they organise for a full independent mechanical and bodywork inspection from the RAC on your behalf. The report, which includes a unique video test drive by the RAC, allows you to make an informed purchasing decision.
Not only that, prospective purchasers will also receive 21 detailed photos, plus a copy of the HPI Check in Carsite's secure 'Buyer's Buddy' login.
If you don't like what you see or read, you can walk away and Carsite will refund your £75 reservation fee – no questions asked.
You only pay for the car once it's either been delivered to your home or workplace, or you've gone to one of the handover centres to collect it – either way, you get to compare the metal against the full description before paying.
"Early Bird" from Carsite.co.uk has been designed to give the public unbridled access to highly sought after fleet and leased vehicles before they get sold onto dealers.
It cuts out the middleman to save money, puts the consumer in total control, and presents a no risk alternative to the traditional sales pressure environment of the forecourt.
For more information visit
www.carsite.co.uk
Comments