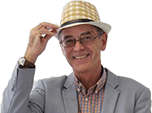 2008 London Motor Show Preview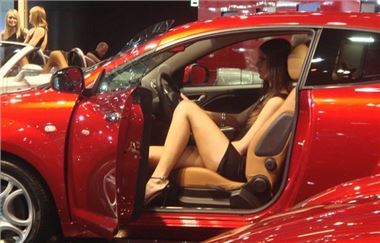 The London Motor Show opened today after a visit by Gordon Brown on Press day to inspect the extensive selection of electric vehicles.
Most outstanding stand is Alfa Romeo. Beautiful stand, beautiful cars, and stunningly beautiful girls, most of whom also seemed to know plenty about the cars they were posing with.
Opposite the nice dresser, the Mastretta, Mexico's first sports car, with a rear-mounted 240PS 2.0 litre Ford engine.
Vauxhall shows its handsome new Insignia Vectra replacement, which unfortunately has turned out to be a 4 + 1 because there simply isn't enough head and legroom in the centre of the rear seat for a full sized adult.
At the opposite end of the main hall, Ford has its new Fiesta with ECO credentials pulling a diesel version down under 100g/km. It's a very pretty car but, like the Vectra, comparatively short of rear seat space.
And while I'm talking legroom, the Nissan Qashqai '+ 2 ' translates to '+ 2 dwarfs'. If you're over 4' 11" (150cm) you are not going to be comfortable in its rearmost extremity.
In contrast, I could comfortably sit behind myself in Toyota's tiny eco-friendly iQ due to go on sale next Spring at under £10,000.
Probably the most fun to be had at the show is the Mazda Zoom Zoom Challenge, where you get to drive against the clocks in a Mazda 2 Sport and an MX5 Sport on a very tight circuit. Most of you will be able to beat my pathetic time of 23.4 seconds, but you are also marked on style with 10 seconds deducted every time you get a wheel over a white line. While you're waiting you may be treated to a guy called Tim drifting an RX-8 R3 round the track in a spectacular display of rubber smoke courtesy of Toyo Tyres.
Plenty of new cars, including the KIA Soul, the superbly space efficient new Renault Kangoo with its clever fold-flat seats, the Nissan GT-R, The Alfa Mi-to, the Lotus Eagle 2+2, the Hyundai Genesis, the Chevrolet Camaro convertible (coupe going into production soon), the SEAT Ibiza 5-door and coupe.
The Ultimate collection contains an abundance of supercars, including three very stylish Spykers. There's a retro section with the last very special 290PS Mazda RX-7 facing the Mazda stand.
And plenty of interesting stuff on the fringes, including Can Am Rotax powered ride-on 3 wheelers, NCC BMW powered ride-on four wheelers, cheap ride-in fun in the form of the Superbyke Traveller RRi, a road legal sand buggy with canvas body panels and a low starter price of £6,995.
The Highways Agency is there to show you exactly how its Motorway Incident Detection and Automatic Signalling (MIDAS) system works and why it often clears obstructions before you get to them.
But if, like Gordon Brown, you're into electric cars, you'll need to visit the NICE (No Internal Combustion Engine) Car stand and see its range, which now includes an upright small hatchback called the Ze-O, the electric power of which is fed through a conventional clutch and 5-speed gearbox.
There's the spectacular Ferrari 550-like Lightening electric supercar with four motorised wheels, the Lotus Elise based Tesla, the Quiet Car Company's electrified Naza Forza in which batteries sit under the bonnet and electric motors replace the rear wheels.
And there's a Top Gear Stand where you can sit and watch the rib-tickling triplets cavort in an hilarious stunt involving a Lexus LS400 police car, a FIAT Coupe 'Poliza' car and a Suzuki Vitara, each with a different apprehension tool, none of which worked quite to plan.
Useful websites you might not find anywhere else:
Lightening:
www.lightningcarcompany.com
Sand buggy:
www.superbyke.co.uk
4 wheel motorbike:
www.nccukexclusive.co.uk
3 wheel motorbike:
www.brp.com
NICE cars:
www.nicecarcompany.co.uk
Quiet Car Co:
www.quietcarcompany.co.uk
Mastretta e-mail:
d.raeside@talk21.com
(no website)
Tesla:
www.teslamotors.com
Spyker:
www.broughtons.co.uk
Highways Agency:
www.highways.gov.uk
The British International Motor Show is open to the public from 23 July until 3 August 2008 at ExCeL London. Adult tickets start at just £10, children's tickets from £6. Family tickets cost from £25, while group tickets start at £8. For more information about the Show or to book tickets visit
www.britishmotorshow.co.uk
or call 0871 230 5588.
Comments