Cheap Car Breakdown Cover
Full breakdown cover from £28.79 per year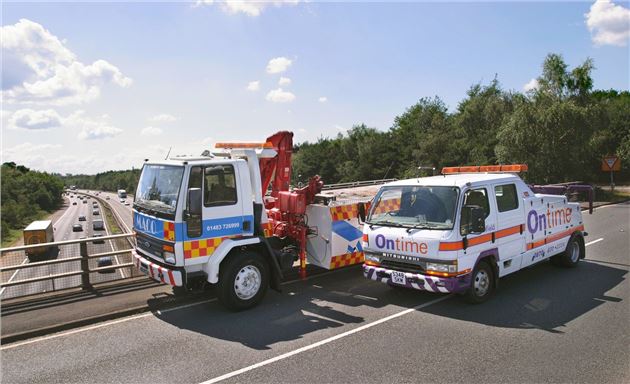 There are many different types of breakdown cover and the level is in the detail. That's why we're here to guide you through what's on offer to get you the best policy at the keenest price.
Breakdown Cover Best Buys
What kind of breakdown cover do you need?
Most basic policies will provide roadside assistance to fix your car or tow it either to your home or a reputable garage to be repaired at your expense. It doesn't include offering help at your home address and there's often a quarter mile exclusion clause to ensure you've not pushed the car to the end of the road.<
This is in addition to basic cover, so the breakdown service will get your car going at your home address or take it to a garage.
This is a more comprehensive cover that will aim to repair your car at the roadside or take it to a garage of your choice. They will also arrange to have you transported anywhere in the UK, so you don't need worry about missing a holiday or getting your car home safely with no added expense. However, check the policy for any mileage limits.
4
Onward Travel Assistance
If your car breaks down far from home or on holiday, onward travel assistance will usually cover the cost of hotel accommodation for one night and car hire for three days if your vehicle cannot be fixed. It will also pay out for travel on public transport. However, check the restrictions on hotel, travel and hire expenses.
5
Do new cars need breakdown cover?
Almost all new cars include breakdown cover for the first 12 months of your ownership. This often extends across the whole of Europe, but read the documents before heading over the Channel and always inform your insurer and breakdown provider that you're going abroad.
6
Am I covered or the car?
If you regularly drive more than one car, a personal breakdown policy is a good idea. It covers you for whatever car you're driving and even if you're a passenger. However, it tends to be more expensive, so for those who only drive their own vehicle it's better to stick with a car-specific deal.
7
Can I cover more than one car with a single policy?
Breakdown cover for multiple cars is very rare, so it's better to have a personal policy that means you are looked after whatever car you're in. Another option is to choose a joint policy where you and another driver, typically a spouse or family member, share the same cover for a single payment that's often cheaper than two separate deals.
Breakdown Cover & Driving Abroad
If you're driving abroad on holiday or for business, a European breakdown policy is an essential. Not only will it cover the cost of repairs, most will pay to get you and your car home. The most comprehensive will also provide money so you can continue with your trip. Another important consideration is you'll deal with English-speaking call centre staff who can take help with local language barriers, laws and currency rates.
You can add European cover to most policies for the duration of your trip. Make sure it will be in place when you travel as it can take up to three weeks for some providers to activate the cover.
Ask HJ
UK breakdown cover for a foreign-registered car
I live in Portugal and am planning return trip to UK. I may drive to UK in my Portuguese-registered car insured by a UK approved insurer. My breakdown cover does not include UK. Can I purchase short term breakdown cover from a UK supplier? Alternatively I may fly and hire car at the airport. How do new rules from DVLA affect me? I have a UK driving licence.
If by "live in Portugal" you mean "reside in Portugal" you can't legally have a UK licence for more than 6 months because your UK licence has to show a UK address. You have to exchange your licence for a Portuguese one. If you come to the UK to hire a car and want to do this on your (illegal) UK licence, then you have to go to: https://www.gov.uk/view-driving-licence/ then key in your licence number, your UK National Insurance number and the UK postal code on your UK licence. You then get a code which you can supply to the rental company to check your licence details, but better to print them out. The code and the print-out last for 21 days. (This is not a DVLA requirement. It is a requirement of UK insurers.) If you bring your own car you can probably get breakdown cover in Portugal to drive it through Spain and France to the UK. Otherwise: Britannia Rescue, green Flag, AA, RAC, etc.

More Questions
Best Breakdown Cover deals
Provider

Cover

Cost

What do you get?

 RAC*
Roadside Recovery
£34.99
This is no-frills cover should your car come to a halt more than a quarter of a mile from home. It includes a 10-mile tow to a destination of your choice. Large network coverage of RAC patrols.
 AA
National Recovery
 £115
Roadside assistance, national recovery and At Home service, plus unlimited call outs. Not the cheapest, but the AA has the largest patrol fleet in the UK.
GEM Motoring Assist*
Recovery Extra
 £83.13
As well as roadside and home assistance, and nationwide recovery, this policy comes with Onward Travel if your car breaks down more than 25 miles from home. It includes a free accident management service too. Adding a second person to the policy costs £27.
MotorEasy*
Nationwide Recovery
£34.27

As well as roadside assistance beyond one mile of your home address and recovery to any chosen destination across the UK, this also includes alternative transport, emergency overnight accommodation, key recovery, misfuel assist and driver illness or injury cover. The full Europewide Recovery is £74.84

Green Flag
Recovery Plus
 £60
The usual roadside, home and national assistance is there, plus unlimited call-outs and free mis-fuelling protection. There's also Onward Travel if the car cannot be fixed at the roadside.
Insure4Breakdown
Violet European Annual
£79.99

This deal offers up to 90 days of driving in Europe on as many trips as you like. It also comes with full UK recovery and applies to all cars up to 10-years old.

 

Autonational Rescue
Total Superservice
£73

Total Superservice lives up to its name with nationwide and European cover, as well as homestart, onward travel and emergency accommodation. It also includes loss of keys, accident, theft and vandalism, caravan and trailer, and a 50 percent discount for a second vehicle.

Warranty Direct
BreakdownCare
 £33

Full roadside assistance throughout the UK and recovery within a 15 mile radius for the driver and up to six passengers.

AutoAid
Breakdown
£43.31

This deal covers you and your spouse with roadside and home assistance, recovery to any UK destination, emergency travel and overnight accommodation. It also provides for caravans and trailers, vandalism and theft, and comes with a message service to contact family or friends to let them know you're safe.

Start Rescue
Three Star
£28.79

As well as help at home and nationwide, this cover comes with overnight accommodation, alternative transport, free legal expenses and key assist. It also has Message Assist to relay information to friends or family if your mobile phone has run out of battery. Adding cover for Europe is only an extra £26
* Sometimes we show a link with a * next to it. It means that it is an affiliate link and as a result helps HonestJohn.co.uk stay free to use. It's tracked to us and if you go through it, it can sometimes result in a payment or benefit to the site.
What do I need to know before buying a Breakdown Cover Policy?
The small print
As with any insurance policy, it pays to read the detail. Make sure you know what's included with any breakdown cover you buy and take copies with you on holiday or when travelling abroad.
Personal or vehicle cover
Vehicle-only cover is usually cheaper, but a personal policy means you can call on help regardless of what car you're in as a driver or passenger. Be certain you know which type you have.
Limited call-outs
Most policies have a maximum number of call-outs you can make in a 12-month period to avoid some drivers abusing the system. If you're unlucky enough to need more than this, it will result in a higher premium in the following year.
Age and type of vehicle
If you drive an older car, breakdown providers will assume it's less reliable than newer vehicles and will charge more for a policy. You could also face higher costs for larger SUVs, pick-ups and motorhomes because the cost of recovery is higher.
Caravans, trailers and classic cars
There are caravan-specific policies, but they don't cover your car. It's best to take out national recovery deal and state that you occasionally tow a caravan or trailer. For classic cars, there are dedicated policies available that recognise they need specialist care in the event of a fault.
Off-road and track driving
If you drive on unmade roads or race tracks, normal breakdown assistance will not be able to reach your location. There are specialist policies for these types of driving, but they are expensive due the specialist equipment needed to attend to vehicles in these conditions.
Human error, mis-fuelling
One of the most common causes of a call-out is putting the wring fuel in your car. Most comprehensive policies will include this, but some might demand a separate payment for disposing of the waste fuel, so check your documents. Other regular reasons for calling the breakdown service are running out of fuel, lost keys and flat batteries. Depending on your policy and the provider, these problems could be sorted at no additional cost or could incur a charge.
Tyres and punctures
Flat tyres are a frequent call-out and most companies now include this in basic cover, especially if the puncture happens on the motorway where safety is a prime consideration. Make sure you have the locking wheel nut with the car, otherwise is may be difficult for the recovery agent to replace the wheel.
General maintenance
The onus is on you to keep your car in good condition. If the breakdown policy provider or recovery agent thinks you are using their services in place of proper maintenance, they might refuse assistance. You cannot replace routine servicing with breakdown cover. Also, if your car's MoT or road tax has expired, the recovery team will reserve the right to take your car to a safe area and then leave you and the vehicle there.
How To Get The Best Deal
1
Do you already have breakdown cover?
You may already have car breakdown cover and not know it. Many bank accounts and vehicle insurance policies now offer this, so check before paying for a separate deal.
Automatic renewals are common with all types of insurance policy, but it can mean paying more without you noticing. When your breakdown cover is due for renewal, shop around and be prepared to haggle with the existing provider.
3
Don't buy more cover than you need
Know what you want. There are many different levels of breakdown cover, so decide what's necessary for you and stick to it. Don't add extras such as European cover if you only drive locally, but consider homestart and mis-fuelling as useful extras.
4
Be aware of potential deals
Check for offers. You can often find discount offers for breakdown cover online and in magazines, or when you buy other types of insurance. You can even sometimes get money off when you do your supermarket shop. You should also check our deals section where can find them for you.
5
Cashback, cashback, cashback
Use a cashback website. When you buy breakdown cover through one of these sites, you get a percentage back when you've paid, making it cheaper. It costs nothing to sign up to these websites.
Also, if the scheme is part of Nectar or Tesco Clubcard, make sure you add your details.
Plan ahead. If you know you'll be driving abroad, you can upgrade closer to the time of your trip so you don't pay the larger amount when it's not needed. It's also important to let your insurer know you'll be driving abroad if your breakdown cover is bundled together with your insurance premium.
7
How reliable is your car?
How reliable is your car? If you drive a nearly new car, you may only need the most basic cover as a safeguard. However, for those driving clapped-out old bangers, the most comprehensive policy with homestart included might prove vital. Just remember most policies have a limit on the number of annual call-outs.
Always haggle. Breakdown providers are among the most likely to reduce their prices if you haggle. Use online comparison websites to shop around and try phoning the most suitable for a better deal. Never be afraid to say no to the initial price offered and move on to another company. Even if the price isn't reduced, you may get extras included for free.
Shop around. As well as the big name providers, there are plenty of other breakdown services, so try them all for the best deal. Use comparison websites and remember to mention if you're a member of any relevant association or profession that might entitle you to a further discount.
Pets and animals. Surprisingly, some recovery companies won't help if you have pets or animals in the vehicle. So, check the policy before you buy it and, if necessary, insist pets are included in the deal at no added cost.
Ask HJ
Recovery firm wants to charge me £138 - should I pay?
My 10 year old Smart Forfour lost its oil while driving recently. I stopped immediately and arranged for recovery to my local garage with my recovery provider. After a 10 day wait for a replacement sump the car was repaired at my expense. At the breakdown companies request I sent them a copy of the repair invoice to (I thought) prove that the car was repaired and roadworthy. To my astonishment they have now sent me a bill for £138 saying that this fault is damage to the underside of the vehicle and is something that could be claimed from my insurance company. Having paid for my recovery policy and for the repair to the car where do I now stand with respect to this unexpected bill from the breakdown company?
Many breakdown policies do not cover damage; they only cover breakdowns. The same is true of the AA and RAC. But, of course, if you claim the £138 from your insurer this could cost you more than £138 in subsequent increased premiums.

More Questions
Putting things right
What happens if you have an issue with your breakdown company?
1
How can I send my complaint about car breakdown to Honest John?
If you experience a problem with the service from a breakdown provider, you're entitled to complain. In the first instance, you should call the breakdown service and ask them to resolve the issue. As well as the phone call, put the complaint in writing and send it by email and registered post to be certain that it's been received.
Should that not get a result you think is fair, the next step is the Financial Ombudsman Service (FOS), but this must be done within eight weeks of making the complaint to the policy provider. The FOS will look at the case, the policy terms and conditions, and give a verdict. That decision is binding for the breakdown provider, but it's only legally binding for you if you decide to accept the verdict.
Like all insurance policies, breakdown cover is authorised and regulated by the Financial Conduct Authority. Any firm that does not mention this in its small print should be avoided.
Car Buying Advice