Vauxhall Zafira Tourer (2012 – 2018) Review
Looking for a Vauxhall Zafira Tourer (2012 - 2018)?
Register your interest for later or request to be contacted by a dealer to talk through your options now.
Vauxhall Zafira Tourer (2012 – 2018) At A Glance
The 2010 Vauxhall Zafira Tourer isn't the most practical, the most versatile or the best-to-drive car of its type. It's not the highest in quality or the most generously equipped, either. However, it's still a good all-rounder that does a very solid job in all these areas, and it's more stylish than your average seven-seat MPV, too, (if a bit less stylish than an SUV). It's also really good value for money thanks to affordable prices, and if you choose the right engine, it should be affordable to run, too.
Looking for a Vauxhall Zafira Tourer (2012 - 2018)?
Register your interest for later or request to be contacted by a dealer to talk through your options now.
Funny how tastes change, isn't it? Once upon a time, in the heyday of the Vauxhall Zafira Tourer, big seven-seat MPVs like these were loved by families for whom a regular saloon or estate was just not practical enough, and sales figures reflected that.
Then all of a sudden, somebody decides that SUVs (previously seen as evil gas-guzzlers, you'll remember) are more stylish, and as they become the thing to have, the humble MPV more or less disappears.
However, despite the incessant rise of the SUV, there's still plenty of merit in a good old MPV. For starters, the boxier shape means they're often a big roomier than an SUV, and with a seven seater, surely that's important, right?
And in the Zafira Tourer, Vauxhall offered one of the more compelling choices in the SUV market. It's curvier styling made it look swishier and swoopier than most of its boxy rivals, and with competitive prices and low running costs, it was good value (even better for used car buyers, obviously).
Granted it wasn't the roomiest car of its type, but it was competitive on that score and its seating system was as clever and as versatile and anything else in the class.
Sure, the car had some idiosyncrasies. Early cars had a bafflingly confusing dashboard design (sorted out on later examples by a new touchscreen system), interior quality was a bit hit-and-miss, while a complicated and inconsistent trim structure made it rather difficult to choose the version that was right for you.
However, it was one of the better cars of its type to drive. The ride was forgiving enough to keep the family comfortable, while the handling was sharp enough to let the driver have some fun once the kids had been safely delivered to school.
Looking for a second opinon? Why not read heycar's Vauxhall Zafira review.  
What do owners think of the Vauxhall Zafira Tourer (2012 – 2018)? Check out our
Owners' Reviews
from people who live with the car day in, day out.
Reviews for Vauxhall Zafira Tourer (2012 – 2018)'s top 3 rivals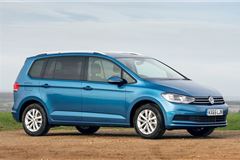 Volkswagen Touran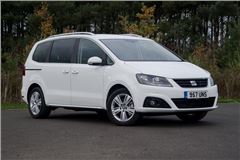 SEAT Alhambra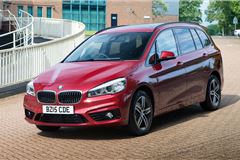 BMW 2 Series
Ask Honest John
What do I do if I can't update my sat-nav?
"I cannot seem to get any updates for the sat-nav in my 2014 Vauxhall Zafira Tourer Elite, please can you help."
I would contact Vauxhall customer service to ask if they are still supporting it or you could try posting on some owners' forums to see if someone else has had the same problem and managed to get it updated.
Which engine is best for the Vauxhall Zafira Tourer?
"We are looking at Vauxhall Zafira, which engine is better, the 1.4 petrol or 1.6 diesel? Most of the drive is for short journeys, but we do make a longer journey (100 miles round) on weekends."
Stick with the 1.4-litre petrol. It'll be better suited to your short journeys, while there are loads available on the used market. It's a surprisingly punchy engine considering its capacity, too.
Why are my car windows opening by themselves?
"I have four-year-old Vauxhall Zafria 1.4 SRI. Recently, the windows have started opening by themselves, which has left the seats rather wet. Have you any ideas on what could have caused this to happen?"
This car has a feature that lowers all of the windows when you press the unlock button and then press it again and hold it down for a few seconds. It may be a fault or you may have unwittingly pressed the unlock button when placing the keyfob in your pocket. You may be able to switch this function off yourself (the owner's manual will tell you how). Otherwise, your local dealer will be able to disable this function.
I need a ULEZ-compliant family car. Could you make some suggestions?
"I live just outside London and my car is about to be rendered useless by the ULEZ. I have a Ford S-MAX (diesel 2.0-litre) and although I'm used to the space, I don't really need a 7-seater. I'm totally lost by the amount of choice out there! I have 3 teenage children (4 of us altogether) and we tend to do one really long summer trip abroad in the car. I love the power of the S-MAX and the boot space but otherwise, I have no idea what kind of car I need. My budget is about £12k-13k. Please help!"
We'd recommend a BMW 2 Series Active Tourer or Volkswagen Touran. They're very versatile five-seat people carriers available with punchy ULEZ-compliant engines. If you'd prefer more space, take a look at the Vauxhall Zafira Tourer.
What does a Vauxhall Zafira Tourer (2012 – 2018) cost?
See also