Toyota Corolla Touring Sports (2019) Review
Looking for a Toyota Corolla Touring Sports (2019 on)?
Register your interest for later or request to be contacted by a dealer to talk through your options now.
Toyota Corolla Touring Sports (2019) At A Glance
Toyota's Corolla Touring Sports takes the Corolla hatchback and adds an estate body for additional practicality. Designed to take on established class favourites like the Ford Focus and Volkswagen Golf, the Corolla is the only car in the segment not to offer a diesel engine and rely solely on hybrid powertrains. It also ticks plenty of the usual Toyota boxes, being easy to drive, quiet and well-made, if not particularly exciting to drive. However, it's well-specified even on the basic model and should be cheap to run, so if you can live without diesel it's worthy of consideration.
Looking for a Toyota Corolla Touring Sports (2019 on)?
Register your interest for later or request to be contacted by a dealer to talk through your options now.
A key rival to the estate versions of the Ford Focus and Volkswagen Golf, the Corolla Touring Sports is one of the few family cars to be sold completely diesel-free. This means Corolla buyers get the choice of a 1.2 petrol engine or two petrol hybrids. 
The Corolla Touring Sports won't set many pulses racing when it comes to driver engagement, but if you choose one of the efficient hybrid versions then you'll probably never buy a diesel estate car ever again.
The 1.8 hybrid also provides the best balance when it comes to refinement and running costs, with advertised fuel economy peaking at 63mpg. It's also supremely comfortable, with its supple suspension and sophisticated hybrid system allowing the Corolla to waft along at uban speeds in a soft and satisfying silence. 
While the Corolla is relaxing to drive, it doesn't provide much in the way of engagement. The CVT gearbox will cause the petrol engine to groan like a bear with a sore head when pushed along, and the light steering provides very little feedback.
That said, the chassis has plenty of grip and the suspension does a good job of keeping the body flat in the corners. Just don't expect any fireworks in the handling department. 
Most versions get firm but supportive cloth seats, with heating and electric lumbar adjustment in the front. Standard equipment levels are very high across the Corolla line-up, with mid-spec models getting touchscreen navigation, front and rear parking sensors and a reversing camera. This means you won't have to spend any money on expensive options. 
On the downside, the cabin lacks flair, with swathes of dark and grey materials. However, for the most part, the interior makes up for its lack of sparkle with a premium finish that includes lots of soft-touch materials.
You also get up to 598-litres of bootspace with the rear seats in place., which is better than the Focus estate (575 litres) but less than the 605 litres you get in the largest version of the Golf.
We rate the Corolla Touring Sports as one of the very best family estate cars. It's well-made, silky smooth to drive and the hybrids return diesel-like economy. It's also worth noting that few of the Corolla's hybrid rivals can match it on price or spec, which means this is truly a car that sits in a class of its own.
What do owners think of the Toyota Corolla Touring Sports (2019)? Check out our
Owners' Reviews
from people who live with the car day in, day out.
Reviews for Toyota Corolla Touring Sports (2019)'s top 3 rivals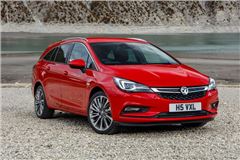 Vauxhall Astra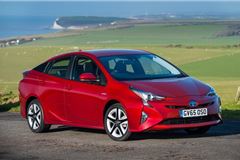 Toyota Prius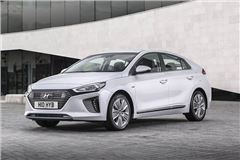 Hyundai Ioniq
Ask Honest John
Would a plug-in hybrid work for me?
"I have a Toyota Prius, which is approaching 3 years old and 53,000 miles. In normal circumstances, which I hope we can return to soon, I drive approximately 21,000 miles per annum, including a daily commute of 36 miles each way mainly on single carriageway roads. If we return to normal life, I could drive 63,000 miles in three years. The luggage space of the Prius is just sufficient for my requirements, but I'm considering changing the Prius due to the mileage. It has done well for me, I would be pleased to have another. Are there any other cars I could look at? In addition to fuel consumption, would a Plug-In Hybrid have any other benefits and would it be worth investigating?"
I don't think a plug-in hybrid will be particularly efficient for your requirements. They're best suited to short urban journeys under electric power. That said, if you can charge at home and work, it might make sense. The Volkswagen Golf GTE, for example, can officially cover 32 miles from a charge. Otherwise, a straight-forward hybrid could work. We'd recommend the Toyota Corolla. It's available as a Touring Sports estate which'll be more practical than your Prius. Don't dismiss diesels, either. They might be out of fashion, but they make a lot of sense for 21k miles a year.
I want an estate car for a growing family and mostly short trips. Should I go hybrid or petrol?
"I have a Skoda Fabia 1.0-litre 110PS - which is great for my school run and occasional longer trips, but due to growing kids and a dog, I need a bigger car. I'm not a fan of SUVs so fancy an estate car. I have a budget of £20,000 and quite fancy a Toyota Corolla Estate but is the 1.8 hybrid worth the extra money over the 1.2 petrol? I cover about 6000 miles a year - which is mainly short trips of 10 miles with the occasional trip to London (from Manchester). Are there any other estates you would recommend. I don't want a VW Group car with a 1.5-litre petrol engine due to all the issues it seems to have."
The Toyota Corolla Touring Sports is an excellent estate car. We'd recommend the 1.8 hybrid - the 1.2 lacks guts and it sounds like a hybrid would suit your requirements well. The hybrid will hold its value better, too. Also, consider the Kia ProCeed (or Ceed Sportswagon) or a Ford Focus estate.
Can you recommend a reliable, comfortable hybrid?
"I'm looking to buy a petrol hybrid car, under 1 year old for £25k. Essentials include comfortable seats, sunroof, tow bar (to carry bike rack) and reliability. We prefer a reasonably high driving position. I've been looking at the Toyota Corolla 1.8 VVT-I Hybrid, Ford Kuga Plug-in Hybrid and several others. I would appreciate your advice on the best vehicles to consider. I look forward to your suggestions. Thanks and regards."
Buy the Corolla. It's a very comfortable car and Real MPG drivers get 60+mpg from the 1.8 hybrid powertrain: https://www.honestjohn.co.uk/realmpg/toyota/corolla-2019 For more information on the Corolla, see our full review and video road test here: https://www.honestjohn.co.uk/carbycar/toyota/corolla-2019/ The Toyota Corolla Touring Sports estate review can be found here: https://www.honestjohn.co.uk/carbycar/toyota/corolla-touring-sport-2019
What large, petrol family cars offer decent reliability and mpg?
"I'm very undecided about which car I should go for. I'm looking for a big family car (estates or SUV) for regular short motorway trips. I initially wanted a diesel but concerned about the various issues and DPF failures. My focus is reliability, economy and comfort, but looks like all the petrol in estate or SUV have very poor MPG. Which cars would you recommend?"
Buy a Toyota Corolla Touring Sports estate. It's comfortable, easy to drive and backed by Toyota's steadfast reputation for reliability. The 1.8 petrol hybrid returns 63mpg on the road: https://www.honestjohn.co.uk/realmpg/toyota/corolla-touring-sports-2019
What does a Toyota Corolla Touring Sports (2019) cost?
See also