Mercedes-Benz S-Class (2014–)
Model History
September 2013
New S-Class goes on sale
The 2014 S-Class platform is entirely redesigned, although the wheelbase and overall length are the same as its predecessor. The body shell and the suspension systems now incorporate a greater percentage of aluminum. The lighter materials help trim about 200 pounds from the car, even as it grows a smidge wider (1.1 inches) and taller (0.8 inch).
The S500 is still be powered by the twin-turbo 4.7-litre V-8, which gains 20PS for a total of 455PS. Torque remains at 700NM. A seven-speed automatic is the only transmission.
As with the E63, the S63 AMG is available only with all-wheel drive; its twin-turbo 5.5-litre V8 now has 585PS and 900Nm torque. When the Rear-drive, V-12–powered S600 and S65 from 2014 have up to 1,000Nm.
The interior is even more sumptuous than the W221, with stitched leather that you can practically smell in photos, rich woods, and touches like piano-key HVAC controls, organ pulls for the main air vents, and an available pop-up tray table between the rear seats. The massaging seats have a hot-stone setting that uses a fast-acting heating element. The S-Class has seven different colors, five dimming levels, and four dimming zones.
A chauffeur package affixes a power-operated footrest to the right-rear seat. Along with the back-seat "cushionbag", rear passengers in the S-class have inflatable seatbelts and motorized buckles that rise up out of the seat for easy access, and then retract. In total, there are more than 100 actuators and electric motors in the S-Class.
SWB: 5,116mm x 1,899mm wide x 1,496mm high.
LWB: 5,246mm x 1,899mm wide x 1,496mm high.
Transmissions all 7 G-Tronic Plus except S63 and S65 AMG which have AMG Speedshift MCT.
S300 Bluetec Hybrid: 2,143cc 4 cylinder twin-turbo diesel, 204PS, 500Nm torque 1,600-1,800rpm; 27PS electric motor offering 250Nm torque; 64.2mpg combined.
S350 Bluetec: 2,987cc V6 diesel, 258PS, 620Nm torque 1,600-2,400rpm; 51.4mpg combined.
S400 Hybrid: 3,498cc V6 petrol, 306PS, 370Nm torque 3,500-5,250rpm; 27PS electric motor offering 250Nm torque; 44.8mpg combined.
S500: 4,663cc V8 twin-turbo petrol, 455PS, 700Nm torque 1,800-3,500rpm; 32.8mpg combined.
S500 4MATIC: 4,663cc V8 twin-turbo petrol, 455PS, 700Nm torque 1,800-3,500rpm; 32.8mpg combined.
S500 Plug-In Hybrid: 2,996cc V6 twin-turbo petrol, 333PS, 480Nm torque, 109PS electric motor offering 340Nm torque; 92.2mpg combined; 69g/km CO2. (From 2014.)
S63 AMG: 5,461cc V8 twin-turbo petrol, 585PS, 900Nm torque 2,250-3,750rpm; 28mpg combined.
S63 AMG 4MATIC: 5,461cc V8 twin-turbo petrol, 585PS, 900Nm torque 2,250-3,750rpm; 27.4mpg combined.
S65 AMG 4MATIC (LWB only): 5,980cc V12 twin-turbo petrol, 630PS, 1,000Nm torque 2,300-4,300rpm.
Optional 'Magic Ride' uses cameras to reas the road surface and road undulations ahead and adapt the suspension settings for the best ride quality and damping.
The S500 Hybrid is powered by a 3.0-litre V6 engine and 80Kw electric motor, the flagship luxury car has an official combined fuel economy of 100.9mpg and emits just 65g/km of CO2. Prices upwards of £80,000. At 65g/km the S500 plug-in hybrid is the biggest car to beat the 75g/km London Congestion Charge limit imposed from July 2013.
Features include and energy recovery system that charges the battery when the car is braking or coasting. The battery can also be charged from the mains. There are four driving modes – Hybrid, in which the engine is assisted by the battery; E-Mode for electric power only; E-Save, which saves battery for use later and Charge, which charges the battery when driving rather than draining it.
The engine produces 333PS and 480Nm of torque, with an additional 109PS and 340Nm from the electric motor. That's enough to get the S500 Plug-in from 0-62mph in 5.2 seconds and on to a limited 155mph top speed.
September 2013
Mercedes-Benz announced the details of its new S63 AMG. The S63 has a 5.5-litre twin-turbo V8 producing 585PS and an impressive 900Nm of torque between 2250-3750rpm.
Short and long wheelbase models are offered and long wheelbase cars are available with 4MATIC all-wheel drive . The official figures claim a 0-62mph sprint time of 4.4 second – or just 4.0 seconds for the 4MATIC. Top speed, regardless of model, is limited to 155mph while fuel economy is quoted at 27.9mpg for the rear-drive and 27.4mpg for the all-wheel drive.
Transmission is the now familiar seven-speed MCT, which is fitted to most AMG models. It can be left to change gears on its own or can be overridden with paddles, plus it features settings for efficiency or performance. Choosing manual or performance modes makes the exhaust note more purposeful and changes the ESP settings to make the handling more entertaining.
The S-Class is a luxurious car so the cabin features an array of technology including a large TFT display, attention assist, collision prevention assistance, all-LED headlights and some indulgences including 10-speaker audio and an assortment of AMG touches and top-quality materials. Numerous optional extras, both cosmetic and functional, are offered. Standard tyre sis is 245/50 R18.
January 2014
S600 unveiled
With an output of 530 hp, the V12 biturbo engine in the S600 packs a bigger punch than its predecessor did with 517PS. The displacement of the engine has increased from 5,513 to 5,980 cc. The maximum torque of 830 Nm is available from 1,900 rpm. The S600 now for the first time features the ECO start/stop function as standard, which contributes to the car reaching the Euro 6 emissions standard. The combined fuel consumption of the S600 stands at 25.4 mpg – a 21 per cent improvement over its predecessor (20 mpg).
The comprehensive standard specification of the S 600 reinforces its role as a flagship model. The LED Intelligent Light System, the MAGIC BODY CONTROL suspension with ROAD SURFACE SCAN and the Driving Assistance package Plus, for example, all come as standard. The latter comprises Active Lane Keeping Assist, Active Blind Spot Assist, BAS PLUS with Cross-Traffic Assist, DISTRONIC PLUS with STEER CONTROL and Stop & Go Pilot, PRE-SAFE Brake and PRE-SAFE PLUS.
February 2014
New engines added to S-Class line-up
The S 300 BlueTEC Hybrid L AMG Line, S 600 L AMG Line and S 65 AMG L will be available from April 2014, extending the range to now include the first diesel hybrid engine in the segment.
The S 300 BlueTEC Hybrid L AMG Line is the second engine for the S-Class Hybrid offering (alongside the S 400 Hybrid L), and is from the same engine family as the successful E 300 BlueTEC Hybrid, with a 2.2 litre, four-cylinder diesel engine joined by a 27PS electric motor. With a combined fuel consumption of 61.4mpg and CO2from 120g/km, it is available from £72,260 OTR.
In addition, standard equipment across the entire S-Class range, including the S 300 BlueTEC Hybrid, from March 2014 features an innovative touchpad system that allows control of COMAND Online using single or multiple-finger gestures, and new optional features include the new Head-up Display, which provides the driver with key information at a glance without having to take their eyes off the road, and heated windscreen.
For the two V12 models, the S 600 L AMG Line and the S 65 AMG L, they represent the ultimate levels of standard equipment. Key features include: Executive Rear Package and Rear Seat Reclining Package for backrest adjustment to 43.5 degrees, Rear Seat Comfort Package including Rear Seat Entertainment, Front Seat Comfort Package, Exclusive nappa Leather Package, Burmester 3D High End Surround Sound system and Keyless-Go Package to include remote boot closing and hands-free access.
The S 600 L AMG Line, priced from £139,960 OTR offers a 13PS increase over the previous S 600 model to 530PS, with 830Nm of torque, accelerating from 0 to 62 mph in 4.6 seconds. Emissions are reduced by 21 per cent to 259g/km with a 27 per cent improvement in combined fuel consumption to 25.5mpg.
The impressive figures continue with the S 65 AMG L, which is priced from £179,960 OTR. The 630PS and 1000Nm of torque help to propel the S 65 AMG L from 0 to 62 mph in 4.3 seconds – a 0.1 second improvement over the previous S 65 AMG L. In addition, there is a 16 per cent decrease inemissions to 279 g/km and a 20 per cent improvement in combined fuel consumption to 23.7mpg.
September 2014
S500L petrol Plug-In Hybrid launched
Arriving in November 2015, it can return an official 100.9 mpg, emits 65 g/km of CO2, can accelerate from rest to 62 mph in 5.2-seconds before reaching a limited 155 mph and yet is exempt from road tax and receives a 100 per cent discount on the London Congestion Charge.
In the UK the car will be offered in long wheelbase form and will cost from £87,965 on-the-road and is subject to a BIK rate of just five per cent.
The S500 Plug-In Hybrid equipment specifications are based on the conventional S 500 L AMG Line – among the highlights fitted as standard are 19-inch AMG alloy wheels, AMG body styling for the front and rear bumpers, the LED intelligent light system, COMAND Online, noise insulating glass, leather upholstery and the front seat memory package.
Powered by a V6 biturbo petrol engine producing 333PS and an electric motor developing 116PS, the S500 Plug-In hybrid generates a total of 442PS and 650Nm of torque. It can travel over 20-miles on purely electrical power.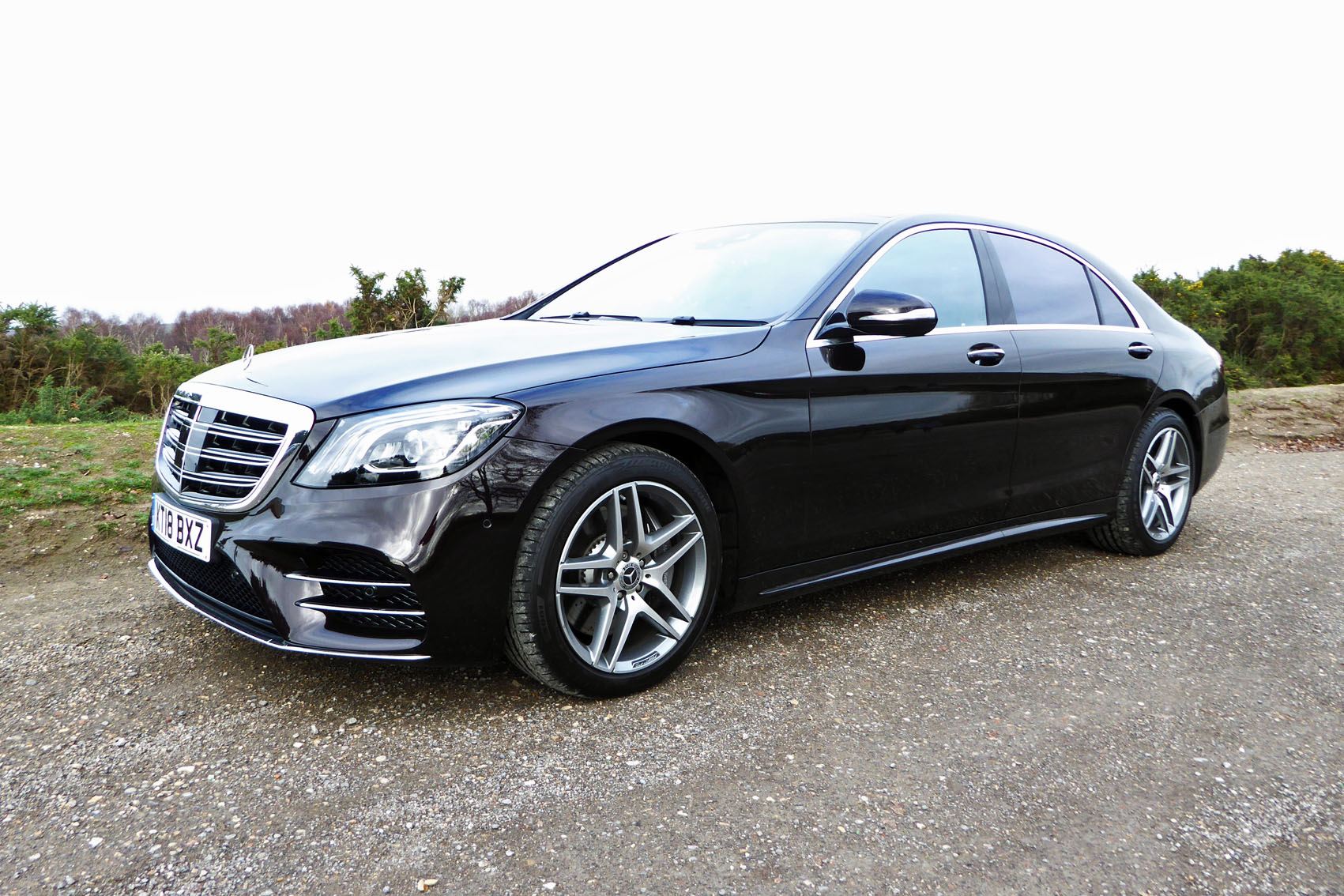 December 2018
New Mercedes-Benz S500L EQ launched with new twin-turbo 2,987cc straight six integrated exhaust manifold engine developing 435HP at 5,900-6,100rpm, plus an extra 22HP from a 48V inline starter generator between the engine and 9G-TRONIC transmission giving a combined power output of 457HP. Torque is 520Nm from the petrol engine from 1,800 to 5,500rpm, plus 250Nm from the electric starter generator from zero rpm. The car is 5,271mm long x 2,130mm wide (including mirrors) x 1,497mm high. Kerb weight is 2,025kg; Gross vehicle weight 2,695kg. Performance 0-60 in 4.6 seconds, top speed 155mph (electronically limited), fuel ecomomy 40.9mpg combined (WLTP) and CO2 169g/km combined (WLTP). Base price is £86,330, but with extras can easily rise to £105,210 as tested. A significant advantage over the S500L PHEV is more boot space. This measures 850mm deep x 920mm between wheelarches (1,380mm behind wheelarches) and 450mm high., capacity 530 litres.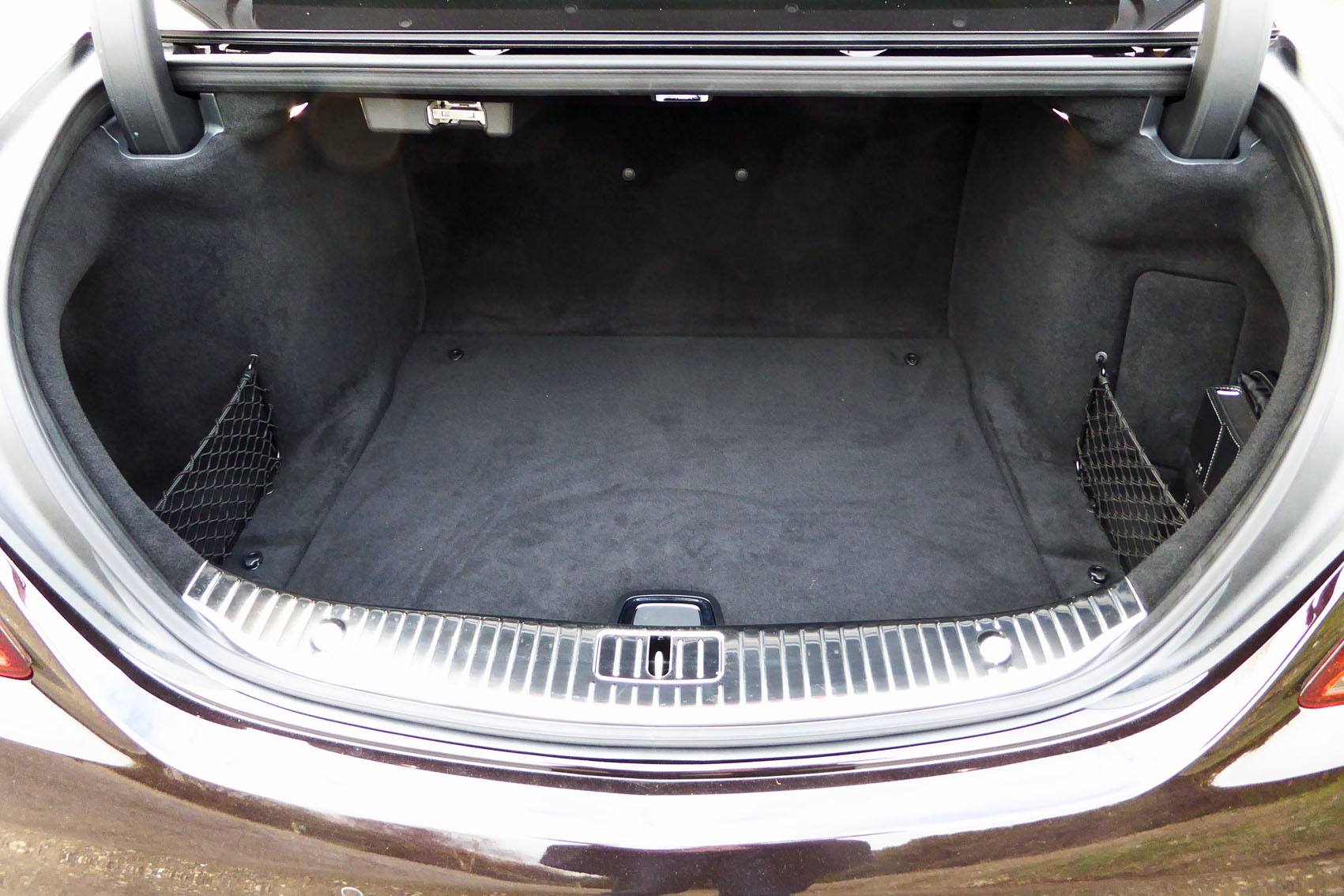 What does a Mercedes-Benz S-Class (2014) cost?
Contract hire from

£641.56

per month
Buy a used Mercedes-Benz S-Class from £27,998