Mercedes-Benz E-Class (2002–2009)
Model History
March 2002
When launched in 2002, the W211 E500 impressed as probably the finest car you could buy in the real world. Truly "engineered like no other car in the World" and marked Mercedes Benz getting back to its core values. As Mercedes says, "Everything we know in one car".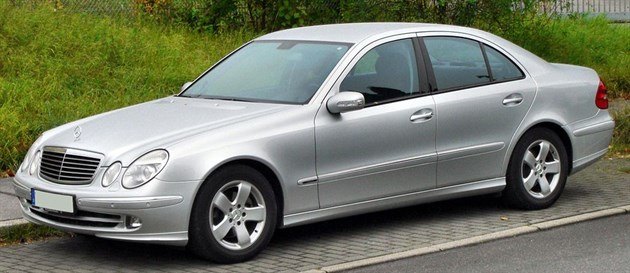 Underneath is four-link front suspension and multi-link rear suspension built mainly of aluminium like the BMW 5 Series and latest Audis. Optional dual stage AIRMATIC (standard on E500), as the S Class, using electronically controlled springing and damping. Vast amount of electronic technology that make the car almost impossible to crash.
The first W211s in the UK had five different engine options: three petrol and two diesel. Base petrol engine is the E240, a 2.6 litre 177bhp V6. The 6-speed manual does 148mph and gets to 60mph in 8.6 seconds. Next up is the familiar E320 3.2 litre 224bhp V6, auto only, which does 155mph and gets to 60mph in 7.5 seconds. This is slightly more economical than the E240 manual or auto.
Top of the range at launch was the E500, a 5.0 litre 306bhp V8, which reaches 164mph with the limiter off and gets to 60mph in 5.8 seconds. Diesels are the 2.2 litre four cylinder balancer shaft 150bhp E220 CDI, which gets to 60 in 9.8 seconds, goes on to 138mph and delivers 44.8mpg (177g/km CO2) and the 2.7 litre five cylinder 177bhp E270 CDI, which is good for 144mph and zero to sixty in 8.7 seconds.
A supercharged 200K four came later, as did the six cylinder 320CDI and a supercharged 470bhp 200mph E55 AMG V8. Six-speed manual gearboxes from the C Class and SLK are standard on the E200K, E220 CDI and E270 CDI, with the option of MB's excellent 'Tipfunction' 5-speed auto. E240, E320 CDI, E320 and E500 come with 5-speed auto as standard. 476bhp, 200mph 0-60 in 4.5 seconds supercharged E55 AMG £60,640.
April 2005
New V6 diesel replaces previous in-line E270 CDI five and E320 CDI six-cylinder engines from spring 2005. 221bhp and a maximum torque of 510 Nm. Exhaust emissions meet the stringent EU4 limits; in addition Mercedes-Benz offers the V6 engine with a particulate filter as an option in the UK.
July 2006
Whole range revitalised from July 2006 with 2,000 improvements, most importantly a revised braking system. 20bhp more for E220 CDI taking it up to 170PS with better economy and lower emissions. New E350. New 388PS E500. And mad and bad 514PS E63 AMG that does 0-60 in 4.3 seconds. Re-engineered 'facelift' models easily identified by horizontal 'eyebrow' like louvres inside the tops of the headlights.
The 1.8 litre 200K uprated to 184PS and 250Nm torque with similar economy and CO2 output as before.
The 220CDI (the most popular engine) is up 20PSto 170PS, and now offers 400Nm torque yet economy is improved to an average 44.8mpg and CO2 is 167g/km.
The 3.0 litre 231PS 280 V6 petrol engine was new in 2005, the 3.5 litre 272PS 350 V6 petrol replaced the old 320 at the same time. Other engine changes from 2005 are the 3.0 litre 280 and 320CDI V6s with 190PS and 224PS respectively.
Hot news is that the E500 now gets the 5.5 litre 388PS V8 from the S Class and SLK that whacks it up to 60mph in a fraction over 5 seconds yet still offers 24.6mpg combined economy.
While sitting right at the top of the tree was a new 6.2 litre non supercharged V8, actually built from scratch by AMG, that pumps out an outrageous 514PS and 630Nm torque and gets you to sixty in a faster-than-Ferrari 4.3 seconds.
There were lots of other improvements too. A 10% quicker steering rack, standard Mercedes 'Pre-Safe' that prepares you and the car to withstand an impending impact, standard tyre pressure monitoring systems (allowing optional runflat tyres), and hydraulic rather than electro-hydraulic 'adaptive braking' that provides a quicker stop while simultaneously flashing the brake lights and hazards to warn the traffic behind.
Optional 'intelligent lights' are a bi-Xenon upgrade that illuminate the left side of the road at low speed enabling you to spot pedestrians, animals or other hazards that might suddenly jump out into the road. A standard feature of E-Class bi-Xenons is they can be simply changed from left dip to right dip by switches on the backs of the light units.
Outside the facelift cars are distinguished by a more prominent grille, new headlights, a new V shaped bumper and on the saloon a chrome highlight across the boot while estate cars get a full width high level brake light. New alloy wheels complete the picture outside and a new four spoke steering wheel and new interior colours inside.
August 2007
August 2007 E-Class Executive launched and has telephone pre-wiring requiring only cradle for a mobile to be controlled using the multi-function steering wheel. Also a six-disc CD changer with MP3 compatibility. Three metallic colours – Iridium silver, Obsidian black, or the limited edition Palladium silver, 16 inch seven-spoke alloy wheels, chrome door sills with Mercedes-Benz lettering. Seats trimmed in black Artico leather-like material and floor mats.
Also driver's lumbar support, two zone climate control and front seats electronically adjustable for height and backrest angle. 2.2-litre diesel develops 170PS at 3,800 rpm and 400 Nm of torque at just 2,000 rpm. 0-60 8.1 sec, top speed of 141 mph, 44.8 mpg combines from amual (42.2 from auto). Five-speed automatic transmission with Tipfunction and Speedtronic cruise control is available as an option.
What does a Mercedes-Benz E-Class (2002 – 2009) cost?
Contract hire from

£311.89

per month
Buy a used Mercedes-Benz E-Class from £23,780