Mercedes-Benz C-Class (2014–)
Model History
December 2013
Mercedes-Benz unveiled the new C-Class
The Mercedes-Benz C-Class was described by MB as having a "clear yet emotional design and high-class interior. Many other innovations and interior touches underscore the Saloon's comfort and refined sportiness. In all, the perceived quality of the new C-Class feels like an upgrade to a higher class of travel".
The C-Class has grown to take account of people's increasing average height. With an 80-mm increase in the wheelbase (2840mm) compared with the previous model, the vehicle is 95 mm longer (4686mm and 40mm wider (1810mm). The boot is bigger at 480 litres and there's more rear legroom.
Standard wheel and tyre size is 16-inch with 205/60 R16 tyres.
Other wheel and tyre sizes are:
16-inch with 225/55 R16 tyres
17-inch with 225/50 R17 tyres front and rear
17-inch with 225/50 R17 front; 245/45 R17 rear
18-inch with 225/45 R18 front and rear
18-inch with 225/45 R18 front; 245/40 R19 rear
19-inch with 225/40 R19 front; 255/35 R19 rear
19-inch with 225/40 R19 front; 245/35 R19 rear
Breakover Angle: better than 12.5 degrees helps prevent grounding on ramps. Wheelbase: 2840mm; ground clearance: 92mm; breakover angle: 7.41 degrees. C200 Airmatic: Wheelbase: 2840mm; ground clearance: 117mm; breakover angle: 9.42 degrees
The interior has an all new centre console featuring flowing lines. In automatic vehicles, a large one-piece centre console panel performs an elegant sweep from the centre air vents to the armrest. On vehicles with manual transmission, the centre console is slightly steeper and features two separate trim elements in order to create ample space for ergonomic operation of the shift lever.
The innovative touchpad in the handrest over the Controller on the centre tunnel marks a further evolutionary step developed in-house at Mercedes-Benz. As on a smartphone, this provides for very simple and intuitive operation of all the head-unit functions using finger gestures. The touchpad also permits letters, numbers and special characters to be entered in handwriting - in any language. The user receives clear haptic feedback when operating the touchpad's control surface, which is highly conducive to genuine intuitive use.
Three engine variants are available at the market launch - a diesel in the guise of the C 220 BlueTEC and the two petrol models, C 180 and C 200:
Model
Displacement
cc
hp
Nm
0-62 mph
in sec.
mpg
CO 2
g/km
C 220 BlueTEC
2143
170
400
8.1
70.6
103
C 180
1595
156
250
8.2
56.5
116
C 200
1919
184
300
7.5
53.3
123
Soon after the launch, Mercedes-Benz expanded the range of engines including a new, Renualt derived 1.6 small diesel engine. Reduced weight, compact design and low fuel consumption are among its special merits. Depending on its configuration, the single-stage supercharged four-cylinder engine generates 115hp or 136hp from a cubic capacity of 1,598cc and delivers 280Nm or 320Nm of torque. That is a significant difference from the Renault/Nissan applications of this engine that are turbocharged in the case of the DCI 130 and twin-turbo in the forthcoming DCI 160.
In addition to this new small diesel engine, an advanced version of the proven 2.1-litre four-cylinder diesel engine became available in several output variants. The diesel engines covered an output range from 115hp to 204hp. The C 220 BlueTEC was also available with an output of 170hp.
As in the S and E-Class, Mercedes-Benz additionally offered a diesel engine combined with a hybrid module. The C 300 BlueTEC HYBRID with four-cylinder diesel engine and a compact electric motor generates an output of 204 + 27hp and runs on only 72.4mpg in NEDC combined mode (provisional figure). A further particularly economical hybrid model arrived later with state-of-the-art plug-in technology.
The suspension on the new C-Class is an all-new development. It provides for nimble and agile handling that makes driving a great pleasure on winding roads while also offering the highest standard of ride comfort in the segment.
The new C-Class Saloon is fitted as standard with steel suspension. Three DIRECT CONTROL suspensions with selective damping system are available in conjunction with this suspension:
a comfort suspension
a lowered comfort suspension with a sportier character
a sports suspension lowered by 15mm
Alternatively, the new C-Class is the first vehicle in its segment that can be fitted with an air suspension (AIRMATIC) on the front and rear axles (HIGHLY RECOMMENDED). Thanks to electronically controlled, continuous variable damping at the front and rear, it offers outstanding road roar and tyre vibration characteristics even with the vehicle loaded. The driver can use the AGILITY SELECT switch to choose between the various characteristics: "Comfort", "ECO", "Sport" and "Sport+". The additional "Individual" option enables drivers to configure their vehicle according to their own wishes. AIRMATIC also features all-round self-levelling for optimum ride comfort even when the vehicle is loaded.
A completely new multimedia generation offers intuitive operation in the new C-Class, featuring elaborate animations and visual effects, which present all the functions in a clear and highly attractive manner. The new C-Class is also equipped with the unique Frontbass system. This avant-garde acoustic systems uses the space within the cross-member and side member in the body structure as a resonance chamber for the bass speakers to conjure up a listening experience almost on a par with a concert hall.
February 2014
UK pricing announced
Three model lines will make up the new C-Class range - SE, Sport and the AMG Line. Among the equipment highlights, the Sport model adds 17-inch alloy wheels (up from 16-inch on the SE), LED headlights, lowered comfort suspension, chrome exterior trim and Garmin Map Pilot Navigation. The AMG Line adds 18-inch AMG wheels, AMG bodystyling and steering wheel, sports suspension and an Artico finish to the upper dashboard.
Engine
Model
Transmission
CO 2
Rec. OTR
price (£)
P11d
price
(£)
BIK tax
rate
(14/15)
C 200
SE
6-speed manual
123
£26,855
£26,800
17%
7-speed automatic
123
£28,355
£28,300
17%
Sport
6-speed manual
124
£28,850
£28,795
17%
7-speed automatic
124
£30,350
£30,295
17%
AMG Line
6-speed manual
128
£30,345
£30,290
18%
7-speed automatic
127
£31,845
£31,790
18%
C 220 BlueTEC
SE
6-speed manual
103
£29,365
£29,310
16%
7-speed automatic
109
£30,865
£30,810
17%
Sport
6-speed manual
104
£31,360
£31,305
16%
7-speed automatic
110
£32,860
£32,805
18%
AMG Line
6-speed manual
106
£32,855
£32,800
17%
7-speed automatic
113
£34,355
£34,300
18%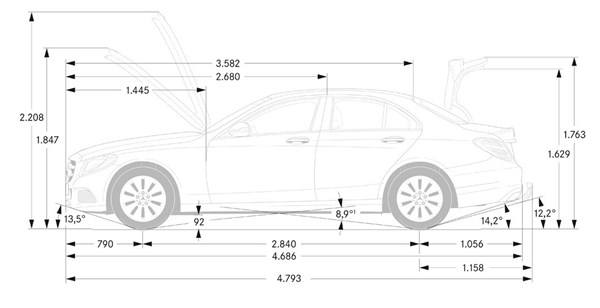 September 2014
Mercedes C63 AMG unveiled
The new C63 AMG adds an all-new 4.0-litre biturbo engine to endow it with phenomenal performance while unique, three-stage adjustable dampers and a bespoke steering setup allow it to retain the agility that made the model it replaces the most popular AMG ever created.
Every C63 AMG is fitted with 245/40 R18 (front) and 265/40 R18 (rear) tyres while the 'S' model gains 245/35 R19 (front) and 265/35 R19 (rear) tyres. A new braking system uses 390 mm discs at the front and 360 mm at the rear with the option of enhanced ceramic discs available for track-orientated driving.
The C63 AMG produces 476PS and, in C63 S AMG guise, 510PS. It's nearly a third more efficient than the engine it replaces yet, in 'S' form, produces more power and emits less CO2– now from 192 g/km. A heavily revised version of the AMG SPEEDSHIFT MCT 7-speed transmission features on the C63 AMG - now with significantly quicker shift times to improve responses. The C 63 S AMG accelerates from rest to 62 mph in 4.0 seconds and is limited to a maximum top speed of 155 mph. The car weighs 1,715kg.
November 2014
C300h diesel hybrid introduced
Has 2.1 litre diesel developing 204PS + a 27PS electric motor. Quick and refined, especially with £900 optional air suspension. 0-60 in 6.2 seconds, top speed 150mph, 78.4mpg on NEDC cycle, 94g/km CO2 so tax free in 2015 and 2016. Very popular in countries like Thailand that offer a tax advantage to hybrids. Impressive to drive.
July 2015
C63 AMG prices revealed
List price of the C63 AMG is £60,060 for the 476PS C63 and £66,810 for the 510PS C63 S. AMG Performance seats in nappa leather are standard on the S and optional on the AMG63. Other options include carbo-ceramic brake discs at £4,285; head up display at £825; 360 degree camers £335; air balance package £350; special exhaust system £1,000.
August 2017
Mercedes Benz C350e petrol plug-in hybrid introduced with 210HP turbo petrol 1,991cc engine and 82HP electric motor. 0-60 in 5.7 seconts, top speed limited to 155mph, 48g/km CO2 and 134.5 mpg on the unrealistic 11 kilometre New European Drive Cycle. 6.2kWh Lithium Ion battery. Chargemaster home wall charging socket available for £280. Airmatic air suspension is standard.
February 2018
Facelifted C-Class revealed
Front bumpers redesigned for all lines while the rear bumper on the saloon and Estate has a new lower section, geometry, trim and tailpipe trim vary according to the selected equipment and engine variant.
C200s are now powered by the 1.5-litre M264 four cylinder engine. New to the C-Class is a mild hybrid C200 EQ Boost using 48V technology and an electric motor boosting a basic 184hp 1.5-litre four-cylinder petrol-turbo engine to 198hp. The old 2.1 litre 4-cylinder diesel engine in the C220 d is replaced by the same 194PS 1,950cc 2.0 litre diesel as in the E-Class.
C 200 d (1,597cc) four-cylinder twin-turbocharged diesel engine, six-speed manual transmission: 160PS at 3,800rpm; 360Nm at 1,600-2,600rpm.
C 220 d (1,950cc) four-cylinder twin-turbocharged diesel engine, nine-speed torque converter automatic transmission: 194PS at 3,800rpm; 400Nm at 1,600-2,800rpm.
C 200 (1,497cc) four-cylinder turbocharged petrol engine, nine-speed torque converter automatic transmission: 184PS at 5,800-6,100rpm; 280Nm at 3,000-4,000rpm.
C200 EQ Boost (1,497cc) four-cylinder turbocharged petrol engine, nine-speed torque converter automatic transmission: 184PS at 5,800-6,100rpm; 280Nm at 3,000-4,000rpm. + 48v Mile Hybrid giving extra 14PS.
C 300 (1,991cc) four-cylinder turbocharged petrol engine, nine-speed torque converter automatic transmission: 258PS at 5,800-6,100rpm; 370Nm at 1,800-4,000rpm.
C 43 (2,996cc) six-cylinder twin-turbocharged petrol engine, nine-speed torque converter automatic transmission: 390PS at 5,800-6,100rpm; 520Nm at 2,500-5,000rpm.
The colour spectrum has been broadened by the addition of Mojave silver metallic and emerald green metallic.
The centre console is characterised by an elegant flowing trim. This is available in open-pore brown walnut or open-pore anthracite oak. The 3D real wood veneer in the centre console combines a hand-crafted character with a modern feel. Magma grey/black are new interiors, plus saddle brown for the AMG Line interior.
The Keyless-Go starting function is standard. The start/stop button comes in a new turbine-look design. The vehicle key also features a new design. Customers have a choice between three variants here: black with high-gloss chrome surround, white with chrome surround or high-gloss white with matt chrome surround.
The Multicontour Seat package is new to the C-Class. With this package, the side bolsters and lumbar support can be individually adjusted by means of an electrically driven pneumatic pump. A massage effect in the lumbar area is provided by air chambers which are inflated and deflated in a pulsing or wave-like motion when the function is activated. The seat's pneumatic functions are operated via the multimedia system.
The C-Class adopts the display concept of the current S-Class, with an optional fully digital instrument display offering the three different display styles "Classic", "Sport" and "Progressive".
The basic model features a classic two-tube instrument cluster. Between the tubes there is a 5.5-inch colour display. The fully digital instrument display is available as an option. The screen has a 12.3-inch diagonal and offers high resolution.
The multimedia screen above the centre console is also available in two sizes. In combination with Audio 20 it has a 7-inch screen diagonal and a resolution of 960 x 540 pixels. Here too, the display style is "Classic".
The C-Class has touch-sensitive controls mounted on the steering wheel. They respond to swiping motions like the screen of a smartphone. They enable the driver to control the functions of the instrument cluster and of the entire infotainment system without having to take their hands off the steering wheel. The operation of Distronic and cruise control with controls directly on the steering wheel is another new feature.
The new C-Class comes with extended Active Brake Assist as standard. Depending on the situation, this can help to mitigate the consequences of rear-end collisions with slow-moving, stopping or stationary vehicles ahead, and even with crossing pedestrians and cyclists, or prevent them altogether.
August 2018
Revised AMG C 63 goes on sale
Prices start at £66,429 for the C 63 Saloon. The AMG C 63 uses AMG's hand-built 4.0-litre V8 'hot V' biturbo petrol engine which generates 476PS or 510PS for S models.
For the first time the C 63 now comes with an AMG SPEEDSHIFT MCT 9G transmission (previously 7G), which has been specially designed for shorter shift times. A wet start-off clutch continues to replace the torque converter, ultimately saving weight and optimising throttle response.
AMG Ride Control suspension with adaptive damping adjustment and an electronically controlled rear-axle limited-slip differential are now standard on all C 63 models. The C 63 S also comes as standard with dynamic engine mounts, combining comfort with dynamic performance by reducing vibrations in the engine/transmission unit.
The C 63 Saloon can sprint from 0 to 62 mph in just 4.1 seconds (C 63 S: 4.0 seconds). The standard C 63 has an electronically-limited top speed of 155 mph, while all C 63 S models can reach 180 mph (174 mph for the Estate and Cabriolet).
Standard equipment includes 18-inch alloy wheels, performance exhaust, Multibeam LED headlights, 12.3-inch digital cockpit display, 10.25-inch central display, Comand Online, ambient lighting with a choice of 64 colours, keyless start, wireless phone charging and memory seats. The C 63 S adds nine-stage AMG traction control, AMG Track Pace, AMG performance seats and 19-inch alloy wheels.
For £2595 customers can opt for the Premium Plus equipment line which includes Burmester surround sound system, panoramic sunroof (not available on Cabriolet), 360° camera and Keyless-Go Comfort package.
The Driving Assistance package costs £1695 and includes Active Blind Spot Assist, Active Lane Keeping Assist, BAS Plus with Cross-traffic Assist, Distronic Plus with Steering Assist and Stop&Go Pilot, Pre-Safe Brake with pedestrian detection and Pre-Safe Plus. AMG's high-performance ceramic braking system can be added for £4285.
What does a Mercedes-Benz C-Class (2014) cost?
Contract hire from

£287.37

per month
Buy a used Mercedes-Benz C-Class from £14,243