Land Rover Range Rover Evoque (2019) Review
Looking for a Land Rover Range Rover Evoque (2019 on)?
Register your interest for later or request to be contacted by a dealer to talk through your options now.
Land Rover Range Rover Evoque (2019) At A Glance
The Range Rover Evoque has always been one of the most stylish cars in its class, and when style is the very reason that most people buy SUVs, that really counts for a lot. However, the latest version now has the substance to back up the style. Not only is it great to look at inside and out, it's comfortable and enjoyable to drive, practical enough for a small family, and comes rammed with luxury equipment. Now the car it arguably always should've been.
Looking for a Land Rover Range Rover Evoque (2019 on)?
Register your interest for later or request to be contacted by a dealer to talk through your options now.
There's something to be said for making an entrance, and when the first Evoque came along in 2011, it certainly did that.
The small premium SUV craze had yet to take off at quite the same stratospheric rate as it has done since, primarily because the offerings of the day - including the Audi Q3 and BMW X1 - looked rather dowdy and awkward, resembling jacked-up hatchbacks rather than scaled-down off-roaders. So, when the Evoque rocked up, it was a complete revelation.
Among the awkwardness, there was suddenly elegance. The bold, angular details and crisp lines of the Evoque made it stand out a mile against pretty much any car, let alone the humdrum competition, and pretty much anyone who gave a hoot about cars at that time wanted one for that reason alone.
In truth, it wasn't that brilliant a car in a lot of other ways, but it's jaw-dropping looks ensured it was an enormous success nonetheless.
Fast-forward to 2019. Small SUVs - prestige or otherwise - are all the rage. The competition from Audi and BMW has seriously upped its game, in terms of its styling and in a whole host of other areas, and the popularity of this type of car means that there are more contenders than ever before.
That means the second-generation Evoque really has its work cut out in keeping the affection of a spoiled-for-choice public.
It's just as well, then, that the latest Evoque is an absolute cracker of a car. The competition may have upped its game, but don't go thinking that Land Rover has rested on its laurels.
The first big improvement comes in the form of the driving experience. Where the first Evoque was rather lacklustre on both ride and handling, the latest car rides with a plushness to match most other cars in the class, and also deals with corners in an impressively secure and controlled way.
Big strides have also been made on refinement, with quieter, smoother engines and really good suppression of exterior noises. Practicality was once a weak, point, too, and again, the Evoque now has what it takes on that score to match most rivals, with a roomy cabin and a very decent booth.
Quality has also been kicked up a notch, with really impressive cabin materials, and on SE trim and above, a cool-looking twin-touchscreen arrangement for the centre console adds a real touch of glamour. What's more, most versions come with all the luxury and safety kit you need.
What do owners think of the Land Rover Range Rover Evoque (2019)? Check out our
Owners' Reviews
from people who live with the car day in, day out.
Reviews for Land Rover Range Rover Evoque (2019)'s top 3 rivals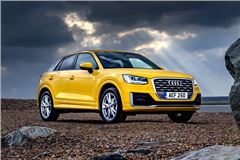 Audi Q2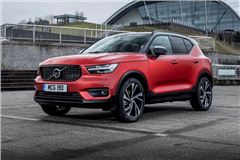 Volvo XC40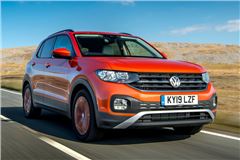 Volkswagen T-Cross
Ask Honest John
Should I get a new car on finance or buy a used car?
"Is now the time to buy a new car on PCP or should I buy secondhand? I currently drive a Range Rover Evoque, which is on a PCP ending in July. The car has only done 10,000 miles in total. The agreement was taken out on 10,000 miles per year. I've spoken to Land Rover and there is no equity in my current car, which is very disappointing."
First of all, consider approaching a car buying service or other dealers about your Evoque. Dealers are struggling to find good stock, so you might find someone willing to pay a premium. They'll settle the finance and give you any leftover funds, which you're then free to put towards your next vehicle. Now isn't a bad time to buy a car on PCP, but it depends a lot on your personal circumstances and how many miles you expect to cover post-lockdown. Are you likely to work from home more, or will your mileage increase dramatically after lockdown? Is your job safe enough to commit to a PCP? If you're confident that your job is safe and you expect your mileage to increase when things return to normal, a PCP is probably the way forward. Otherwise, consider a used car.
Could you suggest a small, comfortable crossover?
"I'm 72 and have a 2013 Honda CR-V petrol automatic. I love the car, especially the fully adjustable driver's seat as I have a bad back. However, I have to park on the road and I really need a smaller SUV with the same amount of tech and comfort as my CR-V. I would appreciate any suggestions."
If budget allows, you could look at something smaller but more premium like a Volvo XC40, Lexus UX or Range Rover Evoque. Alternatively, we'd recommend a Volkswagen T-Cross or Honda HR-V.
Can you suggest a tracking device for my car?
"Can you advise on a tracking device for a Range Rover Evoque. It's required by Direct line insurance."
Tracker, which is the company name, offer various good options. Check them out: https://www.tracker.co.uk
Answered by
Georgia Petrie
What does a Land Rover Range Rover Evoque (2019) cost?
Buy new from

£29,661

(list price from £32,430)
See also