Land Rover Range Rover (2013–)
What's good
Superb handling, both on and off the road.
Lightest Range Rover ever, thanks to all-aluminium body.
Big improvements in rear passenger space.
The Range Rover achieves the highest JD Power score in its segment and of any model in the industry in 2013, which marks the first time a model outside the large premium car segment has done so. and Rover brand ranks fourth overall, an improvement of two places from sixth in 2012. The Range Rover also won in the Large Premium Crossover/SUV category in both 2010 and 2011.
Five Star Euro NCAP rating. 91% adult protection, 84% child protection, 63% pedestrian protection and 86% for safety assist.
Range Rover won both over 1,800kg and over £52k categories in 2014 Caravan Club Towcar of the Year Awards.
What to watch out for
Ride quality of Vogue SE on standard 20-inch wheels heavily criticised by owners. Smaller wheels with deeper profile tyres are not an option. Only 21-inch or 22-inch wheels with even lower profile tyres that will make the ride even worse.
20-10-2014: 2015 Range Rover recalled under R/2015/119. Car spent a day with Ripon Landrover on 5th of October allegedly having this work attended to. Then, on 14th of October, the tailgate opened whilst driving at speed, indicating that the fault had not been fixed. There were dogs in the car at the time that could ahve fallen out. Dealer arranged to take car back again on 22nd October.
6-4-2017: Complaint of significantly poorer performance and far worse fuel economy of new EU6 Range Rover 3.0 TDV6 compare to previous 2014 EU5 Range Rover 3.0 TDV6. EU5 was quick, pwerful and averaged 36-40mpg. New EU6 is sluggish and struggles to reach 30mpg, achieving 36mpg only when being drive extremely light-footed.
30-6-2017: Report of significant problems with new 2017 model year Range Rover Vogue SE purchased December 2016. Returning from skii trip in February 2017 stopped for fuel then car refused to re-start. No ignition, no engine, nothing. LR Assistance could not help because this was on an Autoroute. French recovery crew could not unlock electric gear selector, but managed to hack through the console and free the problem with the transmission selector that was prevfenting the car from starting. Later in May 2017, a/c failed. Then the infortainment system failed., together with reversing camera, parking sensors and sat nav. Supplying dealer booked car in, re-gassed a/c, updated the infotainment software and valeted the car. 1.5 miles later all sound through the system (radio, TV, phone etc) had disappeared. Owner phoned dealer who said 'Oh this is a regular problem, we will book it in for a replacement system as this has happened on a number of other occasions'. Eventually on 18th May, a temporary replacement LR UK Vogue SE was supplied car was collected for repair. By 30th June owner had no contact frtom the dealer, so he phoned him and was told he actually they had no update and nothing whatsoever had been done to the car apart from an assessment that the 'system required a software update'. So in two weeks, they have effectively done nothing, have no information as to what is wrong with the car, have replaced nothing, updated nothing, fixed nothing.
28-9-2017: Oil dilution counter and early service requirements The "Service Required" message is being displayed early due to oil dilution, caused by a higher than expected number of partial DPF regeneration cycles. The duration/distance to complete a full regeneration on 3.0-litre diesel Range Rover, Range Rover Sport and Land Rover Discovery plus 2.0-litre diesel Range Rover Evoque and Land Rover Discovery, is longer than 2.0-litre diesel Jaguar XE and XF, increasing the likelihood of an interrupted regeneration at the end of a journey. Due to hardware and architecture differences between model lines, the amount of post injection required to achieve a similar bur rate is much higher. This combines to significantly increase the fuel in oil (FIO) contribution for each successful regeneration. Combined with the increased post injection requirement and increased impact of interrupted regeneration on oil dilution, FIO increases at a much faster rate on the Land Rover models. Oil dilution at 6.1% will trigger the "Service Required" message. Based on driving style and usage, this value may be reached in advance of the service interval that was quoted in the online marketing and brochure (3.0-litre diesel Range Rover and Range Rover Sport – 16,000 miles / 12 months or 2.0-litre diesel Evoque and Discovery Sport – 21,000 miles / 24 months. The handbook states that, depending on the type and style of driving that the vehicle is subjected to, the indicator may display a service message at a shorter distance than shown in the service interval plans.
1-10-2017: Report that since November 2016 the infotaninment system of a 2014 Range Rover switches itself off and switches itself back on and in the meantime the driver loses satellite navigation, radio, telephone and gets a completely blank screen. Car has been back to the dealer a total of 7 times for a period of time of over 2 months with suggestions that it could be bad connections, an update needed (apparently the latest update is already loaded into the system), so, after all these visits, they are unable or now unwilling to replace the unit complete. The car had 5 months warranty left went it first went wrong and they have had it in since the warranty has expired but to no avail. Yesterday the screen went off 6 times in a 30 minute drive, and went off 36 times in a 180 mile drive.
3-10-2017: Service compliance notification. Download it here /
21-12-2017: Serious engine problem reported with April 2014 Range Rover Vogue Se SDV8. Whan purchased from Land Rover dealer in October 2015 it had missed its first service and though supplied with a 2 year LandRover warranty buyer insisted that first service was repeated, which the dealer did in December 2015. It was then serviced again in December 2016., then again at 22,500 miles in December 2017 when dealer told owner that £5,500 of work was needed on the engine: Engine oil level sensor full of oi (pouring out of connection); Engine harness full of engine oil; Engine oil coming out of o/s turbo electronic control boc and connector: totla £5,592.
31-3-2018: Report of "numerous warning lights falsely appearing on dash display" of 2014 Range Rover Vogue at 3 years old and 32,000 miles. (Headlights,airbag, gearbox fault fuel contamination etc etc ) After several attempts to fix the problem and now out of warranty the dealership announced that one of the problems was a gearbox fault and needed to replace it. After 6 weeks owner was forced to pay a £1000 contribution to get the car back. The gearbox warning light still appeared. Some weeks later the display fault was traced to a loose wiring connection in the rear of the car. JLR has now offered to pay for £1000 of options on a new car but won't refund the £1,000. Small Claims Action suggested. No reason why owner sould pay for the misdiagnosis.
2-5-2018: Report that crankshaft failures of Ford of Dagenham built AJD-V6 diesel engines would not be covered by a JLR extended warranty because under Clause 11: "Design Faults and Recalls: Any damage to parts, which are being recalled by the vehicle's manufacturer or which have inherent design faults are not covered by this Warranty."
15-8-2018: Report of "Oil Service Due" coming on at 4,500 to 5,000 intervals in November 2017 Range Rover 3.0 TDV6. Owner had 3 oil services and paid for a full service "to reset the 16,000 clock". Driving style is optimum for a diesel with daily over one hour commutes and 50 miles each way, average speed 47mph from the LR Phone App. Owner has given Dealer several chances to fix the issue but after looking at reports on the LR Oil dilution issues and other owners it is clear there is no fix. Owner want to reject the car which cost over £100,000 but which "is not fit for purpose". He specifically asked about the service intervals at point of purchase and was told 16,000 mile or 12 Months. JLR Customer Support in Coventry tells him its his driving style, which is not quantifiable. (See 28-9-2017.)
6-10-2018: Problems with March 2017 Range 3.0V6 TDi. Mainly an excessive flat spot below 40mph that can make the car tiresome and downright dangerous, particularly at junctions and roundabouts. Dealer admits that it has an excessive flat spot/hesitation but "gave LR the way out they wanted by homing in on the ZF transmission which of course LR declared as 'performing to design intent'." The dealer carried out three software upgrades, which completely transformed how it behaved only for it to revert to the default within days. In practice, the gearbox is reacting to an engine that cannot deliver consistent power. Owner tried everything: V-Power diesel: no difference. Thrashing it down motorways/high revs: no difference. Dealer says that the culprit is the change from the twin-turbo set-up on 2014 model to a single turbo as part of the EU6 diesel emission changes. Owner never informed of this engine downgrade and LR's literature never mentioned it. LR quotes higher mpg figures when in practice owner is using 20-25% more fuel which he maintains is because the accelerator has to be pressed harder and longer to overcome the flatspot. Demonstrated to dealer by driving on a quiet, level road at 30mph, floored the accelerator, lots of noise but no further acceleration for 4 to 5 seconds. Technicians were astonished. After which it naturally lurched uncontrollably, making smooth driving very difficult. Worse still it behaves differently according to different situations. LR will not acknowledge the problem but then suggested that we might like to buy another new RR (which, by the way, has a new higher output engine) and get financial assistance from them and the purchasing dealer. The dealer agreed but then LR retracted. On top of this owner endured 18 months of problems with the Incontrol system making the sat nav, phones and entertainment systems not work properly. On the third upgrade and it still doesn't work properly. Even the tailgate opened by itself whilst reversing into a parking space. LR suggested that owner should have rejected the car within 6 months. Even suggested owner went back to finance company and rejected it.
23-11-2018: Report of panoramic glass roof of 2017 Range Rover Vogue "popping" when driver mounted a kerb. Thought the body had flexed. Dealer replaced under wartranty but would not supply an extended warranty.
6-6-2019: Report of fault developing with 2010 Jaguar XK X150 5.0 V8 at 101,000 miles that had been subject to extended dealer service intervals. This could become a general problerm with Jaguars and RangeRovers fitted with this engine. Yellow engine warning light on dash and restricted performance. OBD revealed code P0016: crank-cam position correlation fault. Jaguar dealer diagnosed that the engine was running rough on cold with timing fully advancing on driver's side bank to counter a timing problem. Suspected that timing chain has become slack due to premature wear on tensioners and guides. Replacement of timing chain involves dismantling front end of car: a 13 hour job (at Jaguar dealer prices - best part of £2k). Parts (timing chain kit and crank/cam sprockets) come to £2,600 which will be the same regardless of where it's being repaired as they must be Jaguar sourced. Full quote from Jaguar dealer £4,300. Recommended to change spark plugs, water pump and coolant at same time at a slight additional cost. Several independent Jag specialists consulted. Most won't attempt the job. Some had already had to do this a couple of times using specialist tools. Those that have had agreed that this is likely due to low viscosity 5W20 oil not providing sufficient lifetime protection. All suspect that this is going to become an emergent problem with the 5.0 V8 unit as cars approach higher mileages.
18-6-2019: Report of big end failure of 3.0 V6 diesel engine of 2015/65 Range Rover Vogue Autobiography at 17,500 miles. Dealer keeps saying waiting on the goodwill department at JLR to reply if any help will be offered towards and new engine. See 2-5-2018 and other Land Rover and Range Rover models fitted with the Ford built 3.0 AJD-V6 diesel engine.
11-9-2019: Report of further spate of thefts of underslung spare wheels from LandRover Discovery 3s, Discovery 4s, Discovery 5s, Range Rover Sports and Range Rovers. The design had been changed so that the wheel was now held on a winch only accessible from inside the vehicle. So now the thieves simply cut this winch resulting in an increased cost to replace this as well as the wheel. Owner found that a number of people have paid to replace the wheel and winch, only to have it stolen again. This is confirmed by her insurance company who told her that they have a lot of claims for this, and many of them are repeat ones. The answer might be this locking through-bolt sold in Thailand to prevent theft of spare wheels from pick-up trucks: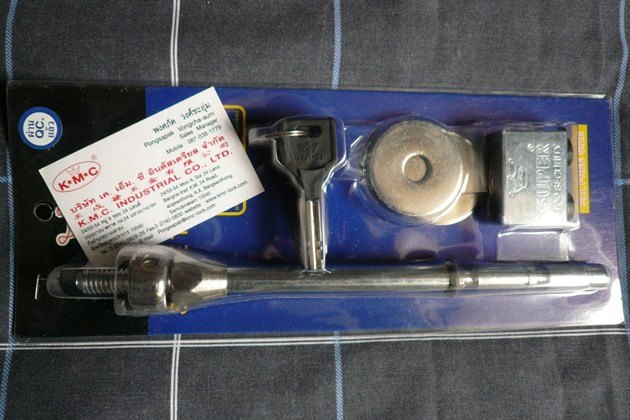 15-10-2019: Report of problems with 2016 Range Rover Vogue 4.4 V8 diesel, still under 3 year warranty. The car was first taken in to a different LandRover dealer from the supplier to investigate a fault message relating to the suspension which would intermittently not drop to normal or access height. Air suspension compressor, valve replaced, and software update carried out which resolved the suspension issues. It was discovered that oil was leaking from the turbo. All gaskets on the turbo replaced. This repair took five weeks due to the garage replacing once gasket at a time and ordering only one gasket at a time. When the car was returned, owner heard a knocking underneath and the car was returned to yhe LandRover dealer, remained with them for six weeks. An element of the gearbox was replaced as they believed a known defect was causing the issue. Subsequent road tests showed that the fault still existed. The rear prop shaft was replaced which resolved the issue. A few months later, a harsh vibration was felt in the steering wheel which gradually got worse over a few days to the point that it felt like the entire vehicle was vibrating. At this point owner took the car back to the supplying LandRover dealer. take the vehicle back to GC Motors in Harrogate where it was purchased from. On road-testing the mechanic agreed that the vibration was there. It turned out that a panel under the engine block was lose due to one nut missing and the other almost out; cabling was hanging from the middle of the car due to not having been clipped in correctly, the rear prop shaft was loose, about to pop out. Owner advised that it had not been installed correctly. LandRover offered £150 of vouchers or £150 off the next service.
Recalls
28-4-2014: just-auto.com reports NHTSA said some of 5,238 2014 Range Rover vehicles made from 7 May to 10 October, 2013 may have turn signal indicators that don't flash or click at a double rate to notify a front turn signal fault. Dealers will update the software.
27-1-2015: just-auto.com reports NHTSA Campaign Number: 15V038000 Component(s): Brake vacuum hoses Potential Number of Units Affected: 24,679 SUMMARY: Jaguar Land Rover North America, LLC (Land Rover) is recalling certain model year 2013-2014 Land Rover Range Rover vehicles manufactured August 16, 2012, to January 8, 2014, and 2014 Land Rover Range Rover Sport vehicles manufactured May 7, 2013, to January 8, 2014. In the affected vehicles, the brake vacuum hose may have been incorrectly routed allowing a hole to be worn ito it. CONSEQUENCE: If a hole is worn into the brake vacuum hose, a complete loss of braking assistance could occur, lengthening the distance required to stop the vehicle and increasing the risk of a crash. REMEDY: Land Rover will notify owners, and dealers will inspect the brake vacuum hose and correctly route it, as necessary, free of charge. Any brake vacuum hose that is damaged will be replaced, free of charge.
Land Rover Range Rover R/2015/119 - VEHICLE DOOR(S) MAY OPEN WHEN CAR IS IN MOTION
Built 29/03/2012-23/05/2015. Number of cars involved 35,015. Manufacturer reference P068. Problem Vehicle door(s) may open when car is in motion. Solution Recall the vehicles that are likely to be affected and download the latest level of software. A limited number of vehicles may also require a Remote Function Actuator module to be fitted.
31/12/2016: R/2016/303. Range Rover, Range Rover Sport and LandRover Discovery Sport: SEAT BELT PRETENSIONER MAY NOT DEPLOY. It has been identified by the seat belt Pre-Tensioner manufacturer that the pre-tensioner initiator generant mix ratio does not meet specification. This can therefore result in the initiator not functioning correctly, which can lead to none activation of the pre-tensioner. Fix: Recall all affected vehicles to check the pre-tensioner and if required, replace it with a new quality assured component. VINS: SALWA2EF1GA105496 to SALWG2FK8HA666936; SALGS2EF7GA304537 to SALGS2FK1HA320598; and SALCP2BGXHH636526 to SALCA2AG4HL961544. Build dates: 12-7-2016 to 26-10-2016.
01-05-2017: R/2017/103: FRONT PASSENGER AIRBAG MAY NOT DEPLOY. The front passenger airbag may not function properly due to a deviation in generant mix ratio. In the event of a crash of sufficient severity, the front passenger airbag may not deploy when required. Failure to deploy can lead to increased injuries to the passenger seat occupant. Fix: Recall the vehicles that are likely to be affected and replace the front passenger airbag. VINS: SALWG2PF4GA116357 to SALWA2VF6GA123797; SALGS2PFXGA314542 to SALGA2KF0GA320134; SALWA2KFXGA665022 to SALWA2KF2GA665418. Build dates: 20-09-2016 to 25-10-2016.
We need your help with our latest Satisfaction Index, so that we can help others make a smarter car buying decision. What's it like to live with your car? Love it? Loath it? We want to know. Let us know about your car - it will only take a few minutes and you could be helping thousands of others.
Help us with the Honest John Satisfaction Index now