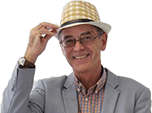 FIAT Croma (2005–2007)
Last updated 30 March 2016
Comfortable hatch with a huge boot and good access to the front and rear seats in its very spacious cabin. Five-star crash test rating. Drives well.
Rear seats don't fold completely flat. Road noise on rougher surfaces.
Introduction
The Croma came back. And, knowing full well there was no way it could sell an ordinary car in a market stuffed to the gills with the Mondeo, Vectra, Mazda 6, Laguna and Avensis, to name but a few, Fiat came up with something different:
A cross between an estate car and an MPV at a hatchback price sort of sums it up.
It's a bit taller than the norm, so you sit slightly more upright. It's easier to get in and out of. You can almost 'walk into it' like you can with a Ford C-MAX. And it's very comfortable, for up to five 6' adults with all their luggage. Plenty of leg, head and shoulder room, front and back. Smaller than the Renault Vel Satis, yet doing a similar sort of job.