Review: Aston Martin Vantage (2018)
Rating:
Head turning looks. Turbo V8 power ups economy and MPG. Standard brakes are brilliant. Adaptable driving modes are suitably different to transform the car drastically.
Infotainment system isn't the most intuitive to use. Some cabin materials seem a touch low rent for a £121,000 supercar.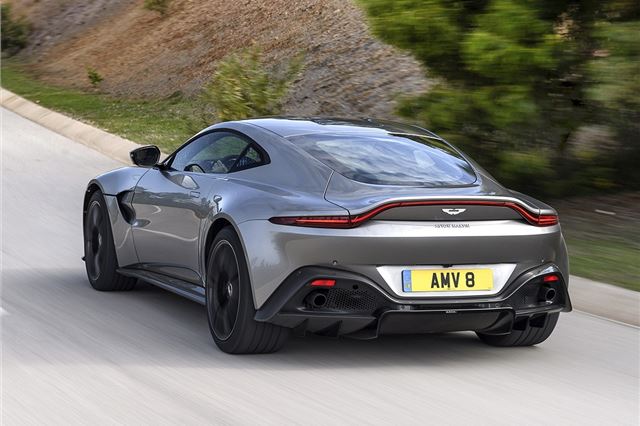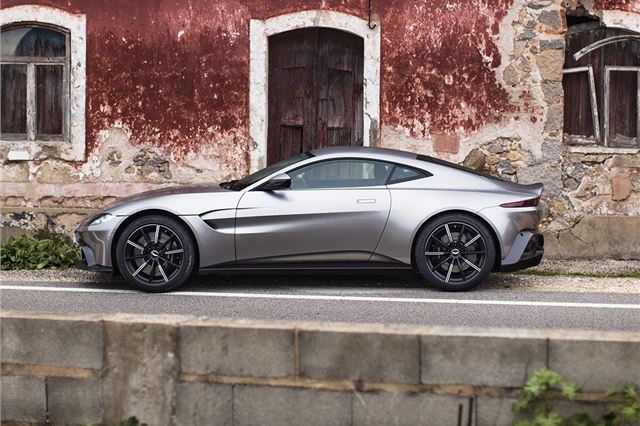 Aston Martin Vantage (2018): At A Glance
Aston Martin's V8 Vantage had a significant overhal in 2018.
Aston Martin's model revamp had been quietly happening for a while. The naturally aspirated V12 DB9 made room for the turbocharged DB11 family first, plans were hatched for hypercars, supercars, and even an electric saloon. In 2018 it was time for the V8 Vantage to get an overhaul, and it's pretty radical.
The old Vantage was a huge seller for Aston Martin, over 16,000 were sold over its eleven year lifespan. It was smaller, sportier, and a touch sharper than its siblings, but not hugely so. Now though Aston is clearly defining its range – the DB11 is the GT of the line up, and the Vantage is very much the sports car, so it's time for the Vantage to evolve and sharpen up.
Turbo power replaces natural aspiration thanks to the Aston Martin/Mercedes-AMG tie up. The last generation Vantage's naturally aspirated V8 sure sounded good, but a 4.0-litre twin turbo V8 ultimately gives better performance and eco cred for 2018. It's a modified version of the motor you find in Merc's top flight AMG models, so it's tried and tested out of the box. Rated at 510PS and 685Nm, a huge gain over the old car, it'll hit 62mph in 3.6 seconds and go up to 195mph. That torque is available from as low as 2000rpm, too.
On the economy front, the new motor means it'll manage 26.8mpg on the official numbers and 245g/km of CO2. A lot compared to the average car, but respectable for a 510PS sports car.
The radical new look helps the Vantage stand out in the Aston Martin line up, and on the street. While traditional Aston design cues are evident, they're here for function over form. For example, the grille is the right shape, but it's not here for show, rather to feed the car's turbo motor with air. It's familiar, but different all at once. It also boasts one of the finest rear ends on the market today.
You're blown away when you see it, but to drive it is to love it. The engine is keen to push forward, the noise addictive, and cornering incredible. It comes with a sweet eight-speed ZF automatic gearbox that's smooth as silk around town and hugely engaging at speed. An electric differential aids high speed stability and allows for fun in corners too.
Prices start in the region of £121,000, which means you can't join the Aston Martin club for less than six figures any more, but those who can won't regret it.
What does a Aston Martin Vantage (2018) cost?
Buy a used Aston Martin Vantage from £91,950
Aston Martin Vantage (2018): What's It Like Inside?
Dimensions
Length
4465 mm
Width
2153 mm
Height
1273 mm
Wheelbase
2704 mm
Aston Martin wants the Vantage to be a sports car through and through, the exterior surely has it covered, but the British firm decided the interior had to confirm it. It is WILD in there.
The gear selector buttons are in the set low on the centre stack, with the engine start button not too far away, so getting the car moving isn't an issue. Above sits the air conditioning controls, and below… everything else – shortcuts to parking sensors, parking cameras, media, nav, phone, etc. The works, basically. In an era where the touch screen is replacing physical buttons it's refreshing to see – touch screens and hide things behind menus, while a button is always there. And they mean you don't have to look away from the road to use them.
Nestled between the myriad buttons is a familiar disc – one that you'll see on many Mercedes controlling the Comand infotainment system. The main attraction of the centre stack, the system isn't the greatest out there, but it's better than Aston Martin's in-house efforts of years gone by.
The interior feels roomy, yet there aren't all that many places to put your day to day items – there's a box over the transmission tunnel big enough for a smartphone, and the door bins will take your keys and wallet, but that's about it really. The boot, helpfully, offers 350 litres of space – more than ample for a weekly shop or a long weekend away.
Drivers get a view of a digital speedo which is neatly designed and easy on the eye. Getting comfy in the Vantage isn't a problem either, the seats are easy to adjust and comfortable enough for long days at the wheel, offering great lateral support should you wish to get a little bit lairy on the way home.
The steering wheel is oddly square, but it has two prominent buttons for adjust the suspension and drivetrain settings within easy reach, and others to control the phone, etc.
Its look may not be for everyone, but the Vantage's interior feels pretty special. Though some of the plastics seem a touch low rent for a £120,000+ car.
Standard Equipment:
Primary exterior paint colour, graphite painted exterior body pack, graphite painted rear diffuser insert and blades, red tail lamps, twin stainless steel silver exhaust tailpipe finishers, titanium front grille, bright window surround finisher, silver underbonnet cross brace, exterior body coloured side gill, exterior body coloured mirror caps, exterior body coloured roof, dark Anodised brake calipers, enamel wing badges, sports seats, Strathmore leather and Alcantara environment, black leather steering wheel, carpeted cabin, satin silver interior jewellery, gloss black trim inlay, automatic temperature control with dual zone climate control, keyless start/stop, front and rear parking sensors, tyre pressure monitoring, alarm and immobiliser, memory seats, heated rear screen, manual steering column adjust, side mirror tilt down on reverse, parking distance display and park assist, Aston Martin Audio System, 8.0-inch LCD screen, iPod and iPhone integration and USB playback, DAB & AM/FM Radio, A2DP Bluetooth audio and phone streaming, integrated navigation system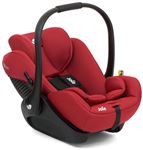 Child seats that fit a Aston Martin Vantage (2018)
Our unique Car Seat Chooser shows you which child car seats will fit this car and which seat positions that they will fit, so that you don't have to check every car seat manufacturer's website for compatibility.
What's the Aston Martin Vantage (2018) like to drive?
Currently there's just one motor available in the Vantage – a 4.0-litre 510PS turbocharged V8. It's no slowpoke, pushing the car form 0-62mph in just 3.6 seconds and up to 195mph. While a V12 is surely on the car's roadmap, the V8's good enough for now. Aston Martin says you'll manage over 26mpg, but if you drive it as it intended you're looking at much, much less.
There's no comfort mode in the Vantage, there's a sport setting for the day to day, sport plus for a spirited amble home, and track for… track work. Those three settings can be applied to both the drivetrain and suspension separately so if you like you can set the motor to angry and the springs to squidgy and have fast, comfy run home.
Set the car to its calmest settings and you'll find that its automatic gearbox isn't noticeable when it shifts unless you're pushing the car hard, and the ride, even on its standard 20-inch wheels, isn't overly jarring on rough roads, though don't go expecting an S-Class ride.
Sport plus stiffens the springs for faster cornering but the dip in ride quality is noticeable – this one's for solo drives. Track is best kept for super smooth circuits rather than the road. Similarly, the drivetrain's sport plus settings up the angry of the throttle and gearbox response, though that's more suited to the road than its springier counterpart. Track, once again, is best left for the circuit.
No matter which mode you're in the acceleration is ferocious and addictive, large numbers gather on the digital speedo at a moment's notice. It's accompanied by a V8 soundtrack, albeit a muted one thanks to the turbocharged motor. It's not as characterful as the previous Vantage's burbles but it's still entertaining to hear.
Braking is taken care of by a set of steel brakes as standard, though carbon discs are optional you'll likely not need them – the regular stoppers do a great job on a normal run, offering solid feedback and controllability.
Steering is smooth and trouble free, once again delivering decent information to the driver. Knowing where the front wheels are and what they're doing is a good thing because the view from the cabin hides the nose, which can make parking a bit tricky…
| Engine | MPG | 0-62 | CO2 |
| --- | --- | --- | --- |
| 4.0 V8 | 27 mpg | 3.6 s | 236 g/km |
See also