BMW 5 Series Touring (2010 – 2017) Review
BMW 5 Series Touring (2010 – 2017) At A Glance
The BMW 5 Series Touring offers a terrific blend of performance, practicality and poise. It rivals the estate versions of the Mercedes-Benz E-Class and Audi A6, taking all that is good about the 5 Series saloon then adding room for the dog. As an all-rounder, a BMW 520d is hard to beat. All that's left for you to decide is whether to opt for SE or M Sport trim.
A terrific all-rounder. All the family car you could ever need. Still want that SUV? Other cliches are available, but few estate cars are as capable as the BMW 5 Series Touring. It takes all the benefits of a 5 Series saloon, then adds a little extra space at the back.
The result is one of the most desirable estate cars on the used market. While many people have turned to the perceived benefits of owning an SUV, the enlightened know that an estate car will be more practical, nicer to drive and more exclusive.
Launched in 2010 and facelifted in 2013, the 5 Series Touring is a rival to the Mercedes-Benz E-Class Estate, Audi A6 Avant and Volvo V90.
It's not as roomy as some of its key competitors, but you're unlikely to require more space. The boot is vast, there's loads of headroom in the cabin, and only a high transmission tunnel stops it from being a genuine five-seater. You can fit an adult in the middle rear seat, but they won't thank you for it.
The cabin is finished to the high standards we've come to expect from BMW. The buttons and switches operate with precision and solidity, while the soft-touch plastics and plush materials impress, even on the entry-level SE model. Many new car buyers opted for the M Sport version, which raises the level of perceived quality.
Indeed, a 520d M Sport is the most ubiquitous BMW 5 Series Touring spec and engine combination. This is hardly surprising when you consider the all-round excellence of the 2.0-litre turbodiesel engine. The combination of smooth and punchy acceleration, quietness on a motorway, and remarkable fuel efficiency, make this the default choice when buying a used 5 Series.
The 518d is slightly cheaper to buy and run, while the 520i is arguably the best choice if you don't fancy a diesel but still have one eye on fuel economy. The six-cylinder engines are desirable, and there's even a V8 range-topper, if you can live with the expense.
Regardless of the engine, the 5 Series Touring is a brilliant car to drive. The steering is sharp and bristling with feedback, the handling is precise and composed, while the ride quality is supple, if not cushion-soft. After a day on a motorway, the 5 Series Touring will come alive on a B-road. It's the ultimate all-rounder.
So what's not to like? Well, the Mercedes-Benz E-Class Estate is bigger and more luxurious. We'd also concede that a BMW X5 feels a little more special, even if that's more of a psychological benefit. We'd be reaching for drawbacks if we said the styling was a tad dull.
What do owners think of the BMW 5 Series Touring (2010 – 2017)? Check out our
Owners' Reviews
from people who live with the car day in, day out.
Reviews for BMW 5 Series Touring (2010 – 2017)'s top 3 rivals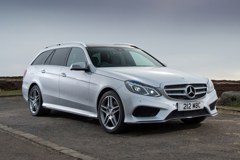 Mercedes-Benz E-Class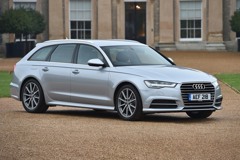 Audi A6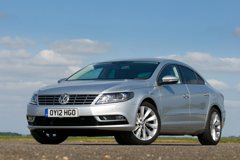 Volkswagen CC
Ask Honest John
Which estate car or SUV should I buy for under £20,000?
"Which sporty (200+ bhp) estate car or SUV should I buy with large boot and a £15,000-£20,000 budget? I currently have a 45-50-mile daily commute and holiday a lot in the UK. Ideally, I would like a petrol but wonder if diesel is more suited. I have considered the BMW 5 series and X3, Skoda Superb saloon/estate or a Volkswagen Golf R estate. What would you recommend - any of these or something else? "
There's nothing wrong with any of those cars. Sportiest of the lot is the Volkswagen Golf R estate – it'll keep most supercars honest on a twisting road. And it's a Golf, so it feels nicely built and is very well designed. It's even reasonably frugal given its power and four-wheel drive: https://www.honestjohn.co.uk/carbycar/volkswagen/golf-r-2014/ The BMW 5 Series is the other model I'd recommend. It's not got the outright pace of the Golf R but it's got nicer steering and is better balanced, it's a great all rounder. Your budget will get a 520d version of the current estate or a 530d of the old model – the 520d is surprisingly punchy and gets great fuel economy, but the 530d has effortless power and is frugal for its size and performance. https://www.honestjohn.co.uk/carbycar/bmw/5-series-touring-f11-2010/ https://www.honestjohn.co.uk/carbycar/bmw/5-series-touring-g31-2017/
Answered by
Russell Campbell
Should I keep my diesel car if my mileage has dropped?
"I own a diesel 2015 BMW 5 Series estate with 51,000 miles - which I love. However, since retiring, my mileage is very low. A pre-owned 5 Series PHEV is frankly too expensive for me now. What would you recommend considering the driving dynamics of the 5? Or should I keep my car?"
It's likely to get problematic as it gets older if you don't take it for regular runs up the motorway. Lots of short journeys could lead to a blocked diesel particulate filter (DPF). A petrol or hybrid model would be a much better choice. A BMW 520i could be a good replacement, or consider a 3 Series if you don't need a car quite so big. We'd also recommend a Mercedes-Benz C- or E-Class, or a Volvo V90.
I own a diesel car. Should I sell it or keep it?
"I currently own a 2013 BMW 520d Touring (but have £8k left on credit). It has 87,000 on the clock. Would you advise I sell my BMW now, considering the market is turning against diesels, and move back to petrol? Or should I continue to run (and enjoy it) for the foreseeable future? Thanks in advance."
It depends on your requirements in a car, really. Diesels suit high-mileage motorway miles and can become problematic when they're used for regular short journeys. If you mainly use the BMW for travelling up and down the motorway for extended periods, keep hold of it. Otherwise, it might be a good idea to trade it in for something more suitable. A hybrid might be a good alternative if an electric vehicle doesn't suit your needs.
Can I claim against the dealer for braking issues in my new 2011 BMW 530d?
"Six weeks ago I bought a 2011 BMW 530d Touring with 99,000 miles from a non franchised dealer. The car has developed brake judder which was not evident at the time of purchase. Assuming it is the brake discs (which of course are a wear and tear item) would I have any claim against the selling dealer under the "fault developed within six months of sale" legislation? Or would brake discs/pads be excluded?"
The judder is probably from warped discs from sitting on the brakes after a long brake (for example into a roundabout). This clamps the pads around the disc leading to the clamped section cooling at a different rate from the rest of the disc. As discs wear and become thinner, they are more prone to this. So, though your braking probably warped the discs, the state they were in when you bought the car led to the situation. But a difficult one to argue.
More Questions
What does a BMW 5 Series Touring (2010 – 2017) cost?