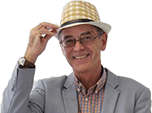 Why does our Renault Megane not return its quoted mpg?
One of the reasons we recently bought a Renault Megane was the very impressive combined 80mpg stat. I had my doubts but was reassured it was true by the salesman. Of course, we have had nothing like that sort of performance, averaging instead between 45 and 55 mpg which, while still pretty good, is nothing like what was advertised. Why is this?
Asked on by MM, Edenbridge, Kent

Answered by
Honest John
As I have explained at least 10,000 times the ECDC figures are determined by standardised laboratory tests imposed by the EC. The economy figures obtained are extrapolated to arrive at the CO2 outputs for the complete cars and this forms the basis of their taxation. Manufacturers are not allowed by EC law to publicise any other figures in any way. But since any change in the EC test regime would inevitably result in an increase in CO2 based car taxation, we offer a realistic means of finding out a car's fuel economy in real life use by real drivers at:
www.honestjohn.co.uk/realmpg
Related models

Soft riding, yet fine handling hatchback with superb steering. Improved for 2012 with new 1.2 TCe 115 petrol engine.