Learning to drive in: A Chevrolet Spark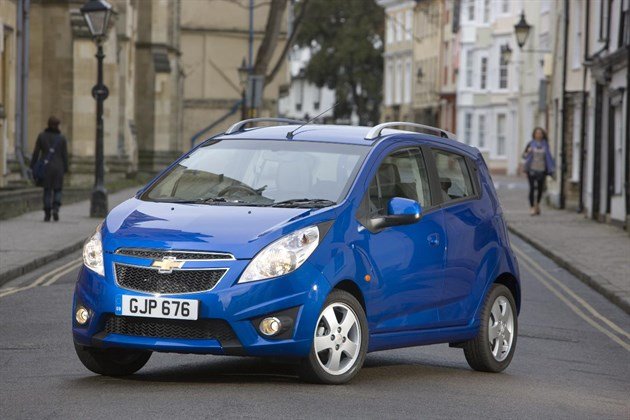 Browsing the classifieds for a cheap first car will throw up scores of Chevrolet and Daewoo Matiz models, ranging from the cheap to the incredibly cheap. The Spark is effectively a replacement for that car, but it's a huge improvement in every area that matters and it's still fairly cheap to buy, particularly used.
Getting Started
Climbing into the Spark reveals a very upright driving position and a narrow cabin. Even so it's not too cramped, and the controls are all sensibly positioned and intuitive. Unfortunately the steering wheel can't be adjusted for reach and some drivers will feel the seat height is just too high, even at its lowest setting. You'll get used to it, though. 
Another thing that takes a little getting used to is moving off - balancing the clutch and throttle is slightly more difficult on a Spark than on some similar cars like the Volkswagen Up, so you'll find yourself stalling from time to time until you get the hang of things.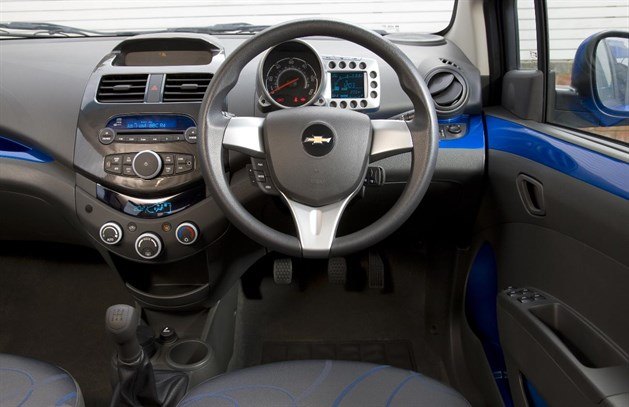 On the move
On the go the Spark is easy to drive. The gear change is positive enough and the steering is direct and well-weighted, but visibility isn't the best - specifically because of the windscreen pillar. It's very chunky and obstructive, which means it's easy to miss pedestrians waiting at crossings or cars at junctions. 
Additionally the digital rev counter - which looks really cool - isn't actually that useful because it's tricky to read at a glance. You'll have to use your ears to know when to change up, rather than relying on the rev counter - but that's good practice anyway. 
Manoeuvres
Parking and other manoeuvres are fairly easy in the Spark. However a few blinds spots - including that thick windscreen pillar - mean that seeing potential hazards requires some extra diligence. Nonetheless it's dead easy to get into parking bays or parallel bays because of its diminuitive dimensions.
Summary
The Spark is a simple, easy to drive car for the most part, but it does have a few issues that prevent it from being the perfect first car or driving lesson machine. That said it's perfectly decent at all the basics that you'll need, whether you're sharing the car with someone else, buying it as your own or using your instructors'. 
Helpful details
Layout: The cabin is simply laid out and intuitive.
Dimensions: It's small, so easy to park.
Unhelpful details
A-pillar: It's big and obstructive.
Stalling: Getting the hang of balancing the throttle and clutch takes time

Already learning? Visit our Facebook page and let us know what car you're taking lessons in. You'll also find lots of useful information, and you can ask us and other learners anything you want.