Mercedes-Benz C63 AMG Edition 507 Road Test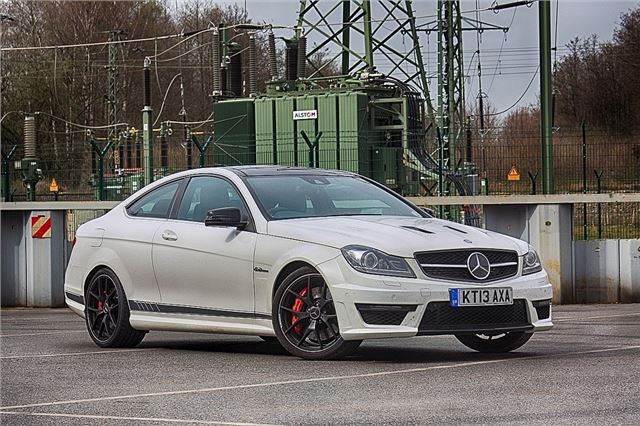 The name Mercedes-Benz C63 AMG Edition 507 might not exactly roll off the tongue, but you won't mind at all, when you consider that those three little digits refer to the car's maximum power. You have to hand it to Mercedes-Benz for producing a really rather spectacular run-out model for the outgoing C-Class - within months of production end for this generation, it celebrated by building this even hotter C63 AMG.
Iit's not as if that car was underendowed. But with an additional 50PS the 507 weighs in at £67,270 in saloon form, with the estate and coupe rising to an identical £68,470. We tested the Coupe by taking it for a fast run to Germany and back - hitting the derestricted autobahn while there - to see whether the £9995 premium over the standard 458PS version is justified.
To get the additional power out of the epic 6.3-litre V8 engine, the C63 gets a revised ECU, new conrods, a lightweight crankshaft and forged pistons. The 3kg weight saving these upgrades bring you might not seem so much on a car that tips the scales at 1730kg, but they promise a snappier, more responsive engine - that's always been beautifully paired-up with the standard MCT seven-speed transmission. Performance is improved - the on-paper gains don't look massive, 0-62mph time is down by 0.2 seconds to 4.2, while the maximum speed is now 174mph, up from 155mph - both of which are artificially limited anyway.
In terms of additional equipment, the 507 gets gorgeous new 19-inch alloys, red brake callipers for the larger 360mm composite discs, as well as numerous cosmetic upgrades (some taken from the Black series car) including high gloss black door mirrors, grille and front apron. Inside it gets designo black leather as standard and an AMG performance steering wheel, as well as high black contrasting gloss trim. It certainly looks special, although the overall age of the C-Class can't be disguised, especially considering the strides the new model has made in this department.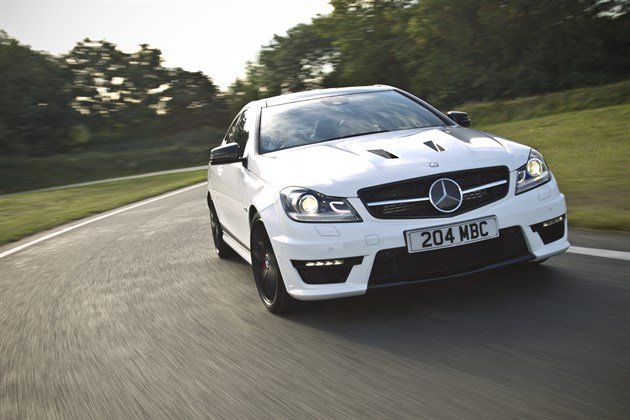 The AMG Driver's Package comes with your 507, so the higher maximum speed is justified by the good chaps at AMG by throwing in an AMG driving day. You get one and a half days' theoretical and practical tuition, and Mercedes-Benz claims that the driver will learn how to get the most out of their own car. You'll have to make your own way to Germany - the courses take place at Bilster Berg Race Resort, Nurburgring GP, Hockenheimring, Sachsenring or Lausitzring. Accommodation is covered, but you'll be forking out for the fuel for the trip and on track, which we still consider is no bad thing given it involves a trip to Germany.
Which is exactly where we took the 507 in order to stretch its legs properly. Once you're in and comfortable, nothing about the switchgear or any of the controls is going to do anything to alienate a seasoned Mercedes-Benz driver. The AMG branding is almost - but not quite - over the top, with everything from the kick plates on the sills to the speedometer bearing the three letters.
The driving position is perfect and although the seats initially feel tombstone hard, they're superbly comfortable over long distances. And considering this is a near-£70,000 coupe based on a relatively humble car, at no point does it feel overpriced or under-specified inside. The COMAND system is as effective as ever, once you're used to the way it works, the stereo sounds punchy and the sat-nav is excellent.
It's also quite roomy - the rear seats are just about acceptable for a six-footer, as long as the person in front is prepared to compromise a little on their own legroom. Getting in and out of the rear isn't quite so satisfactory, given the bulk of the front seat they need to clamber over. Boot room is also very good indeed - aided by the split-folding facility. A couple could quite easily pack enough luggage to cover them for a week's holiday.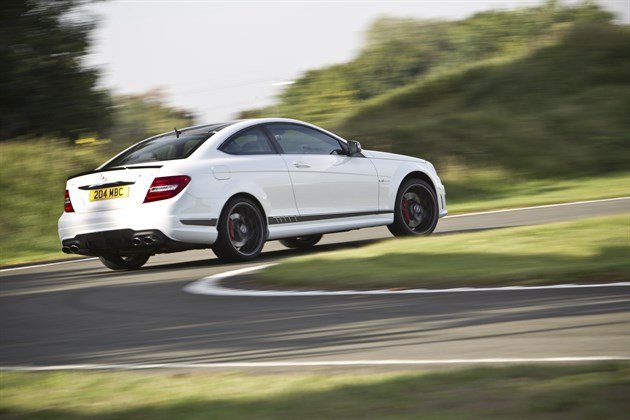 But these practicalities are thrown into relief when you start it up and savour the wonderful 6.3-litre naturally aspirated V8 first hand. It barks into life and responds willingly to the throttle. Flick the selector into drive, and you'll be treated to instantaneous response and a huge slab of power and torque that builds up to a crescendo as the red-line is reached. Of course, in the UK, opportunities to experience the full might of this wonderful 6.3-litre and few and far between - but in Germany beyond the derestricted signs, it's laughably quick, only really tailing off beyond 150mph. Be in no doubt, this is a very fast car.
You'd be forgiven for thinking that this car is made for the autobahn, so composed it is at high speed. And considering its amazing soundtrack under full throttle, it settles down to a relaxed cruise when you're not pressing on. Selecting the Distronic active cruise control system leaves the car pretty much driving itself. It's a superb system and one of the best we've come across.
Away from the motorway, the 507 reveals itself to be a proper driver's car. The steering conveys the road surface perfectly and is nicely geared and weighted. The ride quality is firm, but the damping is excellent, rounding off the worst road imperfections and smoothing out impressively at high speeds. In corners, it's easily controlled, with a lack of body roll and masses of traction. Yes, it power slides, especially in Sport+ mode, but you're always in control - and even with all the driver aids off, it's all beautifully controllable.
Given this is a run-out model, you'd be forgiven for finding fault with the 507. Yet in more than 1500 miles of fast driving, we struggled to source even the most minor of irritations. It's a proper driver's car and a brilliant showcase for that magnificent hand-built 6.3-litre V8 that one day the legislators will chase off the roads. But for now, be assured that the 507 will deliver its sledgehammer message for many years to come. Downsides? It has a voracious appetite for fuel and you really have to question whether the extras are really worth an additional £10,000 - but overall, it's a hell of a swansong for the old C-Class...