Mercedes-Benz GLC (2015 on)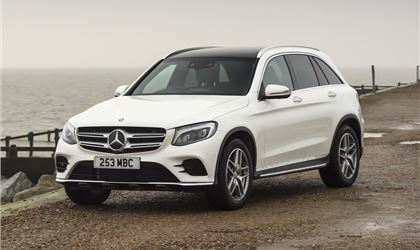 GLC250d 2.1 Sport 9G-TRONIC+ 4MATIC 5dr
reviewed by Anonymous on 5 August 2020
5
Tax/Insurance/Warranty costs
4
Cost of maintenance and repairs
5
Experience at the dealership
5
How you rate the manufacturer
Economy comfort and performance
Early days but to say I'm impressed is an understatement. Ok so this comes fully loaded with Air suspension but the ride is superb on full size tyres and it's quiet too once you get away from the tickover of the four-cylinder two-litre Merc workhorse - even then the ECO cut out at traffic lights means you sit in a weird silence (this trick is new to me- previous CLK was old school). And the 47mpg economy was good on a 250 mile run (sat at an honest cruise-controlled 75) though not as good as claimed as always by Merc or any other manufacturer.
For comfort I just love the squab adjustment giving extra support under the thighs. Haven't had comfort like that since a previous E-class - but this is something else given the lumbar adjustment. Just the car for swanning down motorways, autobahns and payages once we are let out and really free to go.
Storage and space are excellent. The rear seats drop at the press of a button to give a flat load space. And for heavy loading the air suspension will lower 40mm(but it's not quick) to heave in the big stuff before reverting to normal. Air suspension will also rise for off road work - as if! And I'm sure the 4-matic AWD will be handy. Perhaps. But why supply it with summer tyres with that potential?
OK I know it's a used car and whichever Merc exec had it first didn't spare the extras, there's even an electric operated tow-bar. Very useful for protection in parking spaces.
Quirks? Or complaints? You read a lot about Merc's command system.I can understand why it's not popular- it feels old and clunky and it's slow compared to say an IPad. And its confusing having several controls to access the same function. I went back to the dealer who regretted that Covid meant they could do a full demo, but were otherwise very helpful. But read the book or keep playing and get familiar with the stuff you need. The phone connection is great but I haven't yet figured out how to bring up my favourite numbers. Nor how to link to their web browser which would be handy for traffic - but I use Google anyway on the phone.
The Garmin is out of date and annoyingly tells me to return to the recognised route when I'm on a road it doesn't know, and I don't know whether the chance 40 quid or so for a SD update off eBay, but I'm not paying Merc's price.
Right now this is my best car ever, and I've had a few, but I've said that of the E-class estates and this is really the latest iteration of a grand touring car which is also compact compared to the traditional estate. The GLC lines are classic though I think the coupe will date quickly and the whole feel is safe solid and planted on the road.
And it seems to me if you want to be a bit different from the masses of SUVs now available, it's the GLC for choice.
I bought from Mercedes Macclesfield and had a very good experience.
reviewed by Anonymous on 5 August 2020
reviewed by Ajitesh Ghosh on 11 March 2020
reviewed by Anonymous on 13 November 2019
reviewed by Anonymous on 1 May 2019
reviewed by agric on 7 February 2019
reviewed by Cmorrow on 17 January 2019
reviewed by Anonymous on 16 January 2019
reviewed by Anonymous on 5 January 2019
reviewed by Anonymous on 19 October 2018
reviewed by Anonymous on 13 August 2018
reviewed by xplore on 15 November 2017
reviewed by Alan Tunak on 25 March 2017
reviewed by Dagzy on 18 February 2017
reviewed by Andrew peel on 17 January 2017
Write your review
About this car
| | |
| --- | --- |
| Price | £36,425–£49,810 |
| Road Tax | D–M |
| MPG | 23.7–47.9 mpg |
| Real MPG | 89.0% |
Just reviewed...