Ford Fiesta (2000 - 2002)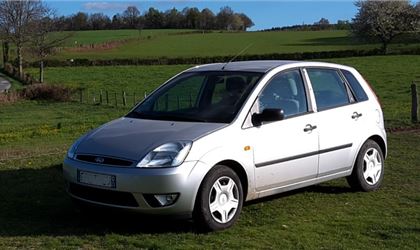 Fiesta 1.6, petrol, 5 door, Ghia, manual gears
reviewed by Anonymous on 22 October 2021
3
Tax/Insurance/Warranty costs
3
Cost of maintenance and repairs
3
Experience at the dealership
4
How you rate the manufacturer
A true driver's car and a latter-day Mini Cooper 'S' but far more practical.
Sold my 3.0 Alfa 166 and began looking for a more practical car. Had read good reports of the Ford Focus so had that on my list of 'possibles'. Then spotted a seventeen-year-old Fiesta 1.6 (Duratec engine) Ghia with only 900 miles. Thought there must be a printing error. But no, the car had been mothballed by the original owner's family after he'd passed away shortly after buying. So I bought it. No regrets. It's a fun car to drive, especially around the open countryside where I live. Not too sluggish on motorways too. Feels really planted on bends with good steering response and a divine gearbox. Seems quite economical on fuel, but I suppose most cars would be after having a six pot, three litre Alfa. I presume the smaller engined Fiestas have better mpg figures, but (I again presume) they're less fun to drive. Negatives: well, some of the little plastic panels flew off on my first drive (old glue deterioration?); engine is belt cam, not chain; the dash is fairly basic compared to modern gizmo cars, but that doesn't bother me. 15000 trouble-free miles. Love it.
reviewed by Catherine Balding on 3 October 2019
reviewed by GipayDanger on 13 November 2015
reviewed by EmmaElizabeth on 24 November 2013
reviewed by taffie on 25 October 2013
reviewed by Andy 94 on 1 August 2013
reviewed by Anonymous on 16 February 2013
reviewed by Telly on 29 April 2012
reviewed by dave46 on 28 April 2012
reviewed by tmmitzzie on 17 February 2011
Write your review
About this car
Just reviewed...