Our Cars: Skoda Rapid 1.6 TDI SE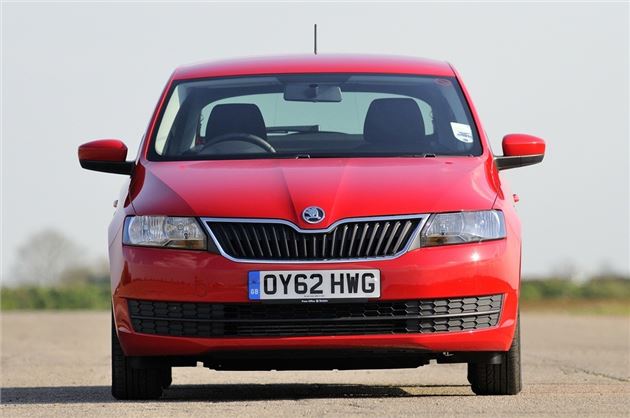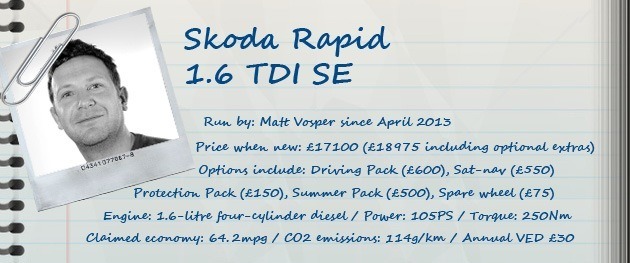 6 July 2013: Over sensitive sat nav
The Details
| | |
| --- | --- |
| Current mileage | 10280 |
| Claimed economy | 64.2mpg |
| Actual economy | 59.3mpg |
Over the last two weeks I have been driving in and out of London and heavily relying on the sat nav to get me there and on time. It doesn't come as standard on the Rapid and costs an extra £550 over the standard radio. That's not too bad compared to other integrated navigation systems but is pricey compared to systems from the likes of  Tom Tom and Garmin. However, it does have DAB radio, traffic reports and Bluetooth.

Initially I wasn't too impressed with the system but having relied on it heavily over the last week, I've found it to be actually very good.  First off is the Bluetooth connectivity, which is very easy to set up, and then from there on my phone automatically connects whenever I'm in the car.
A very clever touch here is that I can play music via the Bluetooth connection as well. Phone calls can be completely hands free as you can use the trip computer buttons to thumb through controls and phone book, it really is very useful.
The sat nav guidance is very quick, I've noticed that with other navigation systems you can get left wondering what the next instruction is before it's too late and you end up in the wrong lane or missing a turning. Not with the Rapid's guidance though, it is very good and so far I've turned up to locations without any problems.
One slight niggle is that it can be slightly over sensitive. On a number of occasions it takes into account traffic reports and redirects me, so to test this on my last trip into the office I ignored all the redirections only to find no traffic problems whatsoever. Whether this is the navigation's fault or the traffic report problem is up for debate.
However, this is where problems arise and it has happened on a number of occasions. The sat nav is working fine, radio on and phone connected, and the phone then rings. The whole system goes into meltdown, in fact nothing works, even to the point of trying to turn the system off with the off button.
The only remedy has been to actually stop the car and turn the engine off so there's no power to it and even then sometimes it hasn't remedied the problem. Nevertheless, it has only happened on a handful of occasions but it's very frustrating on motorways when you lose guidance, phone and the radio.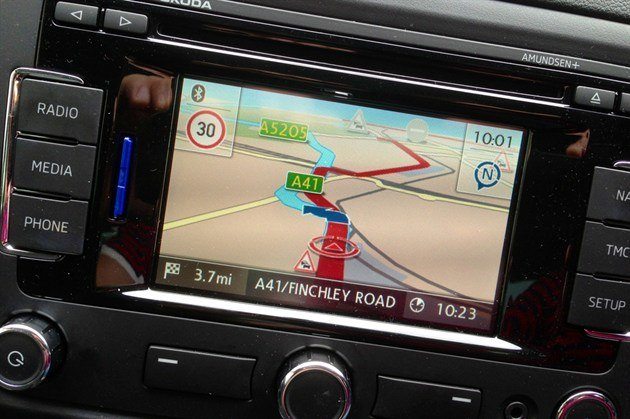 The sat nav in our Rapid tends to be quick to divert around traffic - even when there isn't any.

« Earlier: Red alert Later: Racing Rapid »
Updates

Our Rapid is leaving us after six months and while the leaky door problem remains unresolved, we still think the Rapid is an impressively practical small family car.

We've been keeping an eye on the Rapid's fuel economy over the past few weeks which has been a distraction from the leaky doors problem.

Our Rapid is back after its fix but it seems the water leak problem has returned, leaving us with a bit of a headache as to what to do next.

Our Rapid has gone off to Skoda HQ in the hope that the leaky doors problem can be solved. In the meantime, we've been looking back at how it's performed so far.

The recent thunderstorms and heavy rain have highlighted a worrying issue with our Rapid which sees the rear doors get filled with water when it's been left parked.

Goodwood may be all about performance and glamour but that didn't stop our Rapid getting a run down the hill. Even if it was under a 10mph restriction...

6 July 2013: Over sensitive sat nav
The sat nav in our Rapid is a good value system that also adds Bluetooth but it can be a little too keen to divert you around imaginary traffic problems.

Our Rapid is proving a bit like Fort Knox when it comes to actually unlocking all the doors and getting in.

We've been impressed with the space and practicality of our Rapid but after several thousand miles already, what's the verdict on the handling?

The Rapid may look like a saloon but it's actually a hatchback - and a very practical one and that - with a huge boot and loads of rear space.

The new Skoda Rapid is the latest addition to Our Cars and with its practical space and economical TDI engine it should prove the perfect car for our resident photographer.