Our Cars: SEAT Leon SC FR 1.4 TSI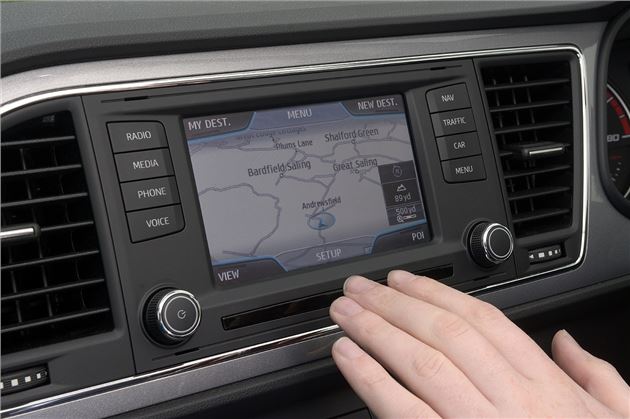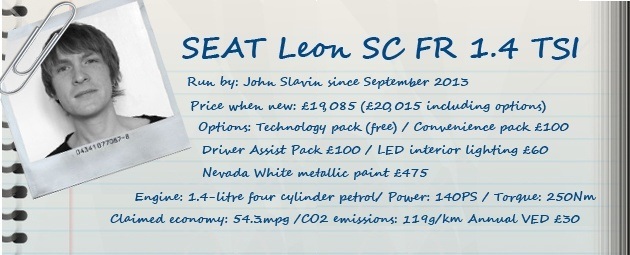 24 February 2014: Are you not infotained?
The Details
| | |
| --- | --- |
| Current mileage | 3736 |
| Claimed economy | 54.3mpg |
| Actual economy | 46.4mpg |
When we ordered our SEAT Leon we were lucky enough to qualify for a special offer from SEAT, which meant the technology pack was fitted for free. This is made up of full-LED headlights, DAB radio and a navigation system. It's a pretty enticing offer and the kit has really made our time with the Leon so far easier and more enjoyable.
The navigation system is a real highlight – it's extremely easy to use and configure plus the display is very user-friendly. Other car manufacturers could certainly learn a thing or two from SEAT. When programming a destination you're presented with three, clearly colour coded routes - one short, one quick and one efficient.
The system keeps its eyes (or microchips) on the traffic conditions and recalculates if things get busy – which can be a bit of a pain – but besides that it's one of the nicest built-in nav systems I've ever used. Its interface is part of a touchscreen system, which isn't all that large compared to some cars. It is, however, very cleverly put together.
It has a sensor underneath it that detects when a hand is nearby and will then show the touchscreen buttons. When your hand is taken away the buttons pop off the edges of the screen, maximising the use of space – the touchscreen interface is only there when you need it, otherwise the screen is dedicated to displaying the map or radio with no clutter.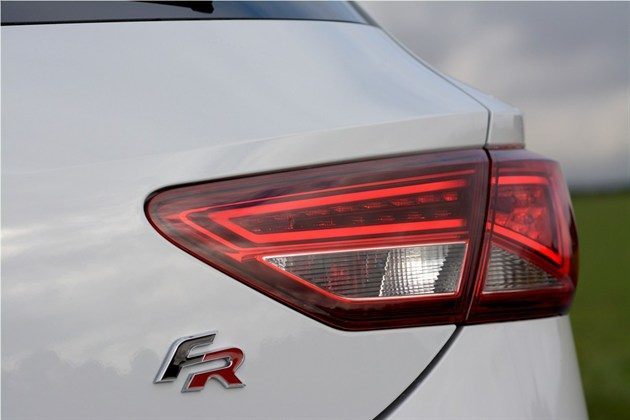 LED lighting features both front and rear
The technology pack also bundles in DAB radio, which is fantastic. I tend to make fairly short trips around London and that means it's not worth connecting up an iPod for the sake of 15 minutes or half an hour – the radio is far more convenient. With DAB, the audio quality is excellent and there's a lot more to choose from, so I consider it more or less essential.
Many car makers offer DAB now, but few make the interface for selecting a station so easy – usually you have to trawl through regions before you find your local area, then find a station that works. With the Leon, everything that's available is displayed and everything that doesn't is filtered out. It makes tuning in painless.
The last extra featured in the technology pack is the LED-headlights pack, which is very impressive indeed for a car of this size. Full-LED headlights do appear on bigger, more luxurious cars, but no other family hatchback uses them. They're great to look at and they're beautifully clear, with bright, pure white light.
I don't rely on headlights as much as many people – most of the places I drive are lit by street lamps – but on the few occasions I've driven on unlit country roads the LED system has been very bright and very clear, although it's not exactly a revolution in terms of brightness and clarity. It is, however, likely to last for a long time – LEDs shouldn't wear out like traditional light bulbs.
The technology pack offer won't last forever, however the gear it offers is so useful that I've found it almost essential – so if you're buying a new Leon and the technology pack offer is over, the navigation system is excellent, as is the DAB radio. Full-LED headlights, however, might not be worth the extra. They certainly make the car look terrific, but they aren't a radical improvement over traditional lights. 
« Earlier: All aboard Later: Out-of-retirement »
Updates

It's time to say goodbye to our SEAT Leon. Its replacement has some very big boots to fill.

After a few weeks spent driving other cars I take the SEAT on a long drive to stretch its legs.

24 February 2014: Are you not infotained?
The Leon has a comprehensive in car infotainment system with navigation, DAB radio and great connectivity - here's a more in depth look at how it works.

Our Leon is an SC model - which means it has three doors. That might make it look sportier but how does it affect practicality?

How close does the Leon get to its official fuel consumption figure - and how much is that dependent on driving style?

A hectic Christmas break meant covering more than 700 miles in two days - but the SEAT coped well.

The SEAT Leon has coped well with the recent wet, grey and miserable weather, it's just a shame its white paint shows dirt so much.

For new car buyers there's never been such a variety of cars to choose from - so aside from a hatch what else can you get for £20,000?

Lane keep assist and high beam assist are great gadgets to have – but the system on our Leon malfunctioned.

The SEAT Leon is built on Volkswagen-Audi group's MQB platform - so what else shares its underpinnings?

The new Leon is undoubtedly capable but SEAT wasn't always such a strong brand. Time to chart the history of our Leon's predecessors.

We welcome the Seat Leon SC FR to Our Cars, and it's loaded with some of the most desirable technology on offer.