Ferrari reveals exclusive SA Aperta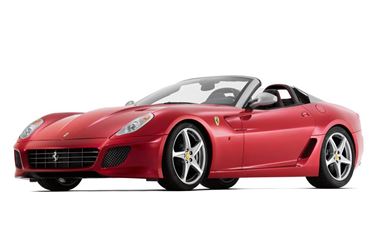 Ferrari will give a debut to the SA Aperta at the Paris Motor Show this week. Based on the Ferrari 599, It is a special series of which a limited number of just 80 will be built and all have already been sold. Ferrari chose to build 80 SA Apertas in celebration of Pininfarina's 80th anniversary while the SA name also pays homage to both Sergio and Andrea Pininfarina whose company and work have been linked to the most successful road-going cars ever built at Maranello.
The SA Aperta roadster is powered by a front-engined V12 engine and uses a light soft top designed to be resorted to only if the weather gets particularly bad. A low-slung windscreen and the fact that it crouches lower to the ground than other Ferrari models giving it impressive aerodynamic sleekness. Its profile arches back from the windscreen to two aerodynamic fins integrating the two roll-bars which themselves mimic the outline of the seats.
The chassis has been redesigned to deliver a standard of stiffness comparable to that of a coupe and there is a negligible weight difference also, thanks to work done on the chassis structure. Its interior is suitably sporty with sophisticated materials, trim and colours used throughout. The virtually endless combinations available guarantee that each and every SA Aperta is absolutely unique.
Comments